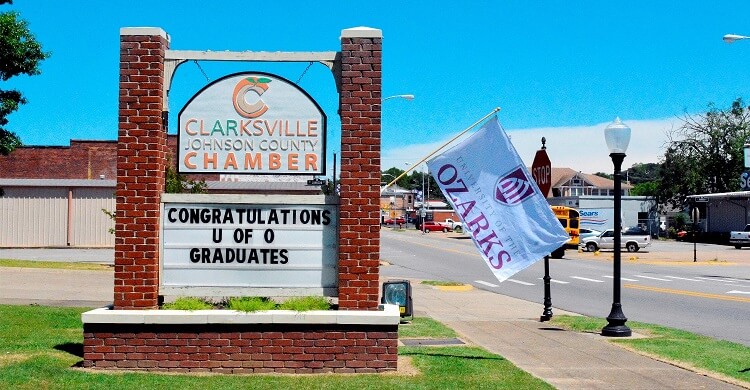 University of the Ozarks awarded 87 bachelor,s degrees to graduating seniors during its 183rd Commencement ceremony, held May 13, on the campus mall.
University Trustee Doug Black provided the keynote speech during the ceremony, which was attended by more than 500 family and friends. Black is a retired oil and gas executive who has served on the board of trustees since 2010.
Senior Tyler Mosby of Alma, Ark., provided the senior's welcome, and Samuel Binns of Hot Springs led the graduates in the tassel ceremony.
The graduates in the Class of 2017 included:
Frances Elizabeth Adams Plano,TX – BS, Environmental Studies (Magna Cum Laude)
María Alejandra Arreaga Urizar Quetzaltenango, Guatemala – BS, Psychology & Early Childhood Education  (Magna Cum Laude)
Boston Nicole Arredondo Springdale, AR – BS, Early Childhood Education  (Magna Cum Laude)
Daniel James Baston Maui, HI – BA, Radio/Television/Video
Andrew Frank Beck Conway, AR –  BS, Physical Education
Samuel James Binns Hot Springs, AR – BA, English  (Summa Cum Laude)
Lucas L. Byrne  Owasso, OK – BS, Political Science
Janae Sue Cantu  Chouteau, OK – BS, Sociology  (Cum Laude)
Evan Douglas Castleberry Bryant, AR -BS, Marketing & Management
Kelley Nicole Criss Wynne, AR – BS, Chemistry  (Cum Laude)
Michelle Leigh Edmiston   Rogers, AR – BS, Health Science
Elly Lauren Eibes Burlington, IA – BS, Biology
Ian Craig Elliott Baxter Springs, KS – Bachelor of General Studies
Jonathan Alexander Ellis  Plainview, AR – BS, Physical Education  (Cum Laude)
Lilian Alexis Estrada Orozco Tijuana, Baja California, Mexico –  BS, Management & International Business  (Summa Cum Laude)
David Antonio Estrada Orue Guanacaste, Costa Rica – BA, Radio/Television/Video & Political Science  (Summa Cum Laude)
Joshua David Ferrell West Fork, AR – BS, Physical Education
Amanda Rose Crandell Fields Mulberry, AR – BA, Art (Cum Laude)
Robert Austin Fletcher Austin, TX – BS, Business Administration
Dillon James Gash Elkins, AR – BS, Mathematics  (Magna Cum Laude)
Walter William Godbee Zachary, LA – BS, Political Science & Philosophy (Cum Laude)
Ederlee Alejandro Gomez Clarksville, AR – BS, Accounting
Gray Woodrow Gordy Ben Wheeler, TX – BS, Business Administration  (Cum Laude)
Kayla Jo Gray Pangburn, AR – BS, Health Science
Laken Danae Gray Pottsville, AR – BS, Health Science  (Cum Laude)
Margiore Guerra Campos San Salvador, El Salvador – BS, Marketing & Management  (Summa Cum Laude)
Kayla Renee Hall Mount Ida, AR – BS, Accounting & Economics (Cum Laude)
Andrew Ross Herbert Little Rock, AR – Bachelor of General Studies
Breanna Jade Hiatt Russellville, AR – BS, Environmental Studies
Katherine Elizabeth Holmes Greenwood, AR – BA, Strategic Communication
Dea Louise Howard Donaldson, AR – Bachelor of General Studies
Mollie Frances Howell Tulsa, OK – BS, Health Science
Carley Leann Hurt Paris, AR – BS, Health Science
Margaret Leigh Johnson Atoka, TN – BS, Physical Education  (Magna Cum Laude)
Allison Lacayo Obregon Managua, Nicaragua – BS, Marketing & Political Science  (Magna Cum Laude)
Zachary Don Lamar Seguin, TX – BS, Biology & Chemistry (Magna Cum Laude)
Dustin Vance Larison Little Rock, AR – BS, Physical Education  (Cum Laude)
Marie Pierrette Lebois  Saint Etienne, France – BA, Strategic Communication
Andrea Mercedes Leiva Martínez Masaya, Nicaragua – BS, Economics & International Business  (Summa Cum Laude)
Alexandria Lee Lewis Rockport, TX – BS, Biology
Trevor Lee Lister  Waldron, AR – BA, Spanish & Health Science
Shi Ann Marie Renee Manandise Omaha, AR –  BA, Biology
Meghan Brooke Mansur Little Rock, AR – BA, Spanish  (Magna Cum Laude)
Roger Elwin Dean Marlow Hagarville, AR – BA, Strategic Communication
James Oliver McClellan Pine Bluff, AR – BS, Biology
Thomas Dalton Mills Heath, TX – BS, Accounting
Bryanna Renee Moltz Sheridan, AR – BS, Health Science  (Magna Cum Laude)
Tyler Dale Lee Mosby Alma, AR – BA, Psychology of Human Behavior
Badria Carol Mryyan Jonesboro, AR – BS, Political Science  (Summa Cum Laude)
Andrea Isabel Munoz Erazo Tegucigalpa, Honduras – BS, Marketing & Management  (Summa Cum Laude)
Dillon Rader Murray West Helena, AR – BS, Health Science  (Magna Cum Laude)
Friedl Jewel Nugent Mabelvale, AR – BS, Political Science
Daniel Alejandro Ortega Volcan, Panama – BS, Management & International Business
Quinten Reid Parker Gravette, AR – BS, Business Administration  (Magna Cum Laude)
Darious Alexander Parrish Farmington, AR – BS, Biology
Amanda María Paz Herrera San Pedro Sula, Honduras – BS, Chemistry & Biology (Summa Cum Laude)
Diana Analí Pérez Marroquín Quetzaltenango, Guatemala – BS, Economics & Accounting (Magna Cum Laude)
Mary Grace Piker Pottsville, AR – BS, Political Science
Claudia Porras Chacon San Jose, Costa Rica – BS, Business Administration & Strategic Communication (Cum Laude)
Alexander Thomas Pride Wichita, KS – BA, Radio/Television/Video   (Cum Laude)
Keaton Eric Ramsey Sheridan, AR – BS, Accounting  (Magna Cum Laude)
Magan Nicole Ross Fort Smith, AR – BS, Mathematics
Viviana Itzel Rubio Grajales Volcan, Panama – BS, Biology & Psychology (Magna Cum Laude)
Harold Douglas Rye II Fort Smith, AR – BA, International Business  (Magna Cum Laude)
Joseph Windom Scott Little Rock, AR – Bachelor of General Studies
Richard Hugh Winfield Scott II  Huntsville, AR – BS, Physical Education
Krysten Jean Shavers  Waco, TX – BS, Business Administration  (Cum Laude)
Madison Delanie Sherrer Mena, AR – BS, Psychology  (Magna Cum Laude)
Aubrey Nicole Siess  Tulsa, OK – BA, Strategic Communication & Music
Riley Nicole Skaggs Greenland, AR – BS, Biology  (Cum Laude)
Alexander Robert Smith Springdale, AR – BS, Management & Accounting
Jacob Robert Smith Grapevine, AR – BS, Health Science
Katie Jane Spicer  Scranton, AR – BS, Biology & Chemistry
Lindsey Marie Stehle Subiaco, AR – Bachelor of General Studies
Victoria Lynn Stiner Texarkana, TX – BA, English & Psychology (Summa Cum Laude)
Crystal June Summers  Mountainburg, AR – BA, Psychology of Human Behavior
April Lyn Townsend Clarksville, AR – Bachelor of General Studies
Justin Timothy Trujillo Mountain Pine, AR – BS, Mathematics  (Cum Laude)
Martin Andrew Trussell  Conway, AR – Bachelor of General Studies
Rachel Jane Tyler Corpus Christi, TX –  BS, Psychology
Daniel Alberto Valencia Escobar Nueva San Salvador, El Salvador – BA, Strategic Communication & Marketing  (Summa Cum Laude)
Luke Matthew Vera Bentonville, AR – BS, Accounting  (Cum Laude)
Amy Lee Wallace  Malvern, AR – BA, English  (Magna Cum Laude)
Bethany Grace Watts  Milford, MI – BS, Biology  (Summa Cum Laude)
Damian Matthew Weaver  Huntsville, AR – BS, Health Science
Chloe Juliana Gonzalez Welsh Fayetteville, AR – BA, Strategic Communication  (Cum Laude)
Devante Deshaun Withers Little Rock, AR – BS, Political Science
Topics: Academics, Community Events