Think you can't afford an Ozarks education? Think again. When it comes to actual college costs, there are a lot of factors that can have a big impact on the bottom line. Here's how we make the Ozarks experience affordable for families just like yours.
Our campus is home to students from all economic backgrounds.
Family Household Income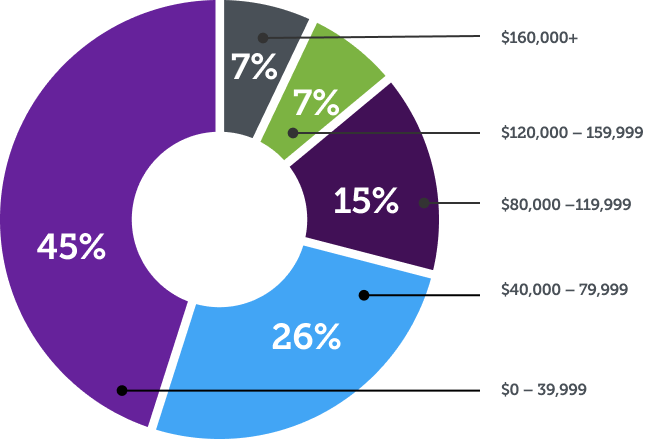 See how we stack up against the competition.
2022-23 Costs
Tuition: $24,950.00
Room & Dining: $8,358.00
Learning Materials: $1,000.00
Comparison (2021-22)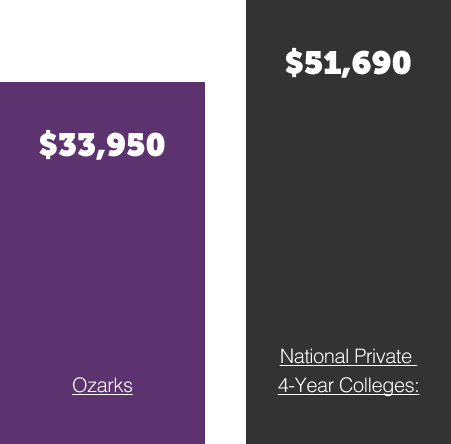 But sticker price is just a starting point.
99 %
of students receive financial aid
2022-23 Total Cost
$34,308.00
Don't forget—financial aid is your friend! Here's a breakdown of the three main types you could qualify for, and how much money they can help you save:
up to $18,500
Scholarships
You don't have to pay it back
Institutional and State Scholarships
up to $6,495
Grants
You don't have to pay it back
Pell Grants Up to $6,495 per student
up to $8,500
Loans
Repayment is required, but terms vary by type
Institutional Loans & Federal Loans Up to $8,500 per student
up to $3,740
Work-Study
Work part-time to offset tuition costs
Up to $3,740 per student (10 hours federal work-study for freshman)
Add, subtract and be amazed.
Put together all of the awards in your financial aid package and apply them against the total cost of attendance, you'll likely be left with an adjusted cost that's significantly less than the original published price.
$24.7 k
average financial aid package for incoming first-year students
Return on investment
Did we mention that our grads get hired?
Ozarks graduates have a 95% record of professional success.
95 %
Either employed or in grad school
Learn Your Actual Cost
Want to know what kind of financial aid package you could receive at Ozarks? Get started by filling out a Free Application for Federal Student Aid, more commonly known as the FAFSA. Apply as early as October 1 using school code 001094.
Submit Your FAFSA
Have More Questions?
If you have questions, or just need some help along the way, our financial aid team is here to help! Get in touch at oas@ozarks.edu or 479-979-1201.
GET IN TOUCH