President
Richard L. Dunsworth, JD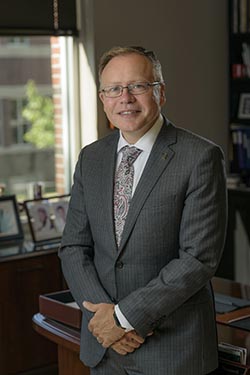 I'm proud to serve as the 25th president of this amazing institution of higher education.
We are a student-centered University that values honesty, service, Sabbath, hospitality, growth and justice. We believe that neither financial circumstances nor diverse background should be barriers to an Ozarks education. We promote vigorous teaching and learning in keeping with the University's mission of preparing students for life beyond Ozarks. We emphasize an experience that is academically rewarding, strengthens vocational discernment, builds personal integrity and encourages spiritual growth.
We're also proud of our rich and storied legacy as a pioneer in education. Ozarks was the first University in the state to admit women (1871), the first predominately white University in the state to confer a degree on an African-American (1959), the first University in the state to racially integrate athletics (1963), and the first University in the nation to create a program specifically designed for students with learning disabilities (1971) — now named the Jones Learning Center. Ozarks has indeed been a trendsetter in higher education. As a matter of fact, Ozarks can trace its roots back to 1834, making the University the oldest institution of higher education in Arkansas and one of the oldest west of the Mississippi River.
Today, University of the Ozarks continues to push boundaries, whether culturally (more than 20 percent of our students are from outside of the United States), in accessibility (we provide more than $9 million in institutional scholarships), in curriculum innovation (the unique LENS program allows students to create a customized and diverse plan of study), in leadership (Ozarks Outdoors offers students the opportunity to obtain leadership skills and personal confidence while experiencing the picturesque nature of Northwest Arkansas), or athletically (more than 40 percent of our student body competes in intercollegiate athletics.) All of this has led to Ozarks being one of the fastest-growing universities in the region with record enrollment that has increased nearly 50 percent in the past five years.
---
President's Staff
Jeff Elwell– Visiting VP for Academic Affairs
Gloria Arcia – VP for Finance and Administration
Lori McBee – VP for Advancement and Alumni Engagement
Amy Lloyd – VP for Enrollment and Marketing
Dody Pelts – VP for Student Success
---