Location

Walton Fine Arts Center - 211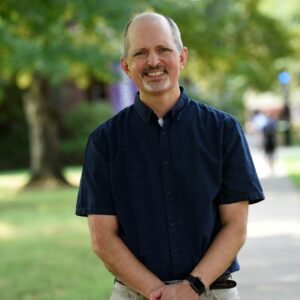 I have loved history for most of my life; I can remember being fascinated with a coloring book about the American Revolution when I was a little kid in Massachusetts, and I also remember being pretty excited when I learned in high school that there were people in the world called "historians" who could actually make a living out of studying and teaching history.  I majored in history at the University of Vermont (spending my junior year at a university in France), and then went on to earn my doctorate in history at Emory University before joining the history faculty at Ozarks in 1999.  I am grateful for the opportunity to have taught all kinds of American history classes at Ozarks, a place I love dearly for its close environment, its beautiful setting, and its commitment to making Arkansas and the rest of the world a better place.  When not working as a historian, I enjoy reading for pleasure, fishing, cooking, watching the many highlights of the New England Patriots, and just generally hanging out with my wife, daughter, and animal companions.
Special Projects / Initiatives
In my doctoral work I specialized in the frontier history of colonial North America, and most of my published scholarship has been in that area, including a book on South Carolina's Yamasee War (titled A Colonial Complex).  I still review books and manuscripts on Native American and frontier history, but in recent years I have worked more on some history that is closer to home—the history of this university in the very important era of the 1920s and 30s. Someday I would like to write a book on Wiley Lin Hurie, who led Ozarks' transformation from a tiny missionary school into a terrific and modern liberal arts college during the Great Depression, which was quite a remarkable feat.