Location

Walker Hall - 333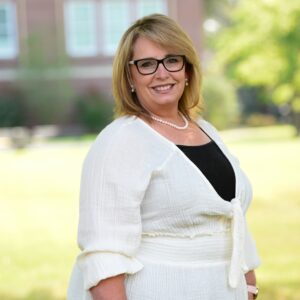 I am a 1990 Ozarks graduate. My love for learning began at a young age and my desire to make an impact on the future of teachers and students grew  over the span of my career.  I taught in private school one year and spent the next 25 years in public school systems. I spent 8 years as a kindergarten teacher in a small isolated school system and 5 years as a second-grade classroom teacher in a larger school system before serving 12 years as principal at Lamar (AR) Elementary School. In July 2018, I became the director of the Early Career Professional Educators which is a partnership established between the University of the Ozarks and Guy Fenter Education Services Cooperative to support recruitment and retention of novice teachers. I am so grateful for the experiences I have had in education and excited about helping develop future teachers.
Special Projects / Initiatives
I feel extremely blessed to be back at Ozarks where I spent so many wonderful years. I work closely with partnering schools and teacher education majors in their student-teaching and practicum endeavors. I teach Internship I and Current Educational Practices, Internship II and Cultural Perspectives. I also facilitate training for Novice year 1, year 2 and year 3 teachers and their mentors. I am blessed to have the opportunity to work with future educators at the place I believe my career and love for continuous learning began–the University of the Ozarks. At Ozarks I am home.