​Student Life is dedicated to making sure your college experience is an enjoyable one! Between student organizations, programming, residential life, athletics, campus departments, and everything in between, there is always something to do on campus.
Organizations are a vital part of the University of the Ozarks. With over 30 student-led organizations, there is a place for you at Ozarks! Organizations range from special interest groups to religious organizations to academic organizations and much, much more!
For more information, contact Terri Thomas, Dean of Students.
Club Officers can utilize the Club Officer Manual throughout the academic year to provide key policies and procedures, important deadlines and events, and outlined guidelines related to fundraising, event implementation, marketing guidelines, etc. 
---
Clubs and Organizations
Black Student Union (BSU)
Aims to foster a safe environment for diverse students. BSA works to build leaders, promote unity, and contribute to overall student success. We serve the Ozarks community through hosing cultural, educational, and social initiatives.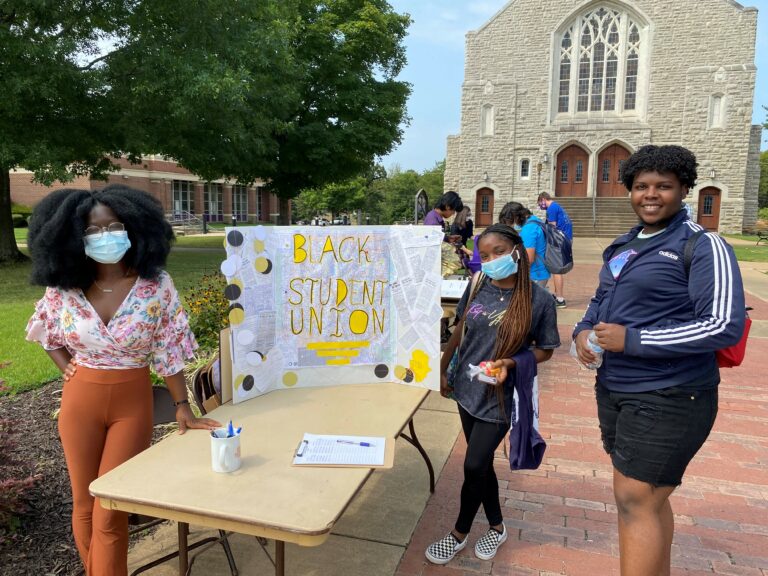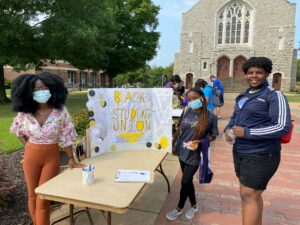 Caribbean Student Union (CSU)
Promotes Caribbean culture around the community. We promote our culture through different activities.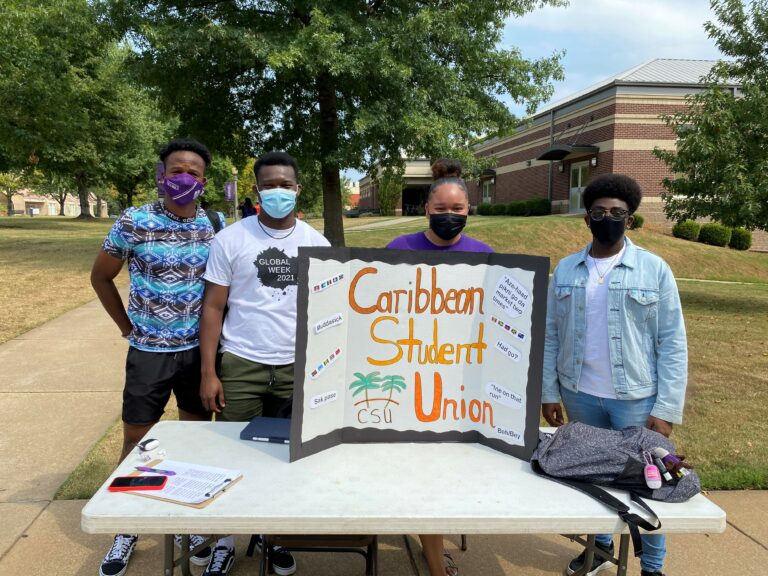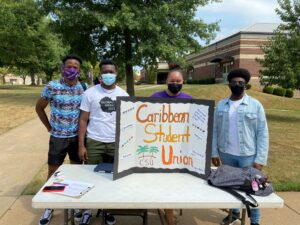 Catholic Campus Ministry (CCM)
A group of young adults who work together in strengthening their faith through sharing about their lives and being in community with one another.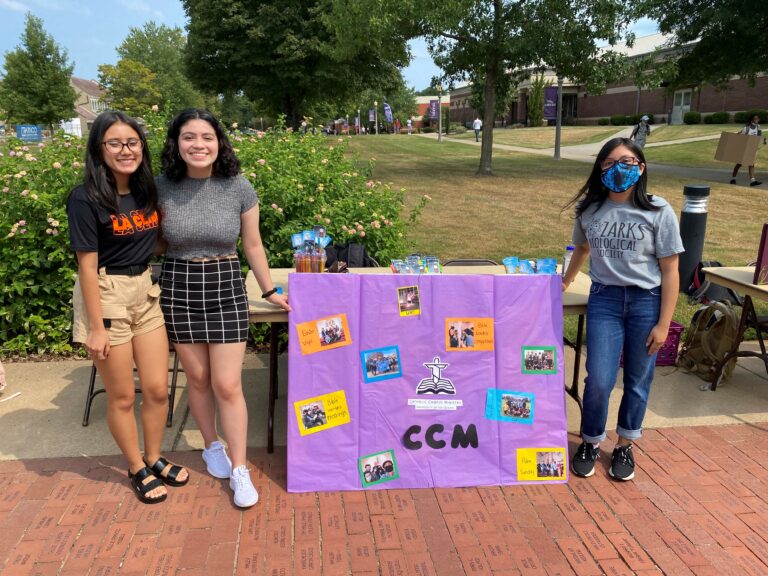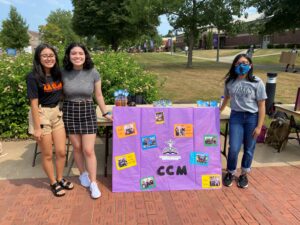 Chi Alpha
A Christian organization that strives to lead students and community members to the love of Christ through Spirit-filled meetings that involve studying the Bible, worship, and fellowship. We, as an organization, value our campus community and strive to be the hands and feet of Jesus for all who cross our paths.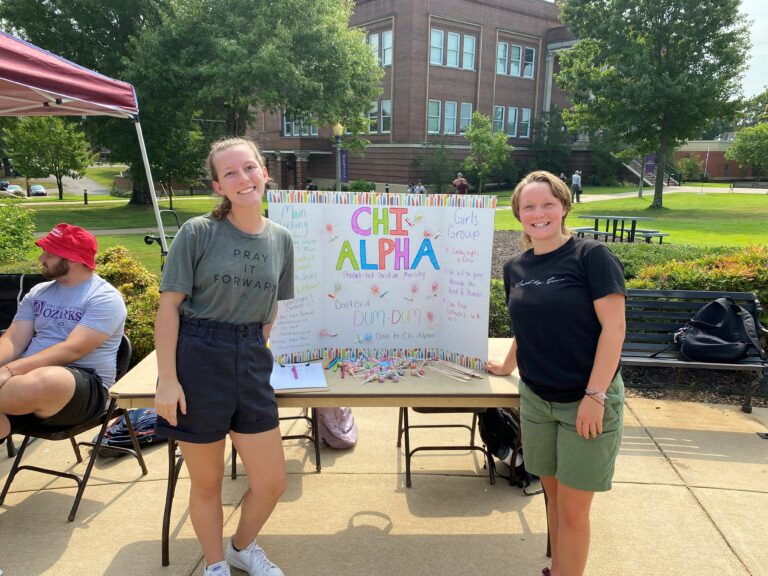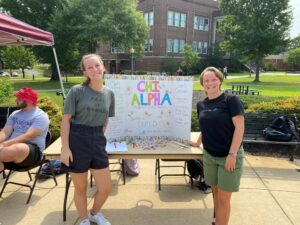 Baptist Campus Ministries
Dedicated to bridging the gap between the Baptist Churches and students in Clarksville. They provide lunch every Monday from 11:00 am – 1:00 pm at the BCM house at the bottom of the King/Smith hill and worship on Thursday nights at 9:00 pm.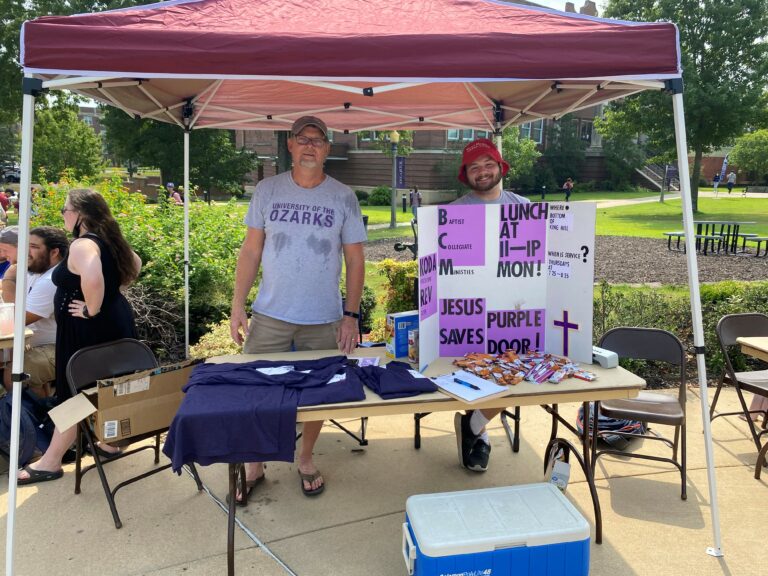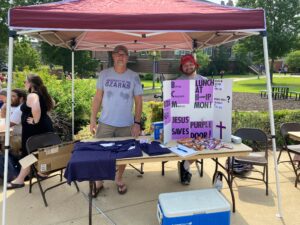 Hispanic Student Association
Promotes an opportunity for students of a Hispanic/Latino background to be better acquainted, have a space to develop and practice their traditions, and to showcase the importance of Hispanic/Lainto culture to the Ozarks campus community.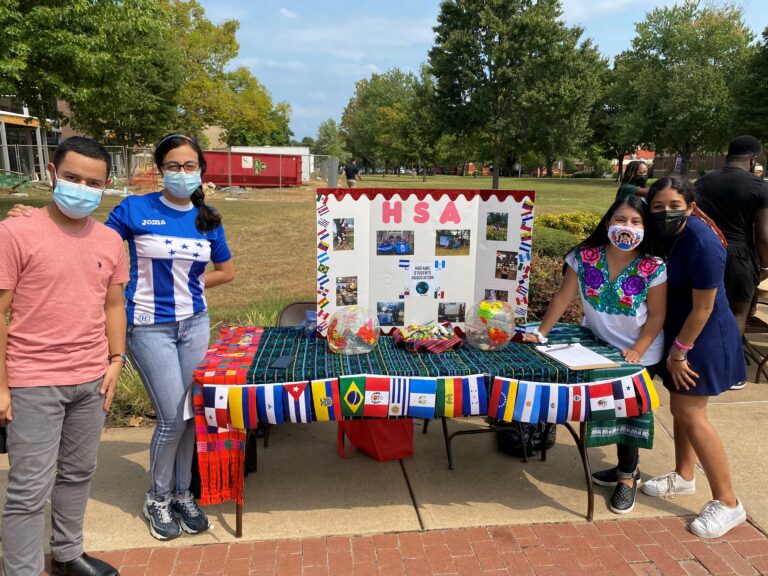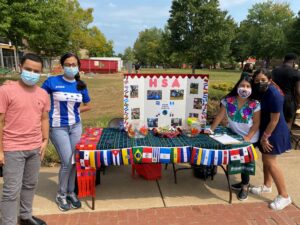 Ozarks chess club
The Ozarks Chess Club will provide organized chess training and tournaments environment for competitive-minded club members in order to build a positive friendship environment and to engage students in extracurricular activities.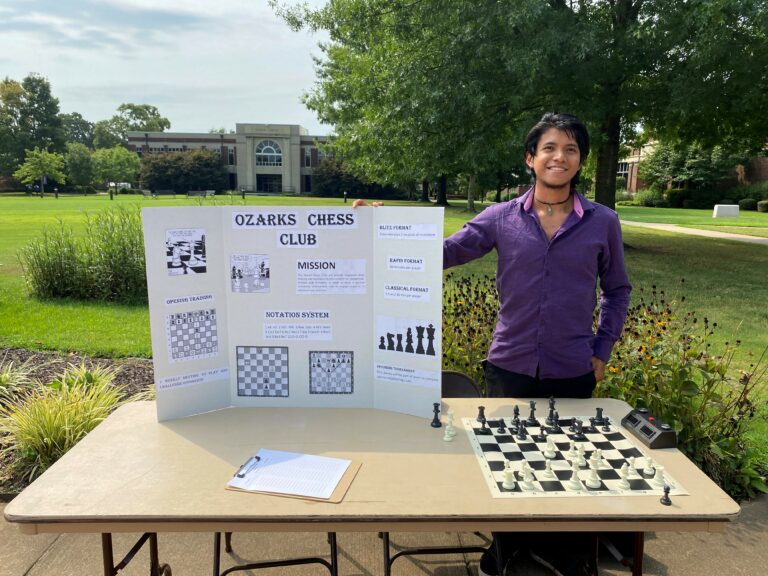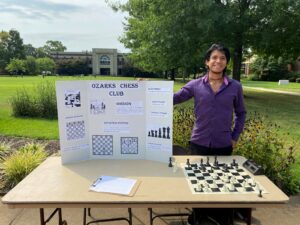 Ozarks Mathematical Society (OMS)
Dedicated to building interest in mathematics, physics, and computer science on Ozarks campus by exposing students to different and interesting topics within these subject areas. OMS strives to further students' understanding of mathematical topics already known in a fun environment.
Students Without Borders
Encourages cultural awareness and inclusion with the student body at University of the Ozarks.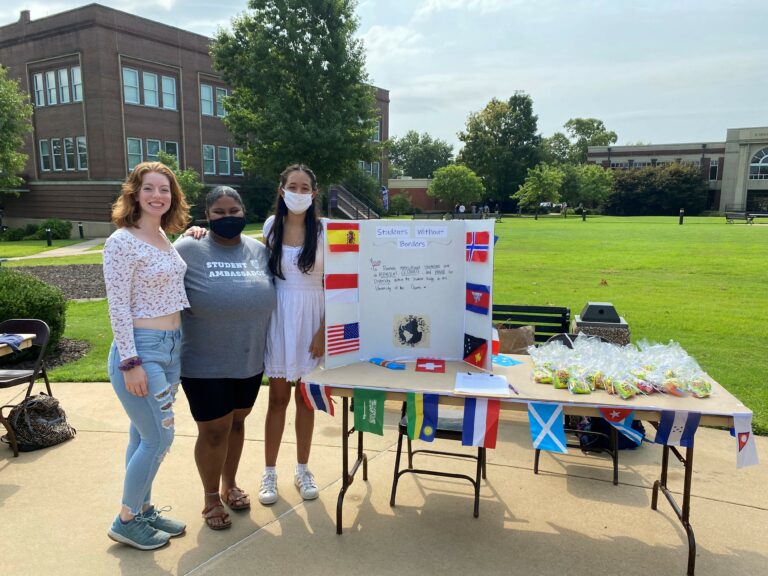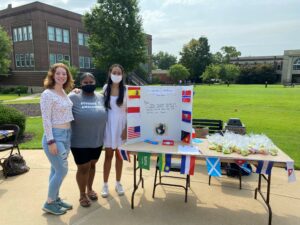 Mediarks Visual Arts Club
Harbor an environment of creativity through media by integrating videography, media writing, and production techniques in a conducive environment.
Ozarks Philosophical Symposium
Provides a place for intellectual debate by fostering open forum discussion on past and present philosophical and political ideals, off campus speakers, and an essay competition.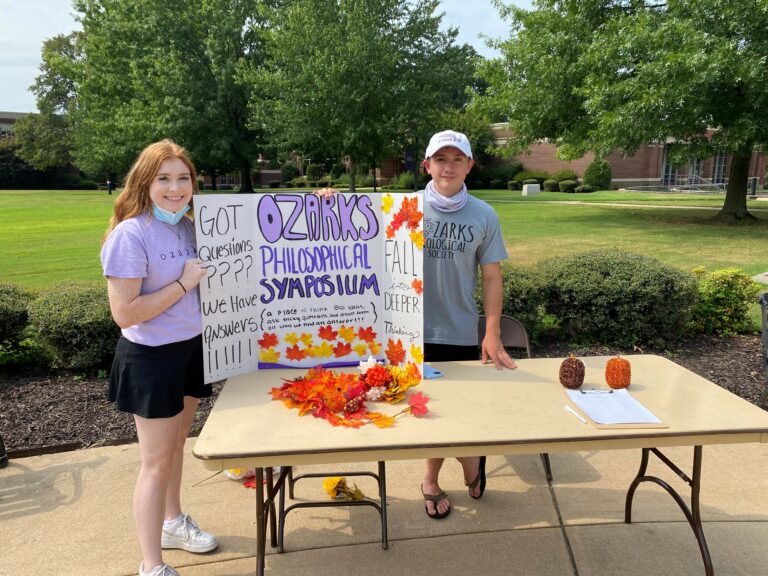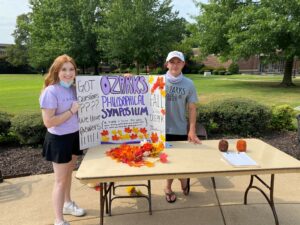 Eagle Productions
EP is responsible for providing a well-rounded and dynamic campus programming plan consisting of social, educational, cultural, and recreational activities for all University of the Ozarks students to enjoy. Throughout the semester, Eagle Productions will be hosting numerous programs for students to participate in. These programs will give students a chance to get involved on campus, grow in leadership skills, and develop meaningful connections with all of the campus community.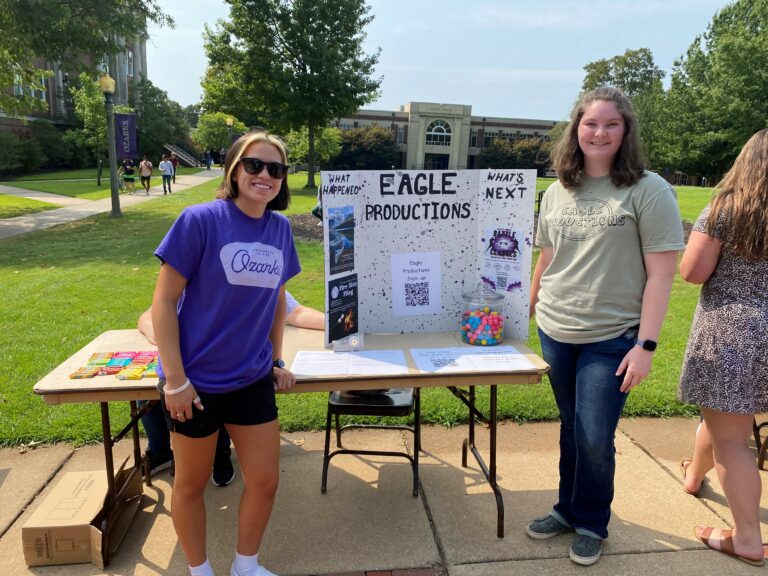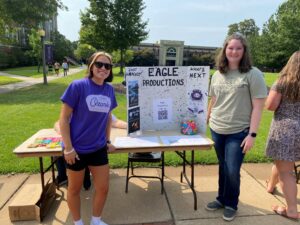 CulturNary Club
A place to explore the different tastes of the world on Ozarks campus. They hope to bring together students within the University community to discuss, explore and share their knowledge in the domain of food. The club offers opportunities for students to discover new cultures and help members grow socially and culturally through meetings and events.
Enactus
Presents students with a bridge to a professional environment where they are empowered to be innovative and intuitive whilst positively affecting lives and solving problems through entrepreneurial action. Enactus takes pride in maintaining a presence at Nationals in Kansas City, MO, and at the World Cup, which has a different location each year.
Esports club
The University's one and only anime/gaming club! We offer a welcoming and friendly environment for students to get together to enjoy video games, board games, anime and other activities as a means to unwind and improve our students' quality of life!
Ozarks Alchemists 
An ACS approved chapter. Although we are the chemistry club, individuals from all fields of study are welcome. Ozarks Alchemists promote scientific knowledge throughout the campus and local community by organizing activities, conferences, community service, and more!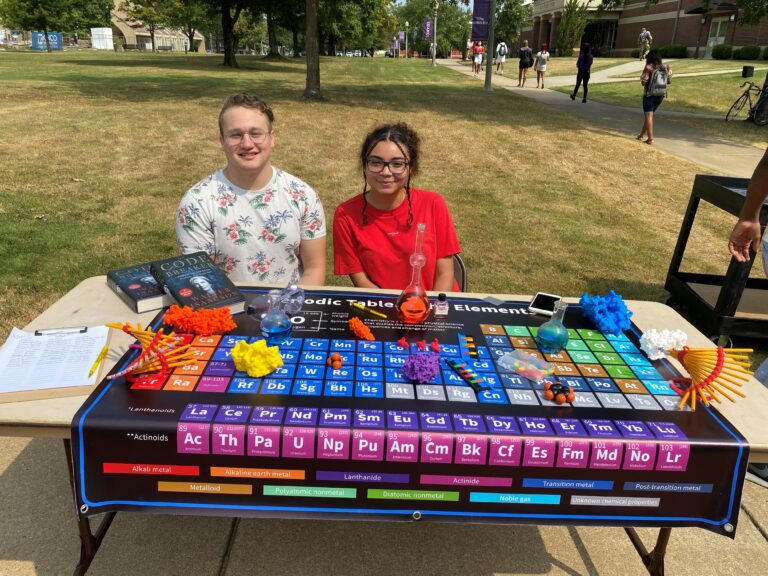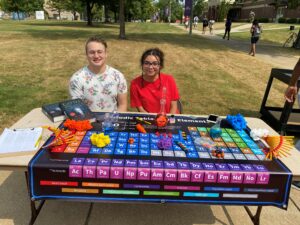 Ozarks Alliance
An LGBTQIA+ club that seeks to foster understanding and promote inclusion on the Ozarks campus and in the larger community. This club welcomes any and all interested parties, including allies or questioning persons.
Fellowship of Christian Athletes
Dedicated to reaching athletes, coaches and students focusing on student athlete growth and leadership skills. FCA is primarily centered around student athletes, but is not a restricted membership organization. The organization also focuses on the world impact of Jesus Christ through the influence of coaches and athletes.
O.S.E.A. – Ozarks Student Education Association
Designed for the networking and fellowship of all who love education. Members of the organization participate in community service in local schools and job preparation seminars to better understand the world of education. It is their main goal to change the world one student at a time.
Synergy Sounds
Utilizes the universally prevalent means of music to resonate with members of all cultural and ethic cohorts, facilitating a forum of enjoyment and entertainment via melody, rhythms, and beats. 
Ozarks Volleyball Club
To provide a community in which students can play and learn about volleyball.
Young Republicans of the Ozarks
Dedicated to sharing modern politics and helping students at the University of the Ozarks become more politically aware.
Entrepreneurship Club
Made to inspire members to start their own business while engaging in monthly activities such as workshops, speeches, company visits, and social gatherings that will help turn their ideas into projects.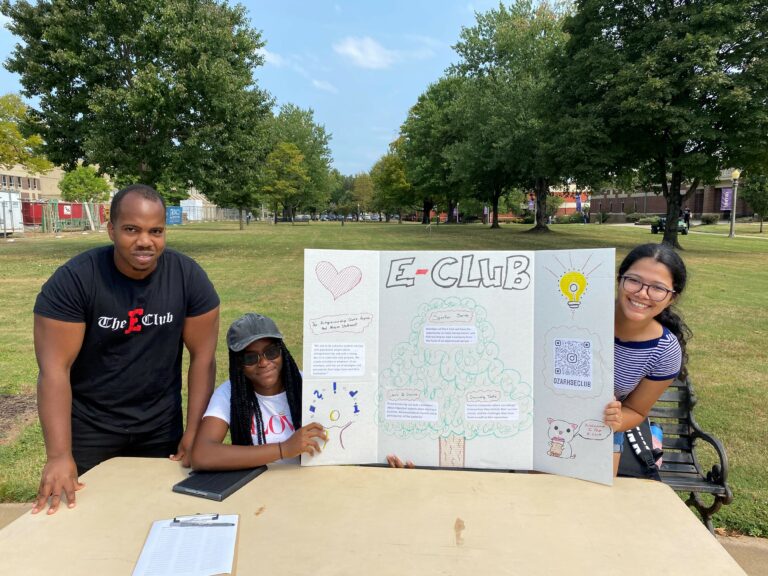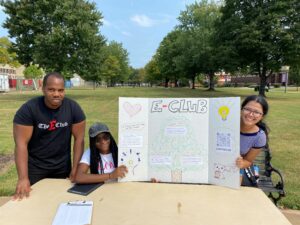 Student Government Association
The purpose of this Student Government shall be to further the interests of the student body, encourage students to develop leadership qualities, encourage students to exemplify qualities of responsible citizenship, function cooperatively with other constituent bodies to achieve the mission and purpose of the University, improve students' physical, social, and cultural welfare, provide official channels through which students' opinions may be expressed, represent students' perspective of campus life, and keep the student body informed on relevant issues.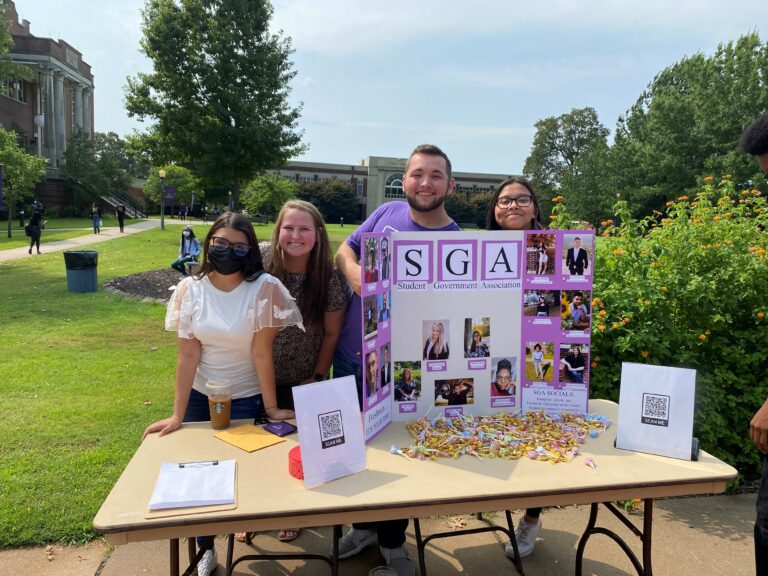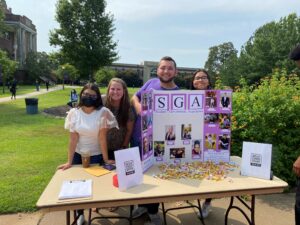 Yele Dance Club
A place to explore the different The main goal is to help fellow students feel a sense of belonging through different dance styles and cultures.
Ozarks Biological Society (OBS)
Encourages academic excellence and empowers members to expand academic interests. We create an environment where students can share their findings and interest in the sciences.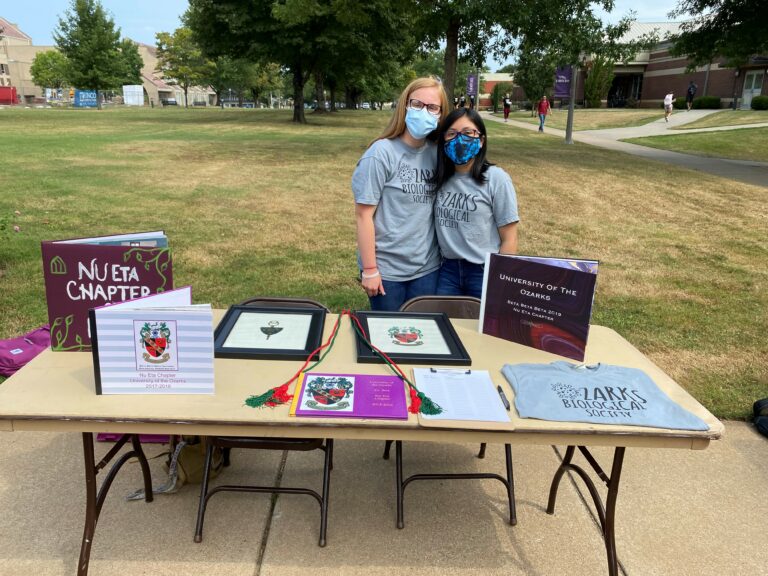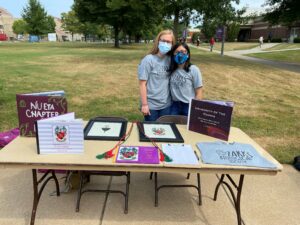 Phi Beta Lambda (PBL)
Dedicated to inspiring and developing the next generation of leaders by preparing its members for careers in business and other business-related fields. Phi Beta Lambda state competition participation complements members' academic experience, providing the opportunity for valuable professional development, networking, and career development experiences.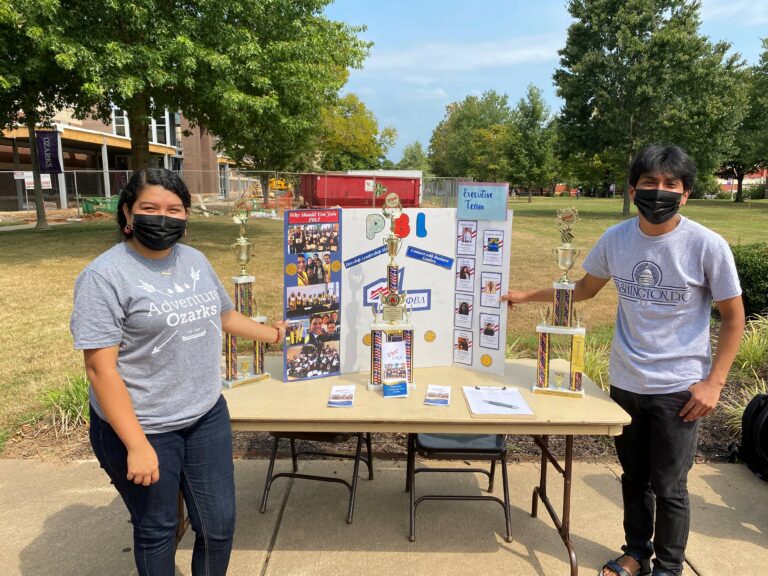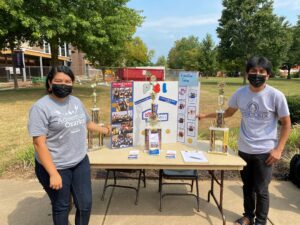 Planet Club 
Aims to increase environmental concern among students and the wider Clarksville community through sustainable initiatives and activities.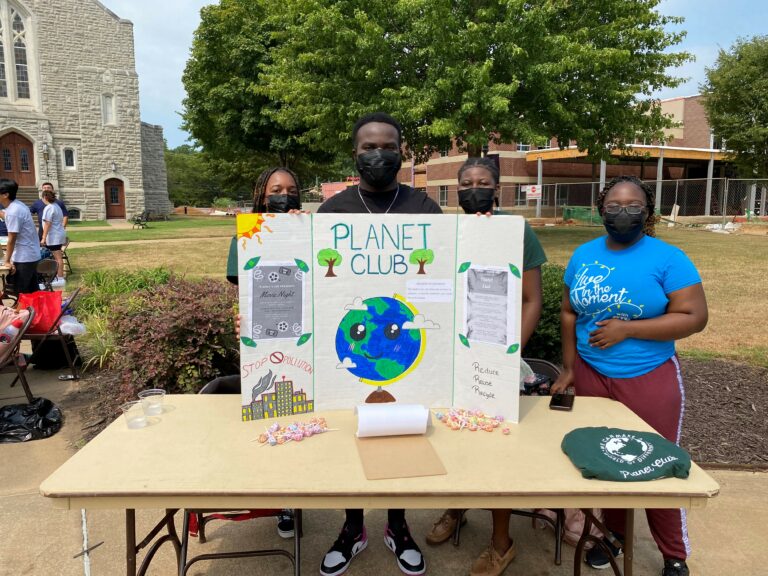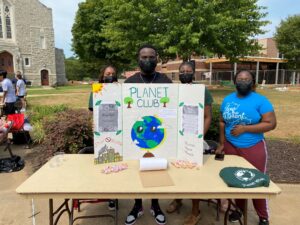 Tri Beta
Designed to stimulated interest, scholarly attainment, and investigation in the biological sciences. 
Wordsmiths 
Promotes creative writing on the Ozarks campus and provides opportunities for members to improve their own writing. Wordsmiths sponsors a variety of events on campus, including a reading of horror-themed works for Halloween, a poetry delivery service on Valentine's Day, and activities celebrating National Poetry Month throughout April.
Ozarks Disc Golf Club
To enjoy the game of disc golf with peers and compete at a high playing level representing University of the Ozarks. 
OZK Campus Ministry
Multi-denominational campus ministry designed to bring the campus community together to build relationships with one another and God through a variety of activities, devotionals, and service projects.
Ozarks Humane Society
A student organization dedicated to helping local animals both at Needy Paws Animal shelter and the greater Clarksville community while forging connections between community and the University.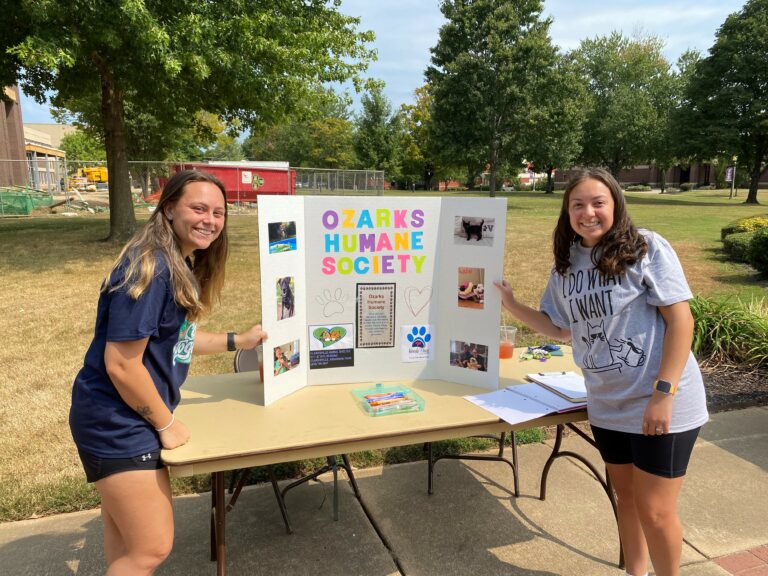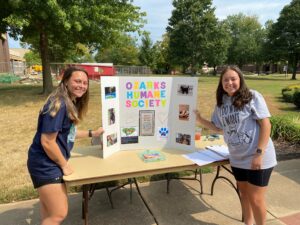 OzArts Art Club
Promotes artistic excellence among the University of the Ozarks art students, increase cultural awareness among all students of the University, and increase recognition efforts of the Art Department and it's students.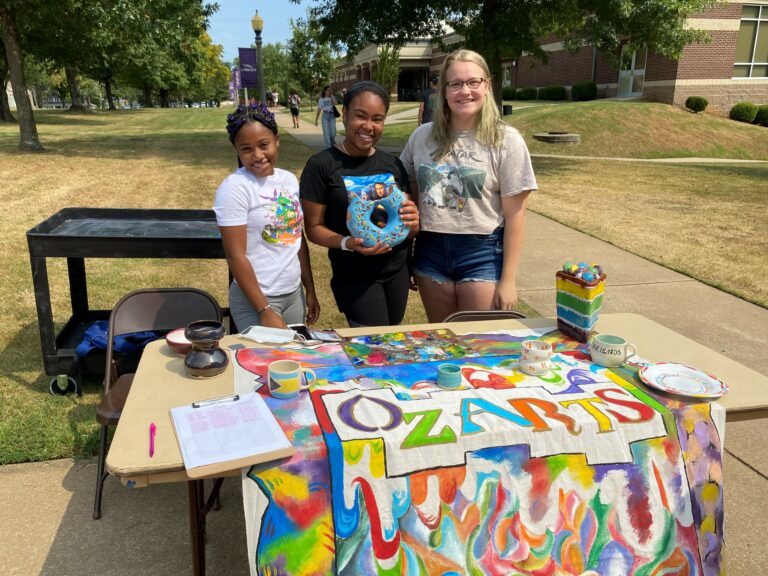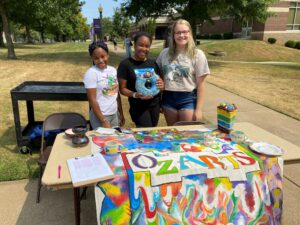 Ozarks Psychology Club
Increases awareness, compassion, and understanding of mental illness within the campus community, as well as help eliminate the stigma of mental illness.