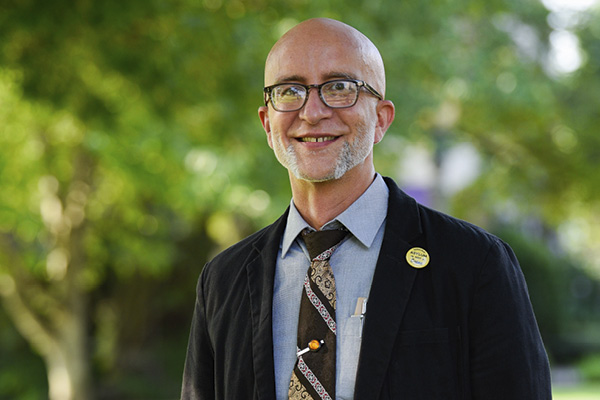 University of the Ozarks Assistant Professor of Philosophy Dr. Nathan "Eric" Dickman has recently had three articles published in academic journals.
"Dialogue or Narrative? Exploring Tensions between Interpretations of Genesis 38," was co-authored with Joy Spann and appeared in Religions: An Open Access Journal of Theology.
"I'm really grateful to have worked with my friend, Joy Spann, on this project," Dickman said. "It's a study of Genesis 38, what appears to be an interruption of the narrative flow about Joseph. We bring together feminist and early Jewish midrash to examine interpretive possibilities."
Dickman published "The Hermeneutic Priority of Which Question? A Speech Act Clarification of Interlocutionary Acts," in the publication Informal Logic.
"I had the opportunity to contribute to a special issue on speech act theory, an approach to language philosophy looking at what language does rather than merely what language means," he said. " It's connected with my recent book on questions and reasoning."
Also, Dickman's article, "Radical Responsibility Beyond Empathy: Interreligious Resources against Liberal Distortions of Nursing Care," was published in Nursing Philosophy.
"I contributed to a series of discussions on abolitionist approaches to nursing and health care, inspired by Angela Davis's antiracism," Dickman said. "I bring together resources from twentieth century Jewish and Buddhist philosophies."
In addition, Dickman recently presented a talk at Hendrix College and took an intensive seminar on Critical Race Theory. The title of the presentation at Hendrix was "Religious Inclusivity in Higher Education and the Hermeneutic Priority of Questions in Religions." The seminar on Critical Race Theory was titled, "'Forbidden Knowledge' Fights Back: Unleashing the Transformative Power of Critical Race Theory," sponsored by The African American Policy Forum (AAPF).
Dickman has also been volunteering to teach seminar courses for a retiree community and for an education center for undocumented immigrants and recently completed proofs on his second book, scheduled to be out in March. The book is titled, "Philosophical Hermeneutics and the Priority of Questions in Religions: Bringing the Discourse of Gods and Buddhas Down to Earth," and is a critical and comparative work on the direct discourse divine beings or figures of ultimate authority in religious narratives, focusing on HaShem, Mazu, and Jesus. Dickman has also signed a contract for a third book.
Earlier this year, Dickman published his first book, "Using Questions to Think: How to Develop Skills in Critical Understanding and Reasoning."
Link to articles:
"Dialogue or Narrative? Exploring Tensions between Interpretations of Genesis 38." https://www.mdpi.com/2077-1444/12/11/947/htm
"The Hermeneutic Priority of Which Question? A Speech Act Clarification of Interlocutionary Acts." https://informallogic.ca/index.php/informal_logic/article/view/6840
"Radical Responsibility beyond Empathy: Interreligious Resources against Liberal Distortions of Nursing Care." https://onlinelibrary.wiley.com/doi/abs/10.1111/nup.12372
Topics: About, Academics, Faculty Spotlights, Psychology