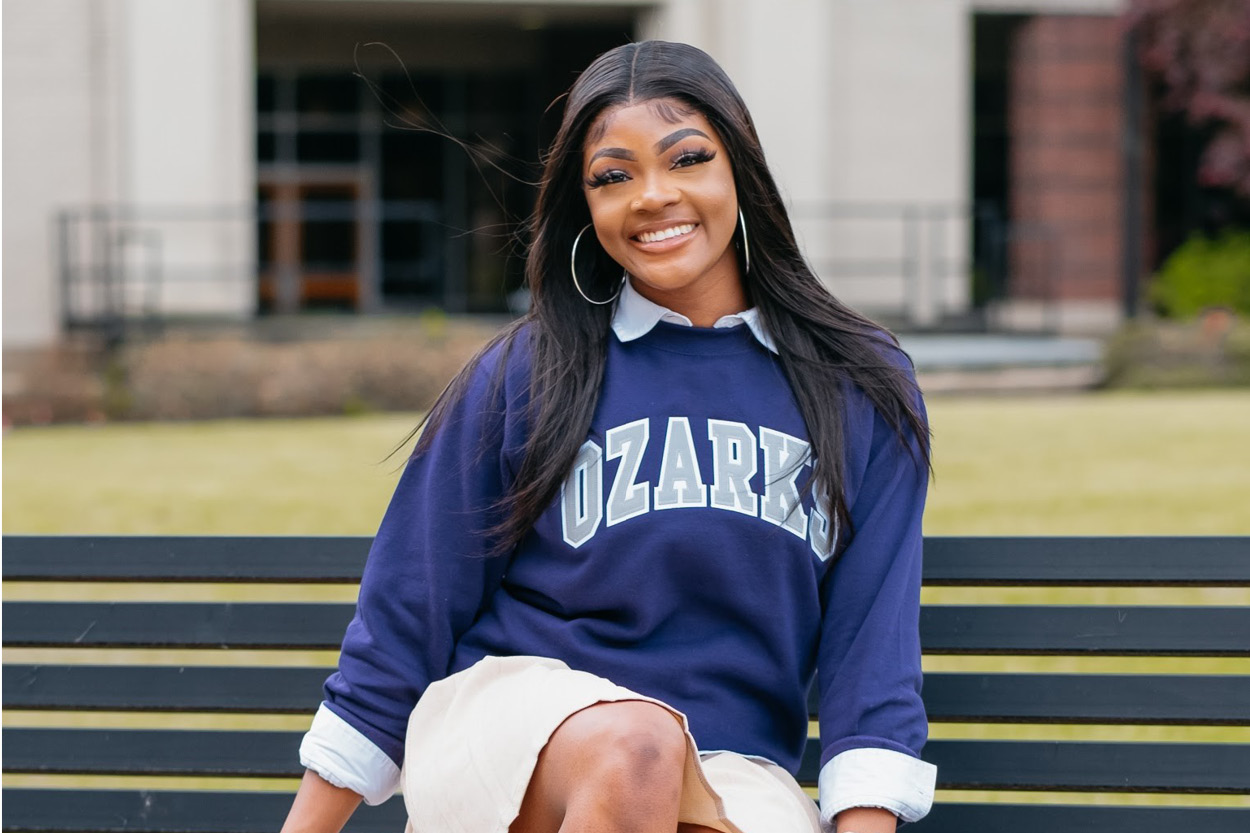 According to the National Science Foundation, African American women are significantly under-represented in science, technology, engineering and mathematics (STEM) professions, holding less than five percent of those jobs in the workforce. University of the Ozarks senior Destinee L. Manning plans to help change that trend.
Manning, a chemistry major from Memphis, Tenn., will graduate with Magna Cum Laude honors this month. She will then head to the University of Mississippi where she received a full scholarship and stipend to pursue a Ph.D. in pharmaceutical science with a concentration in medicinal chemistry.
Manning said she has been interested in science as long as she can remember.
"Since I was a child, I always asked my mom to sign me up for science fairs and go to science museums," Manning said, "As a third-grader I would ask my mom in-depth questions about how cells work and she always laughed and said, 'I don't know baby, you should find out as you grow older.' Well, here I am a decade and a half later, trying to explain to her how cells work."
It was an eighth grade physical science class that propelled Manning toward a career in the sciences.
"My teacher at the time was hard on our class and she really pushed us to excel," she said. "She made us learn the entire periodic table and balanced so many chemical equations. After eighth grade, I was inducted into the STEM program in high school. The program started over the summer at the University of Memphis for seven weeks where we learned medical assistant techniques, built underwater rovers and became CPR certified. I enjoyed learning and competing in STEM events and this soon became my passion."
Manning said she hopes to "show others that pursuing a degree in STEM is not impossible and it is okay to strive for things outside the norm."
"You shouldn't give up on your dreams just because it's hard," she said. "African American women have often been considered to be a less-educated group among minorities. I want to help change that, be the one percent in the statistics and show others that they can do it too."
Manning plans to work in the pharmaceutical industry with an eye on helping her community.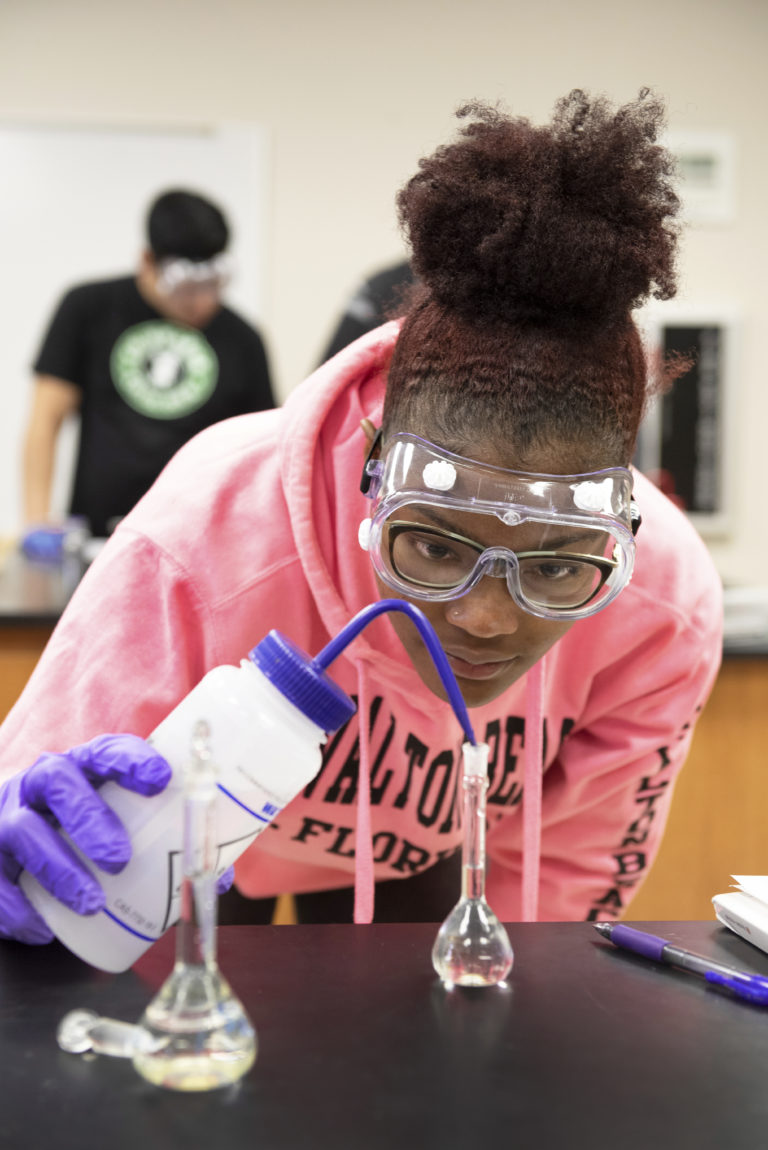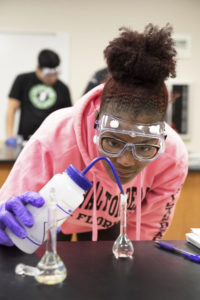 "I want to learn more about my community, understand the problems in education and health and make a difference," Manning said. "With my STEM degree, I want to create an environment in which people can trust medicine and I want to help fight debilitating diseases." 
With a quartet of minors in business administration, philosophy, psychology and mathematics, Manning said she put some serious thought into what disciplines to study in Ozarks' wide-ranging LENS curriculum.
"My major and minors all complement each other quite well," Manning said, "I chose mathematics as a minor because chemistry includes math and I have always been good at it, so why not make chemistry easier by having a mathematics background. I agreed to take up psychology because my goal is to make drug molecules that can better serve our community; therefore, this minor will help me understand and learn about the behavior of the people. Throughout history, most scientists and mathematicians are also philosophers because of the ability to think critically and also create self-awareness. This minor helps me understand problems from the past and relate them to current events. A goal and dream of mine is to start a pharmaceutical company after working in the industry and, with my business administration degree, I would not be lost on where and how to start a business."
Manning said the most impactful class she has had at Ozarks was an Ethics, Religion and Culture course taught by Dr. Eric Dickman, assistant professor of philosophy.
"He brought me a lot of awareness about social, political-relational and medical-individual models," Manning said. "This taught me that some mental health and physical health issues are society-related. This will help me become a better chemist by knowing that everything cannot be fixed by medicine alone."
Manning said her time at Ozarks also helped instill in her other valuable lessons outside the classroom.
"Coming into Ozarks, I did not want any friends or distractions. I only wanted to focus on my work and getting prepared for the next level," she said. "I was very anti-social. However, over the years Ozarks has led to me having some wonderful friendships with classmates and professors. Ozarks has also changed me by helping me understand other points of view and why they believe what they believe. Ozarks helped me connect and understand my spiritual health as well by learning about other religions and deepen my faith through what God called me to do. This helps me strive for the impossible and challenge myself and understand that God is there with me every step of the way. And, even If I fail, I learn what I did wrong and push myself to not make the same mistake."
Topics: About, Academics, Business Administration, Chemistry, Mathematics, Philosophy, Psychology, Student Stories