Location

Walton Fine Arts Center - LL6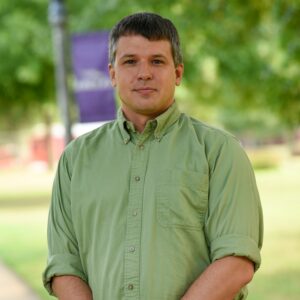 I grew up in Western Kentucky the youngest of four (3 girls and 1 boy) of a tobacco farmer and a middle school math teacher. From both my parents I learned the value of hard, manual labor on the farm, the importance of education, and the need for cooperation to get things done. This upbringing might suggest that I would have been a biologist, but I was always more interested in the chemical herbicides and pesticides that were used to encourage plant growth and ward off insects. In 2003, I graduated from Centre College, a small, private liberal arts school. The personal, broad education provided me the opportunity to study abroad, participate in off-campus internships, and graduate in four years.  At the time I did not realize it, but those undergraduate years instilled a teaching and learning philosophy that has shaped my professional career. In 2009, I earned my Ph.D. in Chemistry from Michigan State University, where I discovered my future was in undergraduate education.
In 2017, I joined the faculty at the University of the Ozarks. While I had several teaching positions before this I had not gone back to a private, liberal arts institution, and I had not realized how much I missed that environment. One of the challenges I love about Ozarks is that I get to teach a broad range of chemistry courses, not just my area of organic chemistry. 
Special Projects / Initiatives
My research interests are in oxidative cleavage of olefins and chemical education.