Location

Walton Fine Arts Center - LL8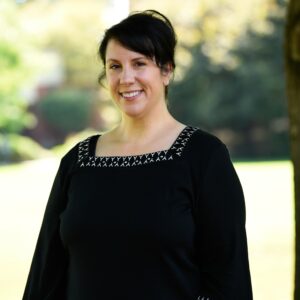 I come from a family of story-tellers, folks who will sit, often around a campfire, and tell the same story over and over to audiences well-familiar with the plot  but who delight in seeking out new meaning, new insight, with each new tellingly of the tale. I was far more interested in these family stories about ordinary people than in the deeds of great men and the dates of their battles or elections—i.e., high school history—and would have denounced it as one of my least favorite subjects. By chance in my first-year at the University of Michigan, however, I took an art history class as an elective and something clicked: here were the stories of diverse but often ordinary people absent from the high school history books, and analyzing their stories was second nature to me. And so I switched my major to the History of Art, studied abroad for a semester in Florence, Italy, graduated from Michigan, and—wanted more. A graduate certificate in archival administration from Wayne State University, an M.A. in medieval and early modern European history from the University of Akron , and a Ph.D. In medieval European history from the University of California Santa Barbara followed. 
I joined the University of the Ozarks as an assistant professor of history in the Fall of 2010, and have taught a variety of upper- and lower- division history classes as part of my regular rotation: World Civilization I and II, Greek and Roman History, Medieval Europe, Renaissance and Reformation History, European Enlightenment, Modern European History, Islamic Communities, Jewish Communities, and—my favorite—Historiography, or the history of the philosophy of history. I have had the opportunity to lead two study abroad trips and designed courses to complement those trips: Italy—From Rome to the Renaissance and The British Isles: From Stonehenge to Shakespeare. I've also taught a section of our first-year experience class—Ozarks Seminar—annually since 2014, welcoming students to Ozarks and introducing them to the academic life of the university. In each of these classes I have found my Ozarks students to be amazingly receptive to "my kind" of history: imagining the lives of those long past, basing our analysis on the snippets of textual and material artifacts they left behind, and finding meaning in the stories we discover—sometimes even while sitting around a campfire. 
Special Projects / Initiatives
My focus as a historian has been on the lives of the marginalized and often forgotten, those who show up in only tantalizing short snippets in archival records. My dissertation and subsequent articles explored the social and financial roles of women in the very small Jewish community in the central-Italian town of Perugia from the 13th to 15th centuries. My current work-in-progress, a manuscript tentatively titled: Outside the Piazza: Gender, Identity, and Community in late medieval Perugia, broadens the scope of my original research to explore how gender expectations were influenced by the needs of the Jewish community, itself under intense social pressure eminating from the larger Christian host community. In addition to notarial records, this latter project analyzes relevant rabbinic sources, Christian sermons, and late medieval and Renaissance art in order to ferret out the social and cultural world of this small Jewish community.
My history advisees (majors) write senior theses in a variety of topical subjects in European history. These have included homosexuality in the ancient world, Nazi and Russian propaganda during World War II, the art of Caravaggio and the Council of Trent, medieval chivalric ideals, the evolution of the shrew in Renaissance literature, and Christian and Muslim narrative accounts during the First Crusade.