Location

Walton Fine Arts Center 154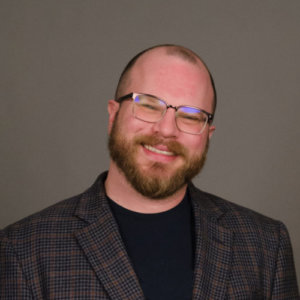 My quest for knowledge and, perhaps, wisdom led me long ago to the study of literature as an endeavor where we work out what it means to live in the world, to be human. By a circuitous route, with stops in Prague and at the University of Arkansas, I've made my way to the University of the Ozarks, where I am happy to share my passion for drawing understanding from artistic and cultural works with students, who I always learn from in return. A native of New Orleans, I spent my first twenty-one years imbibing that city's culture of deliberate living. Passing along that curious mixture of book knowledge and human experience that studying English imparts is my life's passion
My academic research focuses on how contemporary American novels and films represent new technologies, especially considering the ramifications for identity and the formation of digital-infused selves. As we navigate a world of screens, images, and videos, moving away from the more static book, it is important to consider how humanity might fundamentally change in that process, along with what we stand to lose in the bargain. My research comes across in my teaching, especially in contemporary literature courses such as in Science Fictions and Speculative Futures and in Coming of Age in Contemporary American Literature. I also teach a range of other courses, including Utopian and Dystopian Literature, Victorian Literature, Global Literature, and Academic Writing here at Ozarks.
You can usually find me geeking out over novels by Neal Stephenson and William Gibson, films about computer hackers, and the bizarre ways people interact online. Otherwise, I spend my free time drinking coffee, pondering the meaning of things, and, when possible, playing chess.
Special Projects / Initiatives
My current research involves exploring what contemporary science and speculative fiction novels can add to our understanding of the digital, virtual lives our technologies have thrust upon us. I am currently at work on a series of articles that interrogate virtuality and techno-cultural change as they are represented in literature.
I am also at work revising a book manuscript that has grown out of my dissertation project, "Mapping the System, Completing the Circuit: The Hacker Figure as Techno-Interface in Contemporary Novels of Speculation and in Popular Film."