Location

Walton Fine Arts Center 151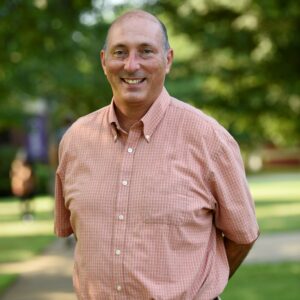 The path that brought me to Ozarks can be traced back to when I was 17 years old and a freshman at a Christian liberal arts college. My first college classes challenged me to think more deeply and critically about the beliefs I had absorbed from my home church in south Arkansas. Addressing those issues was a scary thing. But something told me that if God truly wanted me to grow and live a full life, I couldn't simply run away in fear. Instead I would have to turn and face the many questions I now had about God, the Bible, and other religions.
As it turned out, turning and facing those questions became the start of a lifelong and joyful journey of growth and learning, leading me to divinity school at Yale and a doctoral studies at Duke. Of course, that journey is all the more meaningful now that students at Ozarks are a part of it. Since coming here in 2000, I've had the opportunity to mentor students while introducing them to the vast and fascinating field of religious studies. Their interests, in turn, have opened my eyes to greater learning about religion and its intersection with fields like ecology and disability studies. It is an honor to be part of their intellectual growth in a discipline that is so deeply personal and formative.
Special Projects / Initiatives
Although I have published work in American religious history and Native American studies, my current interests are focused on interfaith studies, the agrarian writings of Wendell Berry, and the challenge of rural renewal.