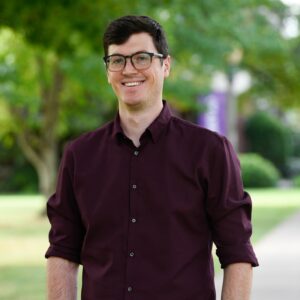 In 2021 I earned my PhD in English Literature from the University of Kansas, with a focus on the study of modernist literature, postcolonial writing, and critical theory. My work at University of the Ozarks grows from this study and from my background teaching English for diverse groups of students at Arizona State University, Park University, KU, and for Major League Baseball's Colorado Rockies. At Ozarks, my classes push students to interrogate the intersections of global literature, philosophy, and politics, in courses such as African Literature, and the Literature of Policing and Punishment. Students in my courses develop skills in critical thinking and open-minded engagement, and find new means of examining the ways that the humanities can help us articulate the political content of our world. Together, my teaching and research address social justice and systemic inequity by analyzing stories, histories, and ongoing political conditions of marginalization, and exploring the more just futures that are possible. This work has resulted in publications on the biopolitics of immigration in the Trump administration, nonhuman desire in US detective fiction, imperialist violence in videogames, African American protest art in fiction and hip-hop, Nigerian modernism, and reading the Coronavirus pandemic through pop music.
My current book project, Biopolitics of Modernism: Race, Gender, and the Making and Remaking of the Modern World, is a development of my pedagogical and scholarly concerns. As familiar discourses on structural racism, Black Lives Matter, animal rights, mask mandates, and sexual violence remind us, our politics is intimately bound up with life. The contemporary world is unavoidably biopolitical. In this project, I argue that in order to contend with this intersection between life and politics, we need to examine its symptoms as they emerged as the modern world came into being, in the moment of modernism. By revealing the nascent characteristics of our biopolitical order, I uncover a distinct forerunner to the biopolitics we continue to live—a biopolitics of modernism. The project breaks new ground in the analysis of African American, African, and transatlantic literature by making it possible to re-see the ways that racism and sexism have shaped twentieth- and twenty-first-century literature and politics, and to envision a response. 
Publications:
Books
Biopolitics of Modernism: Race, Gender, and the Making and Remaking of the Modern World. Manuscript in progress.


Journal Articles and Book Chapters
"Speculative Time: DJ Screw and the Slow Justice of Alternative Temporal Worlds." Speculative Souths, edited by Amy Clukey, Erich Nunn, and Jon Smith. Forthcoming 2022.
"Desire and Nonhuman Excess in Raymond Chandler's The Big Sleep." Clues: A Journal of Detection, vol. 39, no. 2, 2021, pp. 95-106. 
"Colonial Modernity: Progress, Development, and Modernism in Nigeria." Ufahamu: A Journal of African Studies, vol. 42, no. 1, 2020, pp. 43-66. 
"(Auto)immunity, Racism, and Crisis: From the Biopolitical to the Allopolitical." SubStance: A Review of Theory and Literary Criticism, vol. 48, no. 3, 2019, pp. 82-100. 
"A 'Savage Mode': The Transmedial Narratology of African American Protest." Facta Ficta Journal of Theory, Narrative & Media, vol. 2, no. 2, 2018, pp. 155-172. 
"Language Danger: Metal Gear Solid V and the Weaponization of English." International Journal of Transmedia Literacy, vol. 4, 2018, pp. 69-89. 
Public Scholarship
"On Peter Gabriel's 'I Have the Touch' in a Time of Forbidden Touch." PopMatters, 15 Apr. 2021, https://www.popmatters.com/peter-gabriel. 
Book Reviews
"World, Worlds, Worlding." Review of What Is a World? On Postcolonial Literature as World Literature, by Pheng Cheah, Duke UP, 2016. Beyond the Margins, vol. 1, 2020, https://scholarworks.uno.edu/beyondthemarginsjournal/vol1/iss1/7. 
Conference Proceedings "Tarkovsky's Solaris: Settling the Otherworldly Self." SFRA Review, no. 327, 2019, pp. 41-45.