Location

Walton Fine Arts Center - LL4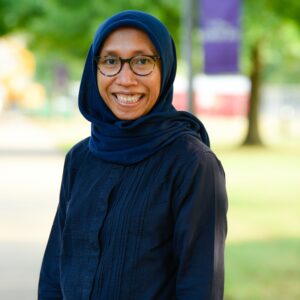 Dr. Murdianti is originally from Jakarta, Indonesia. She holds a Bachelor's degree in Chemistry from Institut Teknologi Bandung, an MSc in Chemistry from the University of Tulsa, and a PhD in Physical Chemistry from Oklahoma State University. She joined the University of the Ozarks in 2013 and is currently teaching General, Physical, Inorganic, and Forensic Chemistry. She is the recipient of 2017 Bagwell Outstanding Faculty Award and is also a member of the American Chemical Society (ACS).
She obtained extensive training in the area of nanoscale allotrope of carbon  (nano-engineered fullerene colloidal suspensions), where one of her works was selected as the cover article for the Journal of Environmental Science and Technology (ACS publication) for July 2012 edition. She co-edited a book titled Arachidonic Acid: Dietary Sources and General Functions, and is one of the editors for Modern Chemistry and Applications. Her research interest spans from nanomaterials to environmental sciences, focusing on the synthesis and characterization of fullerene nanomaterial and its toxicity/oxidative mechanism in the environmental systems. More recently, she works with chemistry major students on graphene as nanomaterial for environmental applications. 

Since 2016, she has been involved in coaching chemistry and material science to Arkansas high school students for the Arkansas Science Olympiad. She is also serving as the faculty advisor for interfaith working group at the University of the Ozarks, to promote understanding among various worldviews. In her spare time when she is not performing an experiment in the lab, she loves to perform cooking experiments in the kitchen. To her, chemistry is like cooking (just don't lick the spoon!).
Special Projects / Initiatives
Dr. Murdianti is currently directing two undergraduate projects on the synthesis and characterization of graphene oxide for trace metals removal and on the synthesis of graphene oxide/polymer nanocomposite.