Location

Walton Fine Arts Center - 152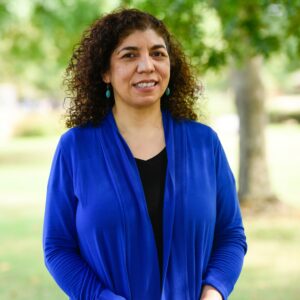 My areas of interest in Spanish Literature includes Latin American Literature, Peninsular Literature, Transatlantic studies, and the modern transformations on the transatlantic spaces shared by the Hispanic societies. This concept is visible during industrial movements of the 19th century but continue today. The gender roles during the Enlighted societies and at the turn of 20th century, and the Hispanic modernism. As well as the technological development transforming our culture and artistic expressions. For example, I study the Mimesis through literary texts, short films, and stories of people represented on musical videos. This interdisciplinary approach is helpful to understand messages of diverse groups of society using the traditional literary expressions and non-textual languages to communicate their reality.
Currently I teach Elementary, Intermediate, and Advanced courses of Spanish. Periodically I prepare a course on Special Topics in Hispanic Literature. 
SPN1105, Intensive Elementary Spanish I (Fall semester)
SPN1205, Intensive Elementary Spanish II (Spring semester)
SPN2043, Intermediate Grammar (Fall semester)
SPN 2033, Intermediate Conversation (Spring semester)
SPN3103, Introduction to Literature (Fall semester)
SPN3113, Advanced Grammar and Composition (Spring semester)
SPN4043, Major Works in Hispanic Literature (periodically)
My students practice communication skills to use beyond Spanish courses and Hispanic environments.
In elementary courses, the students use the communicative approach to practice what they are learning in class every day. This method is helping them to memorize new vocabulary and conjugation tenses, as well as to practice pronunciation. Intermediate courses participate in conversations sharing everyday life, create narratives telling past events, and participate in conversations addressing their future, discussing  professional goals and personal expectations. The advances courses review grammar conventions to produce grammatically coherent texts. The analytical reading and written compositions help students to organize ideas, increase the vocabulary, and develop strategies to communicate clear and coherent messages.
My current research explores new poetic forms and the fusion with music, video and contemporary expressions in the Mexican Literature.  This research include an analysis of Avant-Garde movements of the 20th century, representing a fragmented world and the innovative aesthetics influenced by the technological innovations transforming their environments. As well as, the representations of society expressed by urban rock and contemporary popular culture in Mexico. 
Books:
Conexiones transatlánticas: Expandiendo límites en el mundo hispano (1890-1910). Editorial Pliegos (2021).
Refereed Articles
"Emilia Pardo Bazán: adaptando el ideal estético a la modernidad decimonónica". (2016). Siglo diecinueve: Literatura hispánica, 22 (2016); 109-128
"Leyenda de Santa Catalina de Alejandría en Dulce Dueño: construcción de la nueva mujer". Revista Internacional de Culturas & Literaturas. (2014). <http://www.escritorasyescrituras.com>
Book Reviews
"Poiesis and Modernity in the Old and New Worlds". For Iberian Languages and Literatures Journal, 17 (2013); 73-76