Location

Walton Fine Arts Center - 153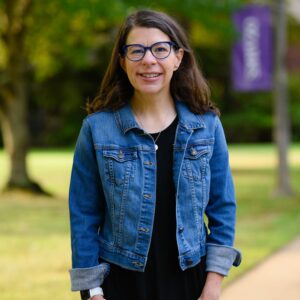 At Ozarks, I coordinate the writing-intensive courses for first-year students because I love to help students discover their voices through writing. It brings me great joy to help students work through the challenges that writing can present, and I love how writing classrooms allow me to learn what my students want to learn. I also love to teach literature, both through the exploration of texts and through application of theoretical perspectives that enrich our readings of texts, whether books, poems, advertisements, or other forms of communication. Sharing the exploration of imaginative writing with students means that every class is uniquely interactive and dynamic, and even familiar books can have new meanings every time we open them.
I earned my Ph.D. in English from the University of Arkansas, and I am grateful for the opportunity to work at the University of the Ozarks, where our campus allows the opportunity to build meaningful, long-lasting relationships with students.
I love to participate fully in our campus community, cheering on our athletes, judging Project Poet, and participating in Catholic Campus Ministry. I volunteer with several campus and community organizations that help people in our area, and I enjoy running and spending time outside.
Special Projects / Initiatives
My research interests center around 19th and 20th century American literature, focusing in particular on the works of writers including Hawthorne, Cooper, Longfellow, and Thoreau. I am also keenly interested in the intersections between literature and sport, which led me to develop one of my favorite courses, The Literature of Baseball. I also research ways that mobile technology can enhance teaching and learning, particularly through the use of iPads; you can find me leading Appy Hour in the campus coffee shop every week, sharing ideas and offering support for mobile learning.