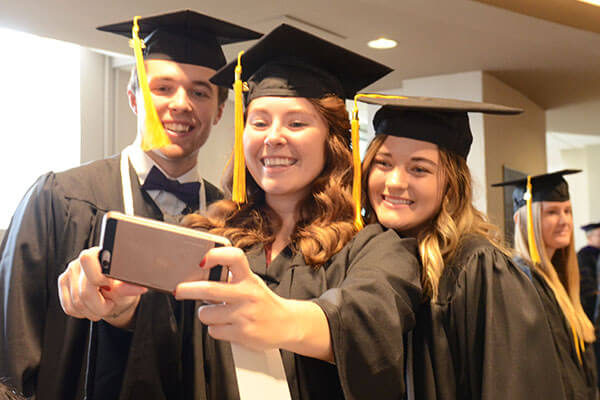 During this Christmas season of blessings and gratitude, University of the Ozarks is grateful for the support and commitment of its many alumni and friends from around the world. Thank you for your past support. Your gifts have made a significant and lasting impression on the entire Ozarks community as well as future generations of Eagles.
We invite you to take advantage of this opportunity to make a gift before the end of 2018.
You can support Ozarks in many ways:
Ozarks Annual Fund
Appreciated Securities
IRA Charitable Rollover
Endowed gifts in support of the University and her students
Planned Giving
All annual unrestricted gifts go directly into the Ozarks Annual Fund to support scholarships and operations for an outstanding Ozarks education – small classes, excellent faculty, exceptional facilities, state-of-the-art technology and many hands-on learning opportunities.  Year-in and year-out, the Ozarks Annual Fund is the single most important philanthropic initiative of the University. Every gift to this fund, regardless of size, has a direct and immediate positive impact on students.
There are also other methods of support:
Securities, including stocks, mutual funds and electronically traded funds (ETFs) that have increased in value and been held for more than one year are one of the most popular assets to use when making a gift to University of the Ozarks.  Making a gift of securities to us offers you the chance to support our work and may benefit you from a tax perspective.
If you are 70½ or older and have an IRA, you may find an IRA Charitable Rollover to be a beneficial way of giving.
If you would like to visit about how you can help Ozarks or if you have questions, please give us a call 479-979-1354.  Also, we will be happy to work with you in setting up an endowment or provide you giving opportunities for planned giving.
If you make a transfer of appreciated securities, please let us know so that we can watch for it on our end. Your accountant can give you guidance on any of these gift options.
To make a debit or credit card donation, please visit our website at www.ozarks.edu/give.
We are grateful for your continued support of Ozarks and her students, and we wish you a very Merry Christmas!
Topics: Giving