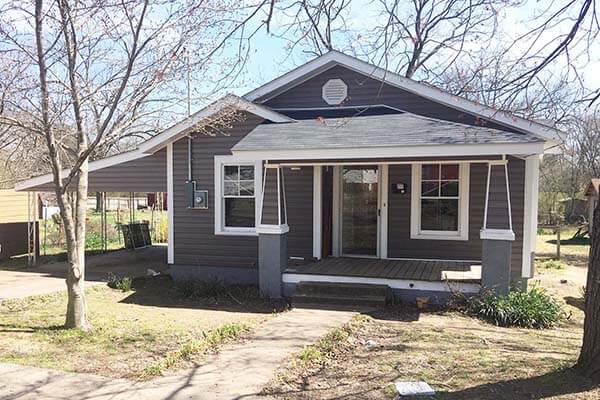 The grandchildren of long-time Clarksville residents Everett E. and Myrtle Mae Williams believe that their deceased grandparents would be happy knowing the house they built near the University of the Ozarks campus nearly a century ago is now a part of the University.
The Williams House, located at 406 Brown Street, about three blocks west of campus, was recently donated to the University by descendants of Everett and Myrtle Mae Williams, who built the house in 1926.
The 928-square-foot, two bedroom house was gifted by the family in memory of one of the Williamses' grandsons, Keith Kilcrease, a 1964 U of O graduate who died in 1983. Keith's sister, Susan, also attended Ozarks, as did numerous relatives.
"This college has always meant a lot of our family and we feel great that it's going to be a part of the University and that the family name will continue to be recognized with the house," said Mitch Kilcrease, a grandson of Everett and Myrtle Williams. "Our family has a long history with Clarksville and the University and donating the home to the University was the right thing to do."
Everett, who died in 1971 at the age of 77, was a World War I veteran and a long-time butcher at a local grocery in Clarksville. Myrtle Mae, who died in 1999 at the age of 97, was a well-known seamstress in the community.
"My grandmother would often sew and do alterations for the college presidents and other faculty and administrators," Mitch Kilcrease said. "She would also board college students who needed a place to stay. C of O always meant so much to her and she would have a great big smile on her face now knowing that their home belonged to the college."
Everett and Myrtle Williams had four children — Evelyn Kemp, Robert "Spurlie" Williams, Jean Kilcrease and Kathryn Baskin, who lived in the house for most of the past four decades. Baskin moved to Nashville about five years ago and the house has been unoccupied since then.
Mitch Kilcrease, an administrator at Florida State University, is one of eight children of Robert Lloyd Kilcrease and Jean (Williams) Kilcrease. In 1983, the family created a scholarship in memory of Keith Kilcrease for marketing students at Ozarks.
"Our family is connected to University of the Ozarks in a lot of ways and this is just the next step," Mitch Kilcrease said. "Our grandparents would be pleased."
The University is currently renovating the Williams House and it will be used for University housing.