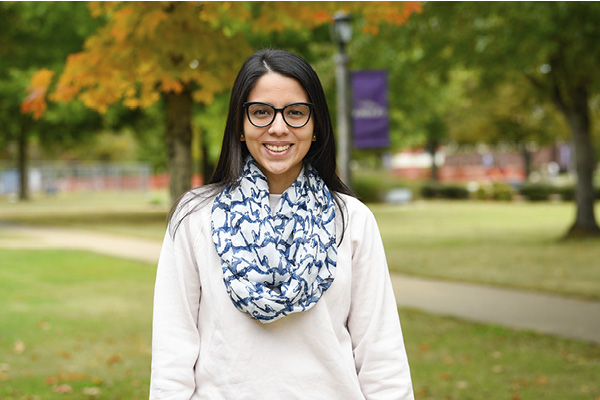 Nearly eight years after graduating from University of the Ozarks and now working at one of the top global accounting and auditing firms in the world, Adriana Beltran can look back at her Ozarks education with a thankful perspective.
Originally from El Salvador, Beltran earned a degree from Ozarks in management and accounting with Summa Cum Laude honors in 2014. She now serves as a supervising senior at KPMG in Panama City, Panama. KPMG is considered one of the Big Four, a nickname given to the top four accounting networks in the world.
"It's kind of hard to believe how far I've come since sitting in an accounting classroom at Ozarks," Beltran said in a recent visit to the Ozarks campus. "I think about how much I learned and grew on this campus and the great professors I had and I have no doubt that those experiences helped me in my career and life. It makes me very grateful for my time at Ozarks."
In her position at KPMG, Beltran serves as a supervising senior for advisory services where she primarily deals with mergers and acquisitions. Her specialty area is business valuations.
"I get to analyze all sorts of information and variables and pull them all together and come up with the value of a company or business," Beltran said. "You need to consider politics, the environment, the S&P 500, and even the potential risks down the road. You're basically forecasting the future of this company. It's very interesting and fulfilling work and I really enjoy it."
Beltran was working as a senior analyst at another of the Big Four — Ernst & Young in El Salvador —when she was recruited to come to Panama by KPMG in 2020. In her new position, she works with clients from throughout Central America and from around the world.
"It was a little bit of leap of faith for me to leave El Salvador, but I'm so glad I did it," Beltran said. "It's opened up so many new opportunities and experiences for me."
Beltran said she plans to pursue a master's degree in Spain in the near future and plans to continue in the accounting and auditing industry. As a former Walton Scholar at Ozarks, she also plans to stay active in helping to recruit future Walton Scholars to Ozarks.
"The Walton Scholarship really changed my life and I thank God I had the opportunity to receive it," she said. "I've helped in in the interview process and I want to continue to help anyway I can to give back to what the program gave me."
Beltran said her experiences at Ozarks, both inside and outside the classroom, prepared her well in her career.
"I think about not only the classes I had that helped me, but the experiences such as being a speaker for Enactus that helped me be a better communicator and taught me how to dress professionally," Beltran said. "Things like writing papers and knowing proper English grammar have helped me so much in my career. My bosses even have me proof their letters for them. Every day I'm using the knowledge and skills I received from Ozarks."
Topics: About, Accounting, Alumni, Alumni Stories, Business Administration