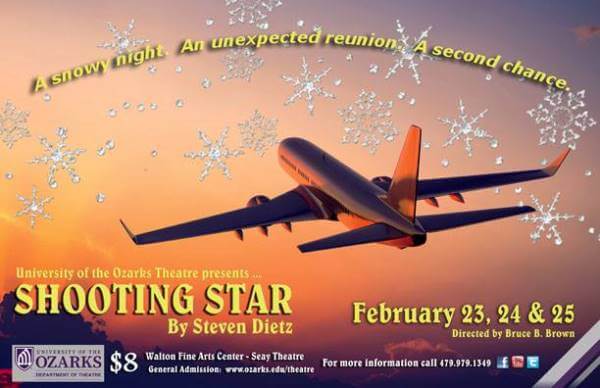 University of the Ozarks Theatre will present three performances of the romantic comedy "Shooting Star," Feb. 23-25 in the Walton Fine Arts Center's Seay Theatre.
The performances will begin at 7:30 p.m. on Feb. 23 and 24 and at 3 p.m. on Saturday, Feb. 25. Tickets are $8 each and seating is limited.
Tickets can be purchased at the box office prior to the event or online at www.ozarks.edu/theatre/schedule.aspx.
Written by Steven Dietz, "Shooting Star" is a story about college lovers Elena Carson and Reed McAllister, who have an unexpected and life-altering reunion while being snowed in overnight at a middle-America airport.  Elena has stayed true to her hippie-ish, counter-culture path, while Reed has gone predictably corporate and conservative. As the night gives way to laughter, banter, remembrance and alcohol, Elena and Reed revisit a past that holds more surprises than they imagined?and a present that neither of them could have predicted. Filled with laughter and ache, "Shooting Star" is a bittersweet romantic comedy about the middle days of our lives, and how we got there.
The cast includes Mason Clough as Reed McAllister and Lacye Day as Elena Carson. Walton Professor of Theatre Bruce B. Brown will serve as the director as well as scenic, costume, graphic and sound designer.
Other crew members include, Eleazar Coronado as stage manager, James Allen as lighting designer and light board operator, Lucas Hoiland as technical director, Ethan Lubera as assistant stage manager and props master, Ronnie Edwards as sound board operator and Rhett Sells, Jamee Barham, Haley Hanks, Ben Howard and Daniel hall as run and stage crew.
The Austin Chronicle said, "We humans love stories. And every once in a while, if you're lucky, you see a story that stands out from all the others. Steven Dietz's 'Shooting Star' is one of those stories. There are plenty of laughs in Dietz's humorous tale, but at every important moment, every emotional high, every startling revelation, the theatre grows utterly silent. Stories told this well don't come around very often."
The Providence (RI) Journal said "Shooting Star" " is that "rare romantic comedy that is funny, but also charming, endearing, and not removed from reality…the entertainment is in the telling, in the playful banter, and there's lots of it. 'Shooting Star' starts bright and doesn't fade. It is bittersweet, and ultimately redemptive."
Topics: Theatre