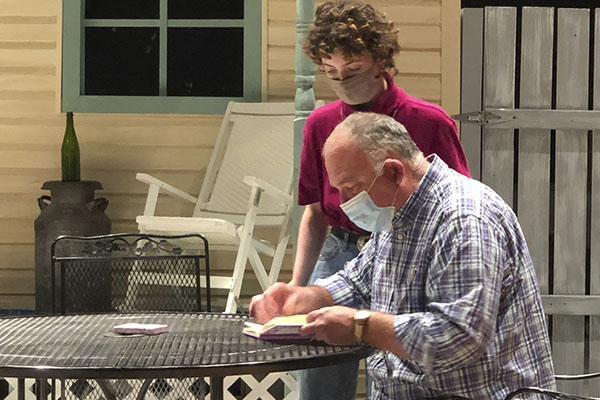 University of the Ozarks Theatre will present four online performances of David Auburn's poignant Pulitzer Prize-winning drama, "Proof."
The performances will be at 7 p.m. on April 22, 23 and 24 and at 2 p.m. on April 25. It will be shown live and in real-time on the University's Youtube Channel at Youtube.com/c/universityoftheozarks. The play contains mature themes and some strong language.
Described as a work that mines the mysteries of genetics, mathematics and love, "Proof" won the 2001 Pulitzer Prize, as well as the Tony Award for Best Play.
Dramatists Play Service describes Auburn's masterpiece thus: "On the eve of her 25th birthday, Catherine, a troubled young woman has spent years caring for her brilliant but unstable father, a famous mathematician. Now, following his death, she must deal with her own volatile emotions; the arrival of her estranged sister, Claire; and the attentions of Hal, a former student of her father's who hopes to find valuable work in the 103 notebooks that her father left behind. The discovery of a mysterious notebook draw(s) Catherine into the most difficult problem of all: How much of her father's madness – or genius – will she inherit?"
Director Rebecca Bailey, assistant professor of theatre, chose to double-cast the show in order to give more students the opportunity to participate in this brilliant story.
Cast A is comprised of Klara McElroy as Catherine, Haley Wheeler as Claire, and Kevin Nawa as Hal. Cast 1 features Daisy Woodbury as Catherine, Tiffany Quinton as Claire and Petron Brown as Hal. The role of Robert will be played in both casts by Dr. Pat Farmer of Clarksville, former U of O Walton Professor of Theatre who taught at Ozarks from 1987 to 2011.
Lucas Hoiland serves as the technical director and sound and lighting design. Jonathan Ezra Adderley is the stage manager, Quinton is the costume designer and Billy Wiburn, a visiting artist from South Dakota State University, leads the set design. Luis Gutuerrez is the sound board operator and Eber Martinez is the light board operator. The photographer is Edwin Rivera and Dr. Rhonda Shook, associate professor of communication, coordinated the poster and program.
Other crew members included, Nawa, Celeste Bonilla, Jelise Saunders, Sydney Ward, Karie Jilla Miller, Haley Grace Clark, Taylor Holland, Judy Forbes, Dylan McDonald, Lillian Olmsted, Ronny Thomas and Haley Wheeler.
Topics: About, Community Events, Theatre