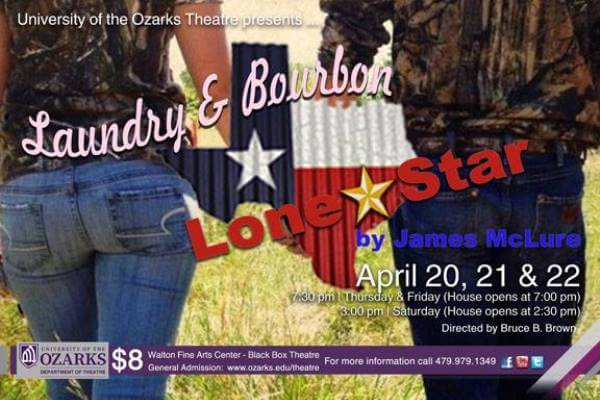 University of the Ozarks Theatre will present three performances of James McLure's one-act comedies, "Laundry & Bourbon" and "Lone Star," April 20-22.
The performances will be held in the Black Box Theatre in the Walton Fine Arts Center starting at 7:30 p.m. on April 20 and 21 and at 3 p.m. on April 22. General admission tickets are $8 and can be purchased at the box office prior to the play or at www.ozarks.edu/theatre. Seating is limited.
The play contains adult language and situations and is intended for mature audiences.
McLure's "Laundry & Bourbon" and "Lone Star," are two separate plays, but function as a complete work in the University Theatre's production. The comedies explore the lives of six deceptively simple, salt-of-the-earth folk in the small town of Maynard, Texas. There are women who only want to talk about men, and men who only want to talk about women. There are discussions about Let's Make a Deal and the Vietnam War, but the heart of the story is about male/female dynamics.  Both acts hinge on recurring themes of discontent, fondly remembered glory days, and tacit acceptance of the limitations of life.
The play is directed by Walton Professor of Theatre Bruce B. Brown, who also serves as the scenic designer, graphic designer and house manager. The cast includes Jamee Barham, Haley Hanks, Lacye Day, Rhett Sells, Ben Howard and Ronnie Edwards.
The crew also includes, Ethan Lubera as stage manager, Jenava Harris as costume designer, Lucas Hoiland as technical director and lighting designer, Daniel Hall as sound designer and sound board operator, Mason Clough as prop master/designer and assistant stage manager, Chelsey Finley as light board operator, and James Allen as scenic artist and deck crew chief.
Other stage and wardrobe crew members are, Barham, Clough, Jameer Anderson, Eleazar Coronado, Day, Edwards, Finley, Hall, Hanks, Howard, Lubera, Omar Morris and Sells.
The Chicago Reader said, "James McLure's complementary one-acts, 'Lone Star' and 'Laundry & Bourbon,' amusing slices of Texas life in their finest moments."
Topics: Theatre