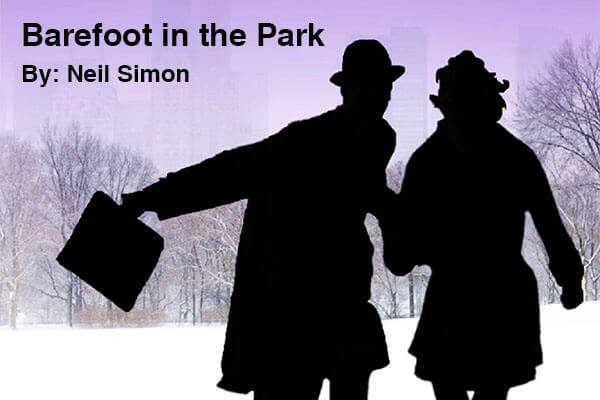 University of the Ozarks Theatre will present three showings of Neil Simon's iconic play, "Barefoot in the Park," on March 8, 9 and 10.
The romantic comedy will be shown at 7:30 p.m. on March 8 and 9 and at 2 p.m. on March 10, in the Black Box Theatre in the Walton Fine Arts Center. Tickets are $8 each and can be purchased online at Ozarks.edu/theatre or at the box office one hour prior to the showtime.
Premiering in 1963 on Broadway, "Barefoot in the Park" tells the story of a newlywed couple, Corie and Paul Bratter. For their first home, they live in an apartment on the top floor of a brownstone in New York City. Corie is optimistic about their future together, while Paul, the more anxious and grounded half of the couple, worries about the various flaws in the apartment, such as a hole in the skylight, their leaky closet, and the lack of a bathtub.
Shortly after moving in, Corrie attempts to set her mother up with their eccentric neighbor Mr. Velasco. During the course of four days, the couple learns to live together while facing the usual daily ups-and-downs. Corrie wants Paul to become more easy-going: for example, to run "barefoot in the park."
The play was nominated for three 1964 Tony Awards and was turned into a film in 1967 starring Robert Redford and jane Fonda.
In the U of O production, Rebecca Bailey, assistant professor of theatre, will direct the play and Lucas Hoiland, assistant professor of practice of theatre, will serve as the technical director.
The all-student cast includes, Haley Grace Clark as Corie, Petron Brown as Paul, Haley Hanks as the mother, Mason Clough as Victor Velasco, Rhett Sells as the telephone repair man, McKenzie Lewis as delivery woman number one, Haley Wheeler as delivery woman number two, Jimmy Reinier as delivery man number one and Kevin Nawa as delivery man number two.
The crew includes, Ben Howard as stage manager, Sydney Ward as assistant stage manager and props master, Ethan Lubera as scenic designer, Eleazar Coronado as lighting designer, Lacye Day as costume designer, Sells as sound designer, Masey Wilson as graphic designer and Daniel Hall as window wizard. The sound board operator is Nichole Finch and the light board operator is Geoshan Lee.
Other crew members include, Tiffany Quinton, Toria Matthews, Fion Chen, Poly Ojeda and Lily Olmsted.
Topics: About, Academics, Community Events, Theatre