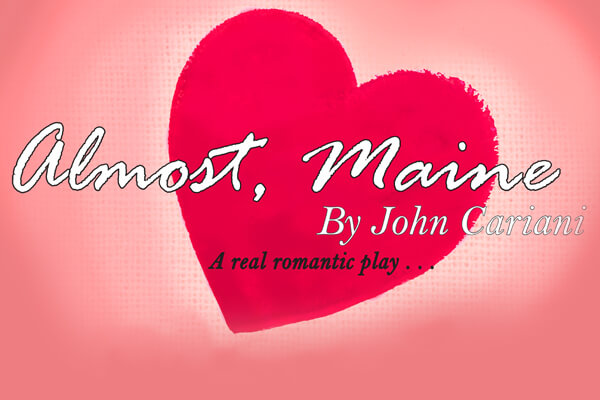 University of the Ozarks Theatre will present three showings of John Cariani's romantic comedy "Almost, Maine" in the Black Box Theatre in the Walton Fine Arts Center. Show times are 7:30 p.m. on Feb. 22 and 23 and 3 p.m. on Feb. 24. Seating is limited. Tickets are $8 each and can be purchased online or at the box office prior to the performance.
"Almost, Maine" is a play by Cariani that is comprised of nine shorter plays. Premiering in 2004 to critical acclaim, the play deals with themes of love and loss in a small Maine town named Almost. The play is a story of love and the way it hurts and heals the people of a small town so far north in the USA that it's "almost" Canada. It features a multitude of characters, but a curious format. Each scene is a separate vignette and none of the characters appear again.
The play has been produced by over 3,000 theater companies in the United States, making it one of the most frequently produced plays of the past decade.
The New York Post said "Almost, Maine" "lands somewhere between Norman Rockwell and Our Town. Unabashedly unhip. There is no pretense of an edge here — the show offers a sweetness and decency that's become rare at the theater. At this point, it's a welcome breath of fresh air."
Cast and Crew
The cast includes, Kevin Nawa as Pete, Steve and Man; Tiffany Quinton as Sandrine, Gayle and Hope; Ben Howard as East, Lendall, Randy and Phil; Haley Grace Clark as Marvalyn, Glory and Rhonda; Jimmy Reinier as Jimmy, Chad and David; and Lacye Day as Ginette, Waitress and Marci.
The artistic staff includes Theatre Professor Bruce B. Brown as director; James Allen as scenic, costume and lighting designer; Daniel Hall as sound designer, sound board operator and master carpenter; and Lacye Day as graphic designer and scenic artist.
The production staff includes, Brown as house manager; Professor Lucas Hoiland as technical director; Mason Clough as stage manager, master electrician and light board operator; and Eleazar Coronado as properties manager. The crew also includes Jamee Barham, Coronado, Lillian Olmsted and Haley Hanks.
Topics: Community Events, Theatre