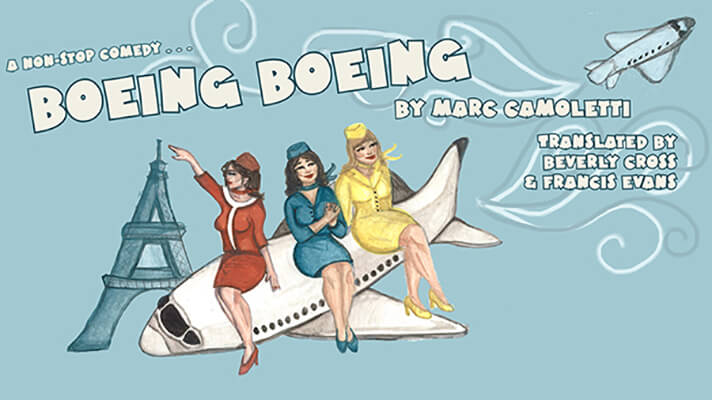 University of the Ozarks Theatre will cap its 2017-18 season with a production of the classic French comedy "Boeing Boeing" by Marc Camoletti on April 26, 27 and 28.
Show times are 7:30 p.m. on April 26 and 27 and 3 p.m. on April 28 in the Walton Fine Art Center's Seay Theatre. Tickets are $8 each and can be purchased online or at the box officer prior to the performance.
"Boeing Boeing" is a 1960s French farce adapted for the English-speaking stage that features self-styled Parisian lothario Bernard, who has Italian, German, and American fiancées, each a beautiful airline hostess with frequent "layovers." He keeps "one up, one down, and one pending" until unexpected schedule changes bring all three to Paris, and Bernard's apartment, at the same time.
The New York Times review stated, "This latest edition of a play named for an aircraft soars right out of its time zone and into some unpolluted stratosphere of classic physical comedy. Propelled by the same gusty spirit that animated Commedia dell'Arte and the silent films of Keaton, Chaplin and Lloyd, [this] may be earthy, but it's seldom earthbound."
Cast and Crew
The University's production cast includes, Haley Hanks as Gretchen, Lacye Day as Gabriella, Haley Grace Clark as Gloria, Tiffany Quinton as Berthe, Mason Clough as Robert and Rhett Sells as Bernard.
The production team includes, Walton Professor of Theatre Bruce B. Brown as the director as well as scenic and sound designer; Assistant Professor of Practice of Theatre Lucan Hoiland as lighting designer and technical director; James Allen as stage manager and scenic artist; Ethan Lubera as costume designer and Day as graphic designer.
The remainder of the company includes, Daniel Hall as assistant technical director, Brown as house manager and Ben Howard as property master. The stage, curtain, electrics and wardrobe crew is comprised of Jamee Barham, Eleazar Coronado, Lubera, Kevin Nawa, Jimmy Reinier, Lilly Olmsted and Alexandra Sheinfeld.
Topics: Community Events, Theatre