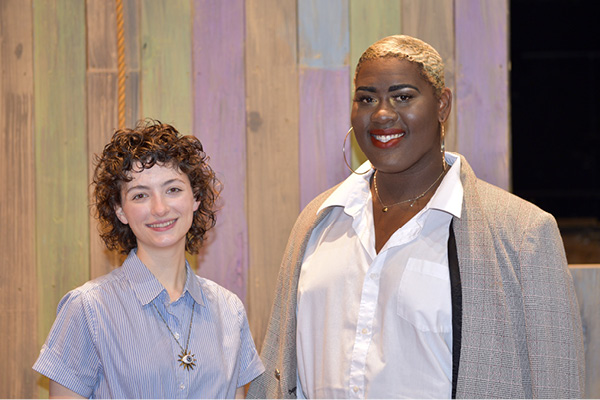 Growth.
For two University of the Ozarks theatre students, that word helped sum up their internship experience this past summer at the Prairie Repertory Theatre (PRT) on the South Dakota State University campus in Brookings, S.D.
Jonathan Adderley (pictured, right), a junior from Nassau, The Bahamas, and Klara McElroy, a junior from Cabot, Ark., took part in a seven-week internship at the professional summer theatre, which was celebrating its 50th anniversary this year. Tiffany Quinton, a May 2021 Ozarks theatre graduate, also took part in an internship there and Rebecca Bailey, assistant professor of theatre at Ozarks, served as a visiting director.  
As part of a University Theatre tradition, Adderley and McElroy recently gave presentations for their theatre classmates and faculty about their summer internships.
They both worked in a variety of areas during the PRT's summer series that saw the company put on four plays over a 42-day period. The productions were, "Little Shop of Horrors," "Quilters," "The Complete Works of William Shakespeare Abridged," and "The Gin Game."  
Adderley, a theatre and psychology double major, worked as a wardrobe dresser, stage manager, actor and costume shop worker. He called it "a great learning experience."
"I felt like I went there as a caterpillar and left as a butterfly," Adderley said. "I learned and grew so much over the summer through that experience. It gave me much more confidence in a lot of areas."
Adderley said one of the biggest lessons he learned was to embrace failure.
"In theatre, a lot of things are going to go wrong and you just need to expect that and learn from those failures," he said. "They kind of just throw you in without any training and that  was quite frightening. For example, I had never done costume dressing, but I just tried to learn as I went. I messed up a lot, but I really believe that's how you learn and grow in theatre."
Adderley's talents were also tested when he got the part of Crystal in "Little Shop of Horrors," the first time he had played the part of a woman on stage.
"It was very difficult and challenging role to play because I had to become a woman both physically and emotionally. I had to wear a bra, girdle, hose, makeup and high heels," Adderley said. "This was a milestone role for me because it taught me patience and understanding and made me appreciate women so much more. That was the type of role that I will put in my memoirs one day."
McElroy, a communication and theatre major, worked in the areas of publicity, scene shop and costume shop as well as taking on several acting roles. One of the first and most significant roles McElroy played in the theatre was filming and producing a publicity video about the theatre and the summer series that was displayed on a variety of social media channels.
As an avid photographer, McElory also contributed to the PRT's publicity efforts in photography, graphic arts, social media and radio promotions  
"Our whole goal was to help sell tickets because without an audience you don't have productions and without productions you don't have a theatre," they said, "The theatre had good attendance throughout the summer and even had some sellouts, so I was proud to help contribute to that success."
McElroy had singing roles in both "Quilters" and "Little Shop of Horrors," allowing them to gain confidence in that aspect of theatrical performance.
"I've been in probably 10 musicals in my acting career, but I had always played the non-singing roles," McElory said. "I think the biggest surprise for me from the summer was that I can kind of sing. I picked up some great tips and pointers from other cast members and it really made a difference. And I learned that singing on stage is mainly about confidence. I have a lot more confidence in that area now."
Bailey, who earned her undergraduate degree in theatre from South Dakota State University, has worked with the Prairie Repertory Theatre for seven years and has sent Ozarks students to intern at the summer theatre since 2019.
Topics: About, Academics, Internships, Student Stories, Theatre