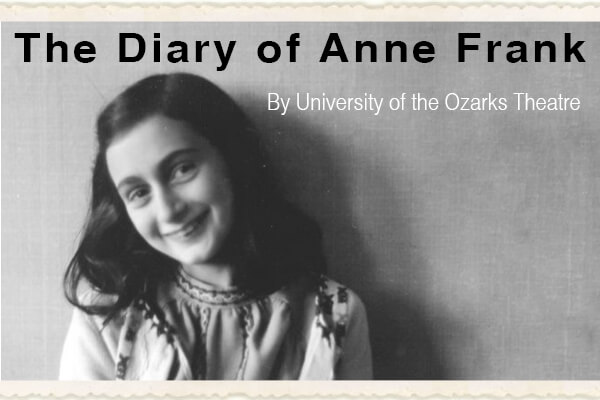 University of the Ozarks Theatre will open its 2018-19 season with several performances of the powerful adaptation of "The Diary of Anne Frank," scheduled for Nov. 2-6 in the Walton Fine Arts Center.
The production will be open to the public for three performances, Nov. 2, 3 and 4. It will begin at 7:30 p.m. on Friday, Nov. 2, and Saturday, Nov. 3, and at 2 p.m. on Sunday, Nov. 4. There will also be two special matinee showings for local school children on Nov. 5 and 6.
Tickets are $8 for adults and $5 for seniors and students and can be purchased at Ozarks.edu/theatre or at the box office on the evening of the production.
"The Diary of Anne Frank" is a 1997 adaptation by Wendy Kesselman of the original stage play written by Frances Goodrich and Albert Hackett. It is based on the book, "Anne Frank: The Diary of a Young Girl."
In the new adaptation, Frank emerges from history a living, lyrical, intensely gifted young girl, who confronts her rapidly changing life and the increasing horror of her time with astonishing honesty, wit, and determination. An impassioned drama about the lives of eight people hiding from the Nazis in a concealed storage attic, "The Diary of Anne Frank" captures the claustrophobic realities of their daily existence — their fear, their hope, their laughter, their grief. Each day of these two dark years, Frank's voice shines through: "When I write I shake off all my cares. But I want to achieve more than that. I want to be useful and bring enjoyment to all people, even those I've never met. I want to go on living even after my death!" This is a powerful new adaptation for a new generation.
The New York Times called the play, "Undeniably moving. It shatters the heart. The evening never lets us forget the inhuman darkness waiting to claim its incandescently human heroine."  The New York Post said it was "an extraordinary theatrical adventure! Go and remember." The Associated Press called it "a powerful new version that moves the audience to gasp, then tears."
The all-student cast includes, Lacye Day as Anne Frank, Haley Grace Clark as Margot Frank, Mason Clough as Otto Frank, Haley Hanks as Edith Frank, Hannah Bradow as Meip Geis, Petron Brown as Peter Van Daan, Tiffany Quinton as Mrs. Van Daan, Rhett Sells as Mr. Van Daan, Kevin Nawa as Mr. Dussell, Ben Howard as Mr. Kraler, Jimmy Reinier as first man, Eleazar Coronado as second man and Sydney Ward as third man.
The director is Rebecca Bailey, assistant professor of theatre. Lucas Hoiland, assistant professor of practice of theatre, will serve as the technical director and set and lighting designer.
The student crew includes, Jenava Harris as costume designer, Ethan Lubera as prop designer and stage manager, McKenzie Lewis as assistant stage manager, Nichole Finch as sound board operator, Geoshan Lee as light board operator and Haley Hanks overseeing the dramaturg, lobby and curriculum. Other crew members include, Haley Wheeler, Fion Xin Yi Chen and Lily Olmstead. The production will include a special arrangement sound design by Dan Moses Schreier and U of O student Daniel Hall.
The production will mark the Ozarks directing debut of Bailey, who joined the faculty in July.  From the small town of Russell, Ky., Bailey's journey has taken her from Virginia to South Dakota working in theatres and teaching.  She received her master of fine arts degree in directing from The University of South Dakota and her bachelor's degree from South Dakota State University. Her professional research includes studies at The Globe and The American Shakespeare Center.  Directing credits include Prairie Repertory Theatre, South Dakota Shakespeare Festival, and The University of South Dakota.
Topics: About, Academics, Community Events, Student Events, Theatre