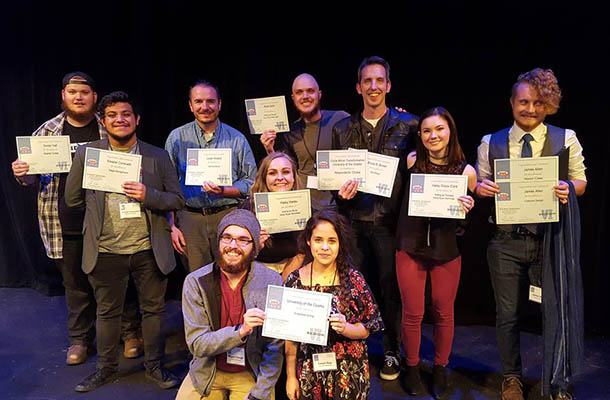 The University of the Ozarks Theatre captured 11 honors, including the prestigious Respondent's Choice award, at the 2017 Arkansas Kennedy Center American College Theater Festival, held Oct. 26-28 in Arkadelphia, Ark.
The University Theatre presented its production of "Circle Mirror Transformation" by Annie Baker at the annual state festival. By winning the Respondent's Choice award, one of the two top awards at the festival, the production is automatically nominated for the KCACTF Region VI festival in February.
The University Theatre took home seven excellence honors in various categories at the state festival. Eleazar Coronado won Excellence in Stage Management; James Allen won Excellence in Costume Design and Honor Crew; and Daniel Hall won Excellence in Honor Crew. Bruce B. Brown, Walton professor of theatre, won Excellence in Scenic Design; and Lucas Hoiland, assistant professor of practice of theatre, won Excellence in Lighting Design. The cast also won an Excellence in Ensemble Performance.
Ozarks theatre students Haley Grace Clark, Rhett Sells and Haley Hanks all won Irene Ryan Performance Awards for their performances in the play.
In addition, Jimmy Reinier won both the student and faculty-judged Halloween costume contest.
"I am so proud of this company and the outstanding work ethic and leadership they displayed during the process and at festival," said Brown. "Our students' dedication and passion for creating theatre is what leads to these wonderful achievements."
In December, six university theatre companies from Region VI (Arkansas, Oklahoma, New Mexico, Louisiana, and Texas) will be chosen to have a production featured at the 2018 regional festival in San Angelo, Texas, on Feb. 28.
Topics: Theatre