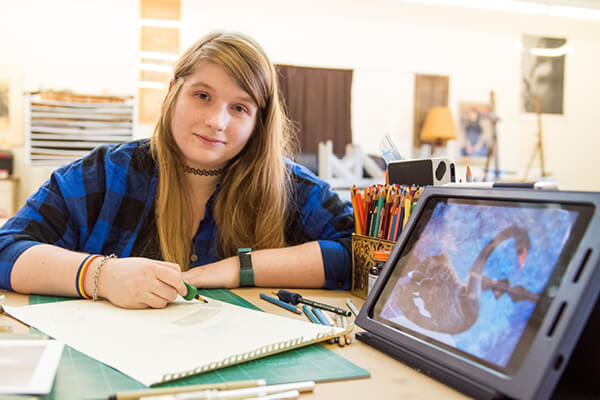 University of the Ozarks senior art major Willow Stratton of Fayetteville, Ark., will showcase her Senior Art Exhibit, titled, "Flock Life," from Nov. 18-23 in the Stephens Gallery.
Willow, who is minoring in education and psychology, will present an artist talk at 3 p.m. on Friday, Nov. 15, in Baldor Auditorium. There will be a reception to meet the artist at 5 p.m. on Nov. 23 in the gallery, which is located in the Walton Fine Arts Center.
In her exhibit, "Flock Life," Stratton honors her life-long attraction to birds.
"Most of my childhood was spent watching the birds and wishing for the ability to fly," she said. "Now, birds are the main focus of the works due to my natural draw towards them. Each bird that I depict has a meaning, some from Celtic, European and Native American cultures. In each culture, items have different significance, occasionally sharing similar symbols. The cultures and symbols I am inspired by connect to my family lineage, making the works more personal to me."
Stratton said each bird in her artwork represents a person in her life.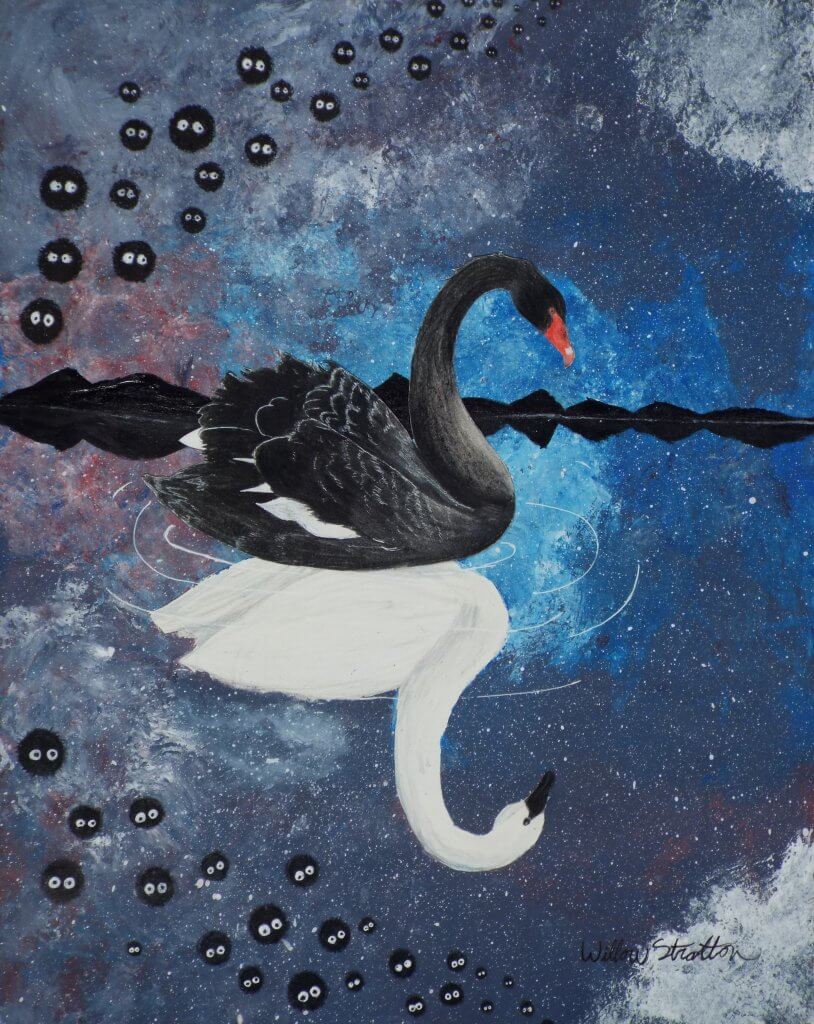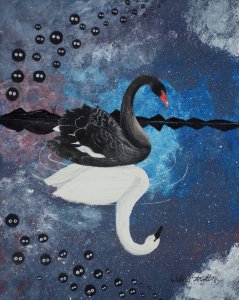 "For example, the hummingbird represents my mother," she said. "A hummingbird symbolizes endless insight and wisdom, and it seeks out the good and beauty in life. My mother, to me, has endless knowledge about the world and she is always the person I reach out to for problems. In addition to the bird totems, the drawings include items that represent each person, whether it is something they like or something in their possession. Each symbol and bird is researched and noted so that the imagery will represent the person before I start the piece."
Stratton said that in Native American culture, the yellow cactus flower represents motherhood and unconditional love. 
"The Native Americans described the yellow flower as symbolizing patience and endurance," she said. "My mother forever acts maternal towards me; taking care of me when I am sick or giving me motherly advice. The hummingbird and flower together represents her infinite patience and love for her children, resulting in its name, 'Infinite Infinity.' After the imagery is determined, sketches are created to plan a layout that includes their personality through cultural symbols and objects.  Colored pencils are used to form the bird while an array of mixed media are used to create the background.  The bird is drawn separately and then meticulously cut out and attached to the background. Other pieces are cut out and collaged in."
Stratton said that not all of her artworks in "Flock Life" represent a positive relationship.
"One of the pieces, 'You Ran Over Me,' presents a dead owl, symbolizing the destruction this person caused on my life and self-esteem," she said. "The background embodies the feeling of slowly being consumed by the feeling of dread and hopelessness, which ended up being a healing experience. The pieces will represent the positive and negative relationships in my life, some past and some present."
Topics: About, Art, Community Events, Education, Psychology, Student Events