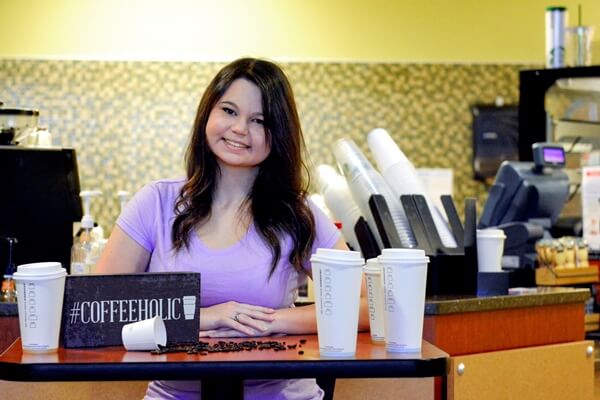 A love of coffee and an ongoing quest to improve study habits led Victoria Stiner directly to her psychology senior capstone project.
The senior psychology and English major from Texarkana, Texas, is doing her senior research project this semester on the effects of caffeine on memory. She plans to have the study completed by early May.
"My friends and I are always looking at different methods to improve the acquisition and retention of information in order to make better grades," Stiner said. "We also all love to drink coffee. That got me thinking about how caffeine can affect memory and how they interact with each other. It was something that I was very curious about, so it seemed like the perfect research project for me."
Titled "Caffeine and Memory: Pinpointing the Interaction," Stiner's research project will eventually include about 50 test subjects, or in this case her Ozarks classmates. She will administer caffeine ? in the form of black coffee ? at different points of the memorization process to reveal at what point caffeine affects memory. The study will control for the placebo effect by providing decaffeinated coffee to groups not receiving caffeine. The memory test will be a list of 17 words.
Senior psychology and English major Victoria Stiner's psychology senior capstone project is titled, "Caffeine and Memory: Pinpointing the Interaction."
"One recent study showed that in recent years there was a 70 percent increase in the number of college-aged individuals who reported consuming caffeine daily," Stiner said. "Another study showed college freshmen are consuming, on average, three to five times the recommended amount of caffeine daily. That's a lot of caffeine being consumed by college students and there hasn't been a lot of studies about how that is affecting their memory."
Stiner said she came to Ozarks as an English major but quickly found a love for psychology after taking an elective class as a freshman with Dr. Joel Hagaman, associate professor of psychology.
"I took that first class and I found it not only interesting but also very challenging," Stiner said. "I just kept taking more psychology classes and I found that they continued to push and challenge me. The more I got into it, the more I loved it. Dr. Hagaman and Dr. [Karen] Jones have been wonderful professors and mentors to me."
Stiner said she will take a "gap" year working at a summer youth camp between her May graduation from Ozarks and the beginning of graduate school. She plans to pursue a career in college personnel or student affairs.
"I love the college environment and I believe my background in psychology and English can be beneficial working at a college," she said. "So much of psychology is human behavior and studying it can help you understand, appreciate and respect people who are not like yourself. When you're working with college students, you are interacting with so many different personalities, backgrounds and lifestyles. [Psychology] seems like the ideal background for working with college students."
Stiner, who admittedly drinks about four cups of coffee daily, said she hypothesizes that her research will show caffeine enhances the acquisition of memory while leaving retention unaffected.
"I've been planning and working on this project for almost a year and I can't wait to find out what the results are," she said.
Topics: Psychology