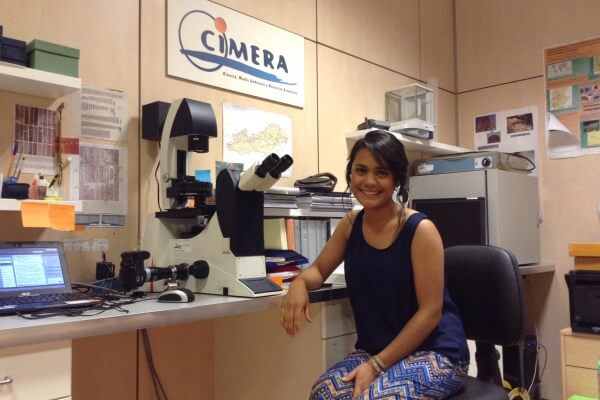 Laura Calderon looked long and hard to find a summer internship that matched her somewhat odd double major of chemistry and business management, but she finally found the perfect position in the perfect locale.
Calderon, a senior from Guatemala City, served an eight-week internship in Madrid, Spain, this past summer. She worked for an environmental studies company called Cimera Estudios Aplicados S.L. It turned out to be a perfect match for the chemistry and management major.
"It was an amazing experience to spend eight weeks in Spain and have the opportunity to practice my two very different majors," Calderon said. "I was a research intern and also the international relationships coordinator. Half of the time I would do laboratory work, and half of the time I would do managerial work."
Senior chemistry and business management major Laura Calderon of Guatemala City spent an eight-week internship in Madrid, Spain, working for an environmental studies company.
Calderon described a typical day as intense.
"We were always working under a deadline with the research work, so that would take priority during the day," she said. "I would arrive at the office at 9 a.m. and review the previous day's work to continue where I had left off. Laboratory work consisted of research projects carried on throughout Spain. A team of scientists would always be doing field work, and then we would receive the samples, enter them in the databases, analyze them, write reports, and send the results to the entity the project was done for.  Every day we had a coffee break, which was a great opportunity to get to know my co-workers, and later in the day we would have lunch. After lunch, I would work on the international expansion plans of the company. Being a management major definitely opened many amazing opportunities for me at the company. I was in charge of the expansion and was able to have a lot of autonomy on my work. I was in charge of doing market research, presentations, reports, and very importantly, making connections for the company's future alliances. The company's main interest was to expand their operations to Guatemala, and that fitted perfectly with my future professional plans. The usual time to leave was 6 p.m., but many times our work required us to stay longer, finishing urgent matters."
Calderon said she searched for weeks online last year looking for the ideal internship and secured it through a program called The Intern Group. The University's Academic Enrichment Program helped fund the experience and her professors also played a vital role.
"My professors were a key part in the process for getting my internship," she said. "They assisted me in very important steps, such as helping me find the financing opportunities. When I needed information about the exact steps to take, advising, recommendation letters, and just encouragement, they were there for me."
Calderon said the internship experience helped her grow as a person.
"I learned so much more about myself," she said. "Being in such a different culture from anything I had experienced before improved my communications skills enormously. And, I definitely learned the value of having self-management skills. I have always been an independent person, but going to a new continent, a new city, and living there by myself was a completely different experience to anything I had ever done. I became so much more aware of the world and the many amazing things there are to explore. I also feel a lot more prepared to go into the workforce now. It is one thing to hear about it, and one very different thing to live it. Working is for grownups, and you do have to stand up to the standards it requires."
She also received some positive feedback from her employers.
"My boss said to me, 'I don't know if it is because I have only worked with scientists before and you have a managerial background, but I am impressed with your oral and written communication skills,' " Calderon said. "That was probably the best compliment I have ever had, especially when you feel it is just part of what you are supposed to do, and someone actually appreciates it. The second biggest thing I got from the internship is that no matter where you go, people are always part of your best memories. You can build great friendships out of exploring new places with new people. The people I met during my time in Madrid made my experience incredible. Just sitting in a table where you have more than 10 different nationalities makes life more interesting."
The experience has made her even more determined to follow her professional interests.
"I want to work as a scientist first and I plan to get a master's degree," Calderon said. "In addition to boosting my resume and establishing connections with companies, my internship gave me the practice I needed to get into the workforce in Guatemala. It is a requirement in Guatemalan universities to have work experience before you graduate, and that is why this was such a big priority for me."
When she wasn't working, Calderon toured the many sites of Madrid, taking in museums, concerts in the parks, restaurants, plazas, and famous streets. On weekends she would venture out and explore Spain.
"I fell in love with Spain; it's food and culture are amazing," she said. "Doing an internship abroad is something I would recommend for everyone. Get out of you comfort zone, get scared, get excited and explore. It will be one of the most rewarding things you will ever do."
Topics: Chemistry