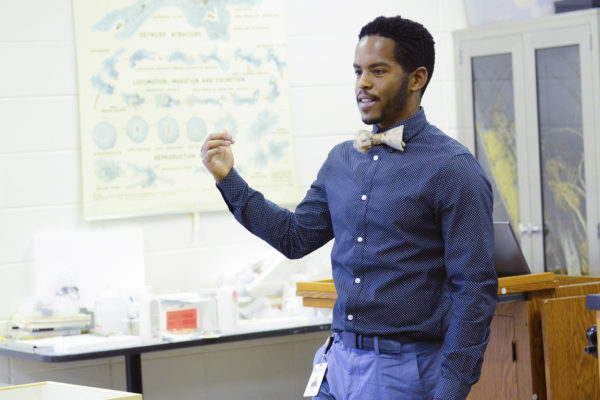 Dr. Warren Sconiers, assistant professor of biology at University of the Ozarks, is the lead author of a newly published research article in the May/June 2020 edition of Crop Science.
The article is titled, "Pulsed Drought: The Effects of Varying Water Stress on Plant Physiology and Predicting Herbivore Response." Diane L. Rowland and Micky D. Eubanks are contributors to the article. Crop Science, published bimonthly since 1961, is the official publication of the Crop Science Society of America (CSSA).
According to Sconiers, the study contributes to the ongoing debate regarding how insect herbivores will respond to plants under drought stress. Sconiers said that studies have shown that these insects will outbreak on drought stressed plants and that they will not change their behavior or stay away from these plants, which is the basis for the debate.
"My colleagues and I tested severe and moderate drought on cotton plants during my dissertation at Texas A&M University," Sconiers said. "We wanted to document physiological changes in plants under these drought conditions that would explain why we observe so much variation in how insects respond. We found clear indicators in plant development between severe and moderate stress that would explain some of the variation, including differences in nutrients (protein and sugars), available plant tissue to feed from, plant metabolic rate, and means to hide from predatory animals. We can use what we learned to understand the movements of insect pests and which crops and plants are most susceptible to economic damages."
Sconiers said that the study will help scientists "predict changes in the behavior of insect pests with regards to climate change, from those on acres of farmland to the handful in your home garden."
Sconiers joined the Ozarks faculty in August 2016 after spending the previous two years as a postdoctoral fellow in the Department of Entomology at North Carolina State University. The native of California earned his undergraduate degree from the University of California at Irvine before completing his Ph.D. in entomology from Texas A&M in 2014.
Topics: About, Biology, Environmental Studies, Faculty Spotlights