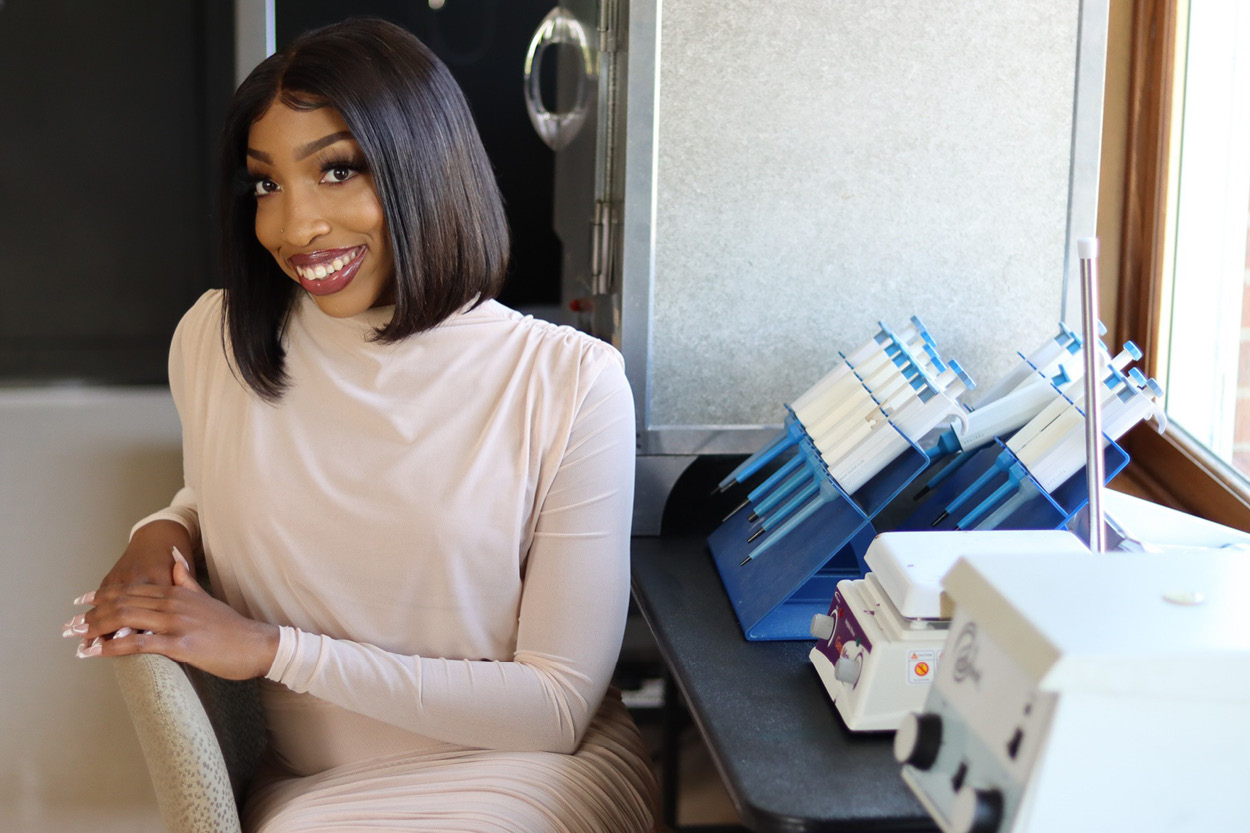 Chava Roberts remembers as a young child receiving a hand-held microscope from a relative. It was a gift that helped spur a life-long love for science.
Roberts, from New Providence in The Bahamas, earned a health science degree with high honors from University of the Ozarks in May 2021. She is spending this summer at the University of Arkansas-Fayetteville as part of the Arkansas IDeA Networks of Biomedical Research Excellence (INBRE) internship program. INBRE is a selective and intensive research program for high-achieving undergraduate students interested in conducting biomedical research.
In the fall, Roberts will begin work on a master's degree in biochemistry and molecular biology at John Hopkins Bloomberg School of Public Health, the top-ranked public health school in the country by U.S. News & World Report.
Roberts recalled how the microscope she received as a child helped set the course for where she is today.
"That started my admiration for science as a young child," she said. "I spent my days rambling around my yard looking for fossilized pieces of matter to analyze."
Inspired by two strong women in her life, Roberts has excelled academically in both high school and at later at Ozarks, where she was named the University's Outstanding Student in Health Science in 2021.
"The most influential women in my life are my mother, Mavis Pratt, and my grandmother, Hazel Leadon," Roberts said. "My grandmother is someone who keeps me grounded in my faith and, through her daily prayers, has kept me protected to this day. I remember I shared a bed with my grandmother and my little sister for a majority of my childhood. She would roll over and wake me and my little sister up for school and she would make us a breakfast as we waited for my mother to get home from her overnight shift to take us to school. My mother is one of the strongest women I've ever met and is the reason why I strive to be the best I can be. I watched her struggled to put me in one of the top private high schools in The Bahamas, even if it meant her going into debt. She provided me with the resources to put me on the path for success. Her goal for me was to get a college degree and to make something of myself. I'm doing that, not only for myself, but for her."
Both of the women were able to watch Roberts cross the stage in May to receive her college diploma.
"They both were elated by my accomplishments and was very proud of me graduating from college," Roberts said. "It was very challenging leaving home at 17 and being in a foreign country, but through it all I persevered."
As part of the INBRE internship, Roberts is working with Dr. Yong Wang on research focused on single-molecule and single-cell nanometric biophysics. The internship was supposed to take place last summer but because of the COVID-19 pandemic was postponed to this summer.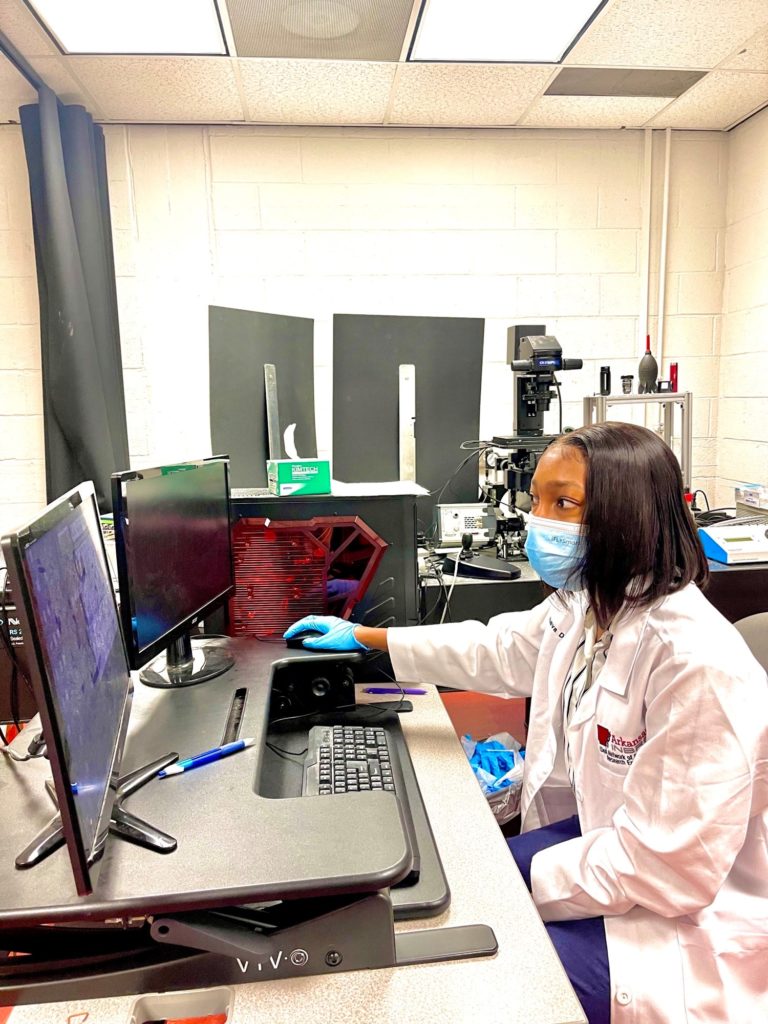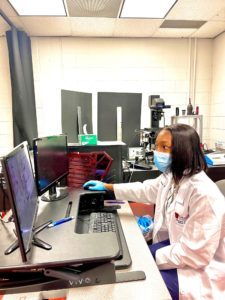 "I was very thrilled when I found out I was still going to be able to do this program," she said. "This opportunity is providing me with the needed lab experience required for the rigorous program at John Hopkins. This independent study is giving me hands-on skills and practical procedures used in the laboratory. I can't imagine what my academic career would look like if I didn't have this internship."
Roberts said that while she is still unsure of exactly what her professional journey will look like, she knows it will involve helping others in some way.
"I've considered attending medical school as I progress through my studies, and I've also considered becoming a professor," she said. "Although I'm unsure about my future aspirations at this time, I do dream of being a positive asset in the healthcare arena for marginalized individuals. For quite some time I have dreamed of being a surgeon. Whether that happens or not, I do envision myself leading a team into an operating room, doing ground-breaking research or lecturing to the upcoming generation of turbulent minds."
Roberts said she will always be thankful for the impact that Ozarks and her professors had on her, particularly Drs. Piroska Boros and Chris Skinner.
"I'm so grateful to have these amazing individuals in my life," she said. "Without them I'm not sure I would have been able to power through my senior year and or be participating in the INBRE program. No words can describe how determined these two individuals were when it came to my academic success. They saw how driven and motivated I was and they fought courageously for my voice to be heard and for me to receive recognition I deserved. I'm grateful to have been lectured and mentored by these amazing professors over the course of my junior and senior year and I'm honored to have two life-long partners."
Topics: About, Alumni, Alumni Stories, Health Science