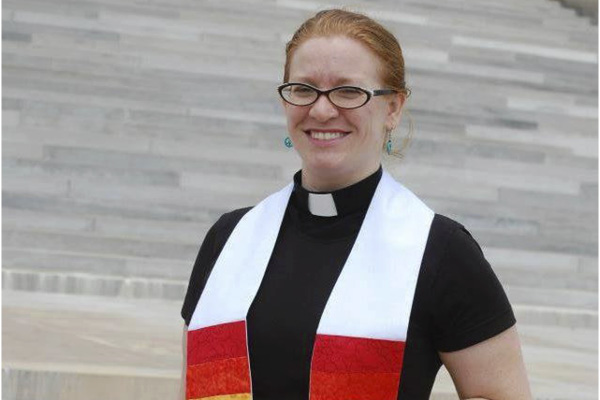 The Rev. Marie Mainard O'Connell, a minister in the Presbytery of Arkansas, will visit campus on the week of Sept. 12 as part of the University of the Ozarks' Struthers Visiting Pastoral Study Leave Program.
Mainard O'Connell is currently serving as the interim director of adult education at Second Presbyterian Church in Little Rock. She previously was the pastor of Park Hill Presbyterian Church in North Little Rock from 2018 to 2022.
As part of her visit, Mainard O'Connell will speak at the University's weekly Chapel Service at 11:30 a.m. on Tuesday, Sept. 13.
Born in Springdale, Ark., and raised in Carrollton, Texas, Mainard O'Connell met her future husband, James O'Connell, in a high school theatre production. She returned to Arkansas as a student at Hendrix College and later received a master's degree in college administration from the University of Central Arkansas. After serving as program coordinator for the Office of Student Engagement at Mary Baldwin College in Staunton, Va., and the birth of their first child, Katie, Mainard O'Connell answered the call to ministry and attended New Brunswick Theological Seminary in New Brunswick, N.J.. She graduated with a senior project in human trafficking, and highest honors in preaching and academics. While in seminary, she did an internship as a hospital chaplain.
After seminary, with another child, Kevin, in tow, the family returned to central Arkansas where James began teaching theatre and technical theatre at Episcopal Collegiate School in Little Rock and Mainard O'Connell became the interim director for Youth at Westover Hills Presbyterian Church. After a short stint at Westover Hills, she accepted her first call as the head pastor at First Presbyterian Church in Little Rock. After their third child, Jon, was born, Mainard O'Connell took a break from full-time pastoral work to become the site coordinator for the Little Rock Young Adult Volunteer program of the PC (USA). After a year with this program, she resumed full-time ministry at Second Presbyterian Church as the transitional associate pastor for pastoral care.
Mainard O'Connell has been honored to serve on the board of the Center for Artistic Revolution, an LGBTQ resource and activist advocacy group, as well as a brief stint as the interim director of the Industrial Areas Foundation organization of the Greater Little Rock Organizing Committee. She is grateful to serve on the leadership team of the Mosaic Church Diversity Circle Discussion Group and she co-founded the Bridge Builders Reading Group, a community book club on issues of race and class. Mainard O'Connell also assisted in founding Mercy Church of Little Rock, a worshiping community of those experiencing homelessness.
When she isn't working on preaching or teaching, she enjoys reading comics, attending movies, and advocating for social justice and environmental concerns.  She has "one husband, three kids, three cats, six chickens and about three dozen other people she couldn't live without." 
The Pastoral Study Leave Program was established in 2005 by the late Rev. Dr. James R. Struthers of Stillwater, Okla., a long-time member of the University's Board of Trustees. Struthers established the program to bring Presbyterian pastors to the U of O campus for personal and professional development.
Topics: About, Campus Life, Chapel, Community Events