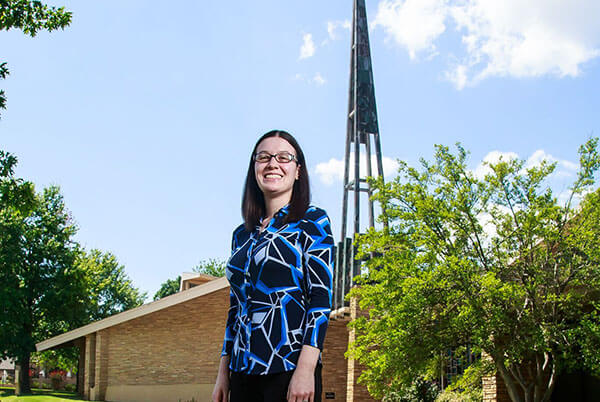 The Rev. Kate Hogue, a pastor at John Knox Presbyterian Church in Tulsa, Okla., will visit University of the Ozarks during the week of April 16 as part of the University's Pastoral Study Leave Program.
Hogue will lead the University's weekly Chapel Service at 11:30 a.m., Tuesday, April 17, in Munger-Wilson Chapel.
As one of the pastors at John Knox, Hogue has the responsibilities of "preaching monthly, hanging out with kiddos, youth, and young adults and finding new ways for the Church to do mission and be more inclusive."
Background
A native of Joplin, Mo., she has a MDIV from Brite Divinity School in Fort Worth, Texas, and a bachelor's degree in philosophy from Missouri State University. Before coming to John Knox, Hogue led youth and college ministries as well as ecumenical and interfaith groups.
She and her husband, Sean, have been married for six years and they enjoy "camping, cooking delicious vegetarian fare, road trips, important conversations, being silly and good movies."
The Pastoral Study Leave Program was established in 2005 by the late Rev. Dr. James R. Struthers of Stillwater, Okla., a long-time member of the University's Board of Trustees. Struthers established the program to bring Presbyterian pastors to the U of O campus for personal and professional development. Hogue is the 24th visiting pastor to take part in the program.
Topics: Chapel, Presbyterian