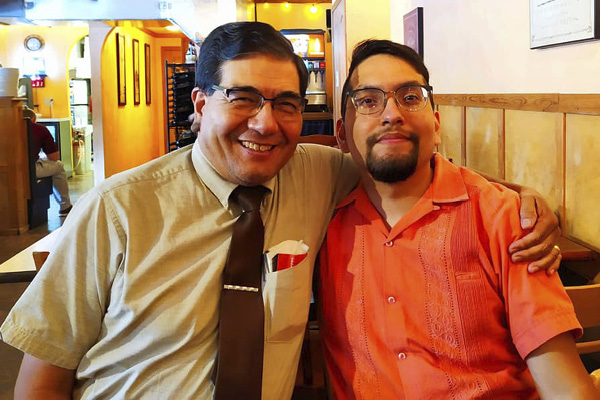 The Rev. Jesus Juan "Jesse" Gonzalez, pastor of Gethsemane Presbyterian Church in Fort Worth, Texas, will visit University of the Ozarks on the week of Sept. 13-17 as part of the University's Pastoral Study Leave Program.
Gonzalez (pictured above with his son, Obed, a 2017 U of O graduate) will lead the University's weekly Chapel Service at 11:30 a.m. on Sept. 14 in Munger-Wilson Chapel.
Gonzalez is pursuing a doctor of ministry at Austin Presbyterian Theological Society.  He is presently working on his dissertation titled, "Missional Church Movement."
A native of Mexico, Gonzalez earned a bachelor's degree from Monterrey Institute of Technology and Higher Education in Mexico and a master's degree from Austin Presbyterian Theological Seminary.
He has served Presbyterian churches in Mexico, Texas, North Carolina and Arkansas. He and his wife, Bertha, have three sons, Obed, Jesus and Abner, and four grandchildren.
The Pastoral Study Leave Program was established in 2005 by the late Rev. Dr. James R. Struthers of Stillwater, Okla., a long-time member of the University's Board of Trustees. Struthers established the program to bring Presbyterian pastors to the U of O campus for personal and professional development. Since its inception, more than 30 pastors have taken part in the program.
Topics: About, Chapel, Presbyterian, Religion