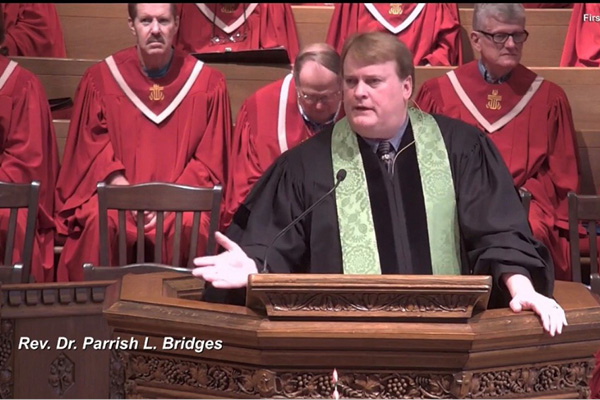 The Rev. Dr. Parrish L. Bridges, senior pastor at First Presbyterian Church in Huntington, W.V., will visit campus on the week of Oct. 25-29 as part of the University of the Ozarks' Struthers Visiting Pastoral Study Leave Program.
As part of his visit, Bridges will speak at the University's weekly Chapel Service at 11:30 a.m. on Tuesday, Oct. 26.
With over 30 years in ministry, Bridges has served churches in Arkansas, Mississippi, North Carolina, California, New York and , and West Virginia
Born in Bakersfield, Calif., Bridges spent most of his teenage years alternating between Ventura, Calif., and Coal Hill, Ark., where his father was living in retirement.  His father, Lou Bridges, is a 1949 graduate of what was then College of the Ozarks.  He was part of the first pharmacology graduating class and was later awarded an honorary doctor of pharmacology from University of the Ozarks in 1987, following a long career as a registered pharmacist and drug store owner in California.
Bridges was called into the ministry following his high school graduation in 1982 from Ventura High School.  In preparation for pastoral ministry, he attended and graduated from Tennessee Temple University in Chattanooga.  Following graduation in 1987, he received his first call as a pastor to First Baptist Church in Coal Hill, where he served briefly before moving to Memphis, Tenn. in order to start a 10-year vocation in the insurance industry with AGLA (later AIG) Insurance Company.  During this time, he also served as a bi-vocational pastor in various churches.
In the late 1990s, Bridges sensed God leading him to make a transition into full-time ministry as an ordained Presbyterian pastor.  He soon began serving as a student minister while attending Memphis Theological Seminary.  During this time, he did the required course work in the master of divinity program and also started the long process toward ordination. In 2002, he finished his master's degree program and completed the required PCUSA ordination process and was soon called to become pastor at Bethany Presbyterian Church in Wilmington, N.C. 
Within a few years, he started his next PCUSA pastorate of an 11-year ministry at FPUC in the village of Owego, New York.  During his time there, Bridges completed a three-year doctoral program in 2013 from Pittsburgh Theological Seminary.  His doctor of ministry degree was based on Parish Ministry Focus with a doctoral project entitled, "Equipping Deacons for the Shared Ministry of Congregational Care and Community Outreach."   
Parrish and his wife, Pamela, have three daughters, one son, three grandchildren and a Shit-Zu named, Roxy. 
The Pastoral Study Leave Program was established in 2005 by the late Rev. Dr. James R. Struthers of Stillwater, Okla., a long-time member of the University's Board of Trustees. Struthers established the program to bring Presbyterian pastors to the U of O campus for personal and professional development.