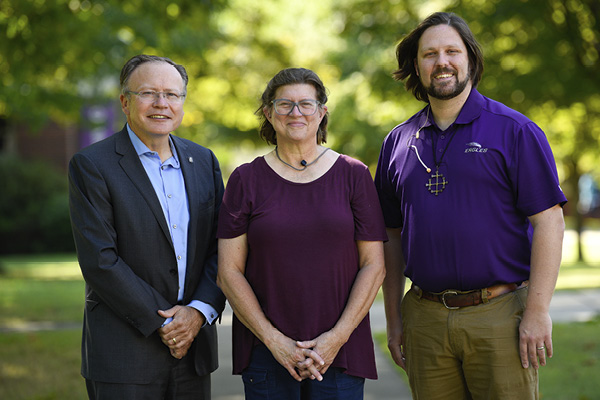 The Rev. Dr. Catherine Belles of Vidalia, Ga., will visit University of the Ozarks on the week of Oct. 11-15 as part of the University's Pastoral Study Leave Program.
Belles (pictured with University President Richard Dunsworth, left, and Chaplain Rev. Jeremy Wilhelmi) will lead the University's weekly Chapel Service at 11:30 a.m. on Oct. 12 in Munger-Wilson Chapel.
Currently in between pastorates, Belles has nearly 25 years of experience as director of Christian education in five different congregations and has served as youth Counselor for summer camp. She has planned and directed retreats and training for Peers and Youth. She has also served as a chaplain at several PCUSA and Episcopal churches.
Belles served rural parishes at First Presbyterian Church in Greene, Iowa, and Eden Presbyterian Church in Rudd, Iowa, from 2014 – 2019.  She did her doctoral thesis at Luther Seminary in Minnesota on preaching with rural congregations and the changing lives of rural farmers.
This past summer she served as a camp counselor at Aldersgate UMC Camp in Creig, N.Y. She said, "It was a wonderful experience and the physicality of the work was so good for my body and working with youth and kids was so fabulous for my soul."
Belles earned her undergraduate degree from Oglethorpe University in Atlanta and a master's degree in divinity from Union Presbyterian Seminary in Virginia.
The Pastoral Study Leave Program was established in 2005 by the late Rev. Dr. James R. Struthers of Stillwater, Okla., a long-time member of the University's Board of Trustees. Struthers established the program to bring Presbyterian pastors to the U of O campus for personal and professional development. Since its inception, nearly 30 pastors have taken part in the program.