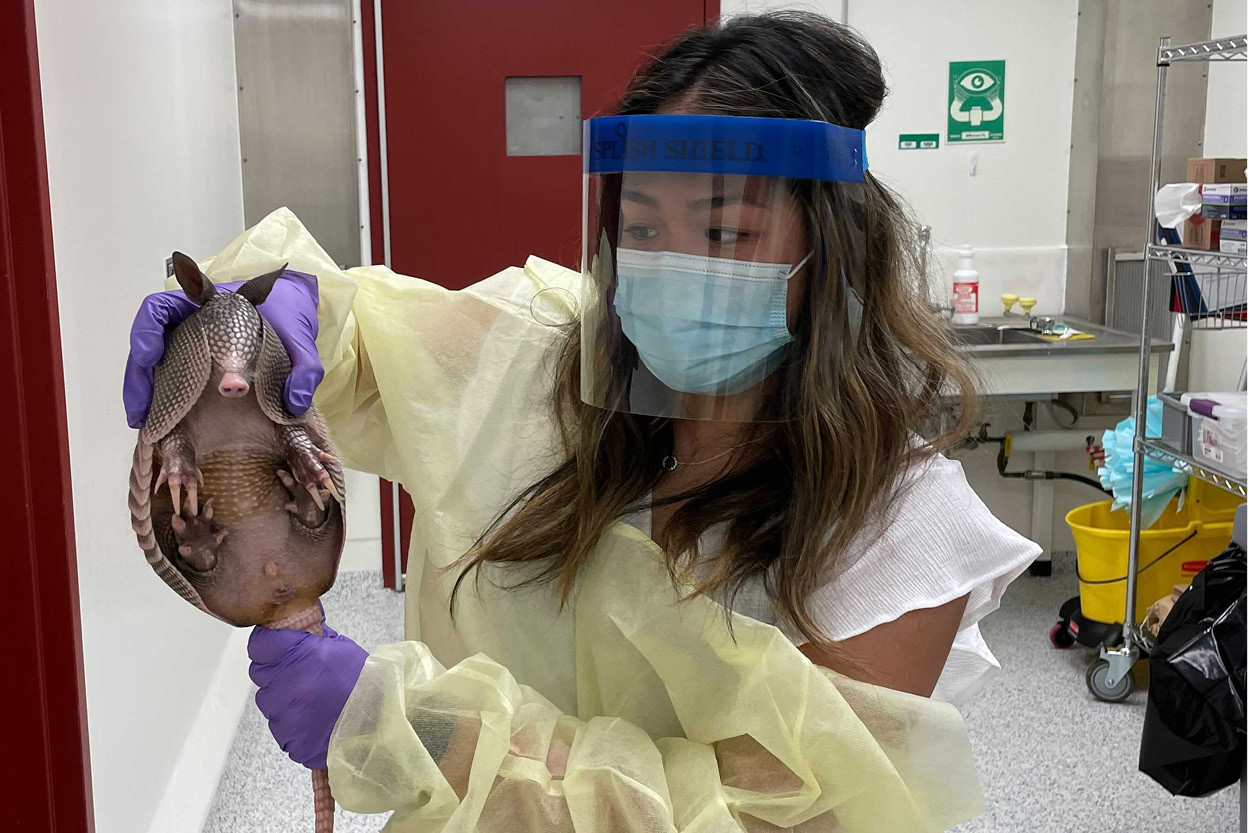 Recent University of the Ozarks graduate Crystal Oudomvilay is spending her ideal summer working as a postgraduate associate at Yale University, thanks to some mammalian Ozarks connections.
The May biology graduate from Paris, Ark., is working at the Yale School of Medicine where she is assisting with a research collaboration between Dr. Frank Knight, U of O professor of biology, and Dr. Marcelo Dietrich, of the Yale School of Medicine, on the genetics of individuality using four litters of identical armadillo quadruplets.
The armadillos were raised by Amanda Withnell, an animal technician and Dr. Knight's wife who has more than three decades of experience raising and caring for the mammals.
Oudomvilay worked with Withnell for a week to learn about armadillo behavior and how to handle, feed and care for the armadillos. As part of her work this summer, Oudomvilay is training the staff and scientists at Yale on the care and behavior of the armadillos while also learning molecular neurobiology and animal behavior lab techniques.   
"My daily tasks include caring for the armadillos, advising lab technicians in the care and behavior of armadillos and developing feeding schedules for the Yale Animal Resource Center," Oudomvilay said. "I've worked one-on-one with technicians, veterinarians, and coordinators of the Yale Animal Resource Center."
She has also been working with members of Dietrich's lab where she has gained experience that she believes will benefit her when she begins pursuing her doctorate in exercise physiology at West Virginia University in the fall.
"The lab is focused on understanding mechanisms of underlying development and regulation of animal behaviors," she said. "In the lab, I am receiving training in molecular neurobiological lab techniques that will allow me to develop and expand my palette of laboratory techniques that will be useful for when I move to West Virginia to pursue my doctorate. The technique and training I've been gaining has strengthen my confidence in a laboratory setting and I find myself fascinated by the accessibility and knowledge of others around me at the Yale. Everyone here has been more than helpful and encouraging."
The collaboration between Knight and Dietrich is part of a National Science Foundation grant proposal to support research internships for two U of O students to spend a summer or a year at the Yale School of Medicine each of the next few years.
According to Oudomvilay, Yale is interested in using the nine-banded armadillo as a model organism for their lab because they produce identical monozygotic quadruplets.
"It's been over 20 years since Yale has had any involvement with live armadillos in their facility," she said. "Many universities have not had success in keeping the armadillos alive in their institutions after transporting them."
Knight and Withnell have been working with and researching armadillos for more than 30 years and have involved dozens of Ozarks science students in their research during that span. Considered among the nation's leading authorities on armadillos, Knight and Winthell have caught and raised hundreds of the mammals for both local and world-wide research while helping Ozarks students hone and sharpen their research skills through studies of the armadillos.
Oudomvilay is one of those students.
"My experience with the armadillos and Dr. Knight started Spring of 2018 as a freshman where I was able to learn basic care and behavior of armadillos as early as four days postnatal," she said. "In 2019, I joined Dr. Knight in the armadillo microbiome research project where I took lead in. The research project explored the potential of genetically identical quadruplet armadillos for microbiome research to test the continuous exposure to the mother's bacteria is important to the maintenance and health of her offspring and their microbiomes. The expectations for the project were to collect data that showed siblings raised with exposure will develop more diverse microbiomes, grow faster, and have higher resting metabolic rates versus their siblings housed in a cleaner environment."
Those experiences helped spark her love of science and eventually led her to Yale University for the summer.
"This amazing opportunity at Yale has allowed me to grow as a scientist and the experience has only made my curiosity grow and I'm eager for the journey that I'm embarking on," she said.
Topics: About, Academics, Alumni Stories, Biology