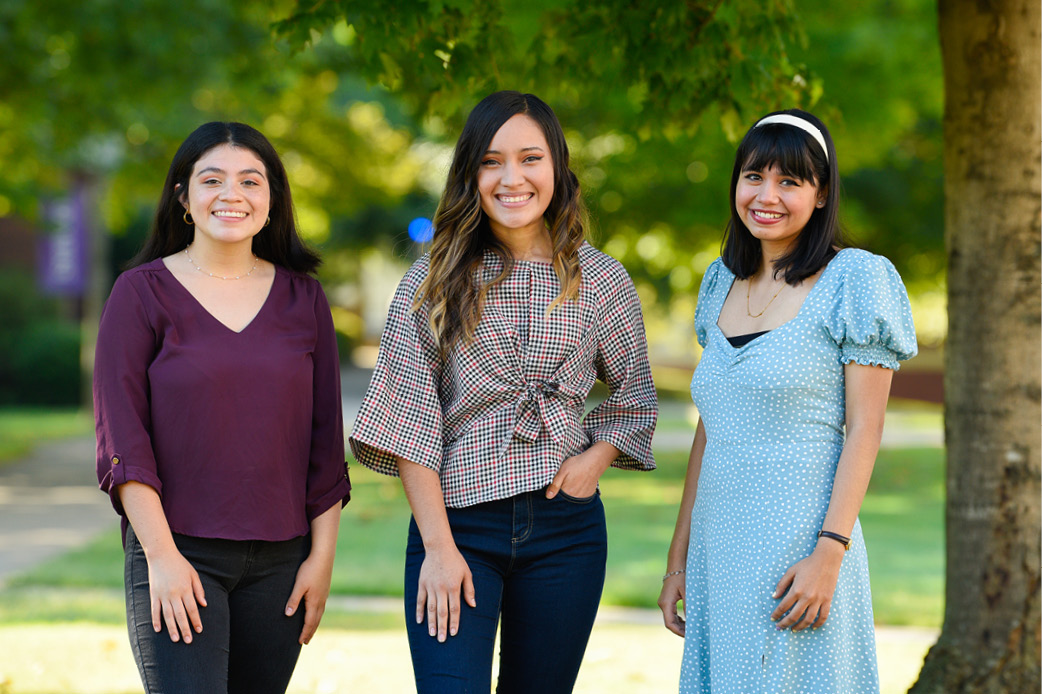 A trio of University of the Ozarks psychology students had the rare opportunity as undergraduates to present their research at a major international conference this past summer.
(Pictured, from left) Isabella Matute Hernandez, Katerin Alvarado and Solange Avalo joined recent graduate Laura Gochez in presenting at the 2021 American Psychological Association international convention, which was held in a virtual format in August. The group of students presented research that they had conducted with their Ozarks professor, Dr. Isaac Hunter, assistant professor of psychology.
The research team, which calls themselves The Good Life and Meaning Making Lab (GlammLab), explored a number of topics over the past year that followed a common theme — the meaningful life and finding one's calling. Hunter said he and the students approached the topic from various angles.
"One study explored whether the messages kids get from parents around employment matters more or whether what the parents modeled themselves matters more and it turns out it is the message," Hunter said. "Another study looked to see which of the Big5 personality traits most predicted whether students are searching for meaning in life or looking for a calling, similar to the University's mission statement of living life fully. The triats of openness and conscientiousness emerged here. Finally, we explored how the construct of calling has changed over the generations by coding hundreds of responses about the definition and scope of calling for current GenZ students and comparing that to Millenials, GenX and Baby Boomers. It seems like GenZ is bucking some of the trends we saw emerging in the past three generations, specifically that they might see calling as narrower in scope, not broader as has been a strong trend for decades."
The research was done in partnership with Colorado State University. Allie Alayan, a former visiting psychology professor at Ozarks and a graduate student at CSU, was also a part of the research team.
Hunter said the experience of presenting at the largest psychology conference in the world was an invaluable opportunity for the Ozarks students.
"It is exceedingly rare for undergrads to meaningfully contribute to research that gets presented at APA, so it definitely felt like a win to have all three pieces accepted," Hunter said. "GlammLab students helped to shape these research questions and helped in coding data, writing conference proposals and working on our presentations. It is a wonderful opportunity for students to ask important questions of life, help to answer those questions, and then share those answers with the world. In addition to the experience and personal growth, these opportunities really stand out for graduate programs and future employers. It is such a privilege to work with such bright and motivated students, and wonderful to see their open minds and open horizons as they figure out how to live life fully after their time here at U of O."
Alvarado, a senior from San Pedro Sula, Honduras, said taking part in real world research helped take what she learned in her classes and apply it in a meaningful way.
"It helped me to learn how to use online research tools, time management, exercise my autonomy and from there to take an active role in the Ozarks community," Alvarado said. "As I was doing this research, I was able to obtain a lot of confidence in myself and it allowed me to understand the steps to carry out an investigation.  My research colleagues and my leaders, Allie Alayan and Dr. Hunter, put a lot of trust and effort into making each GlammLab member feel included and appreciated. Being a member of research undoubtedly helped me be more analytical, reflective, and sensitive to issues that help improve social problems and that help advance the scientific community."
Avalo, a sophomore psychology and sociology major from Masaya, Nicaragua, said she enjoyed working as part of a team toward a common goal.
"I learned many things from them, especially to understand different working styles and how to utilize them in order to achieve a common learning goal for us, and for the people we want to connect with," Avalo said. "I also learned that asking great questions and working on finding answers to them can be a great contribution to humanity. I learned that we all are capable to make the world easier to understand, and that research is a key part of that process. Finding information that is useful for other people is a great act of kindness towards our community."
Avalo said she wants to pursue a career in social service and research to help the rural people in her country.
"I want to serve people with all my heart, especially peasants in vulnerable conditions," she said. "I want to help others to grow through education, empathy and awareness. Taking part in this research helped me to realize that in order to fight an issue, you first have to understand it. I'm very eager and happy to learn as much as possible because that leads me to perceive individualistic and social issues from a broader standpoint. Knowledge and love can help me to transform what I learn into something useful to evolve as a human being and professional, as well to fight for the well-being of the people who are in a more vulnerable position."
Alvarado said she hopes to have a career in research that focuses on Neuroscience.
"My classes in psychology and health sciences have helped me to fall in love with my career and to want to continue with it until I can get a Ph.D. in Neuroscience," she said. "Being a researcher is not just a job, but it requires understanding. I am delighted by the prospect of studying human behavior and mind. I would like to work in different programs that foster inclusion and that help families in Latin American and Caribbean countries. I want to use my education and knowledge to help protect natural resources, defend universal rights, improve living conditions for people who have suffered from violence, racism, and hate, and promote economic prosperity within communities."
Hernandez, a senior psychology major from Honduras, said she plans to earn a master's degree in developmental psychology and work with children and adolescents with mental, emotional, developmental and physical disabilities.  
"I believe that this project opened my eyes to the world of research and how fascinating and important it is," she said. "In the future, I would definitely love to contribute to the research out there on developmental disabilities."
Research Posters:
How Personality Relates with Calling and Meaning
Conceptions of Calling from Generation Z and Beyond
"Do as I say, not as I do" Message, Modelling, and Meaningful Work
Topics: About, Academics, Psychology, Student Stories