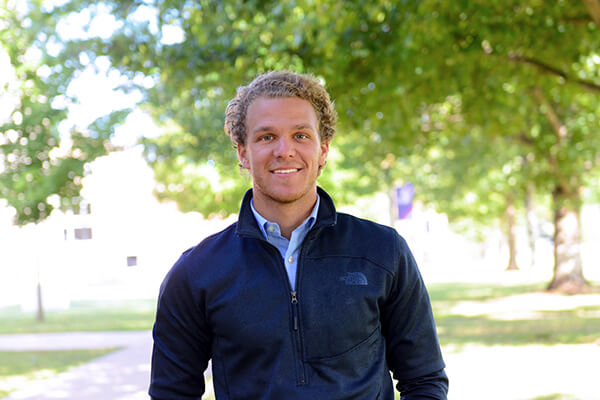 When University of the Ozarks psychology major Tanner Young learned late last spring that he had gained a summer internship in a prestigious research lab at Duke University, he experienced a wide range of emotions.
"I was happy, I was intimidated, I was fearful and I was excited—all at the same time," Young said. "I really didn't know what to expect but I knew that it was going to be a once-in-a-lifetime experience and that I was going to soak up every bit of information and knowledge I could from it."
That's exactly what Young, a junior from Euless, Texas did. He spent nine weeks working along-side some of the top psychology researchers and students in the country at the Wilbourn Infant Lab at Duke, commonly known as WILD.
WILD is a developmental research lab in the Department of Psychology and Neuroscience at the private university in North Carolina. The lab studies how children learn language and how different modes of input influence early language and cognitive development.
Young learned about the summer internship through one of his psychology professors at Ozarks and scrambled to meet the application deadline.
"I had about a week to get everything in," Young said. "I collaborated with Ruth Walton, director of career services, on my CV, my personal statement, as well as my essay questions. She helped me tremendously to prepare for my interviews."
After an interview with WILD lab managers. Young had his final interview with the lab's director and namesake, Dr. Makeba Wilbourn.
"It was a little stressful but I look back and it was a great experience to go through the process," Young said. "To know that I was able to get into a competitive internship program on my own merits meant a lot to me."
Young primarily worked on an ongoing research study called iPac, a cross sectional-study that is examining how parents interact with their children in basic tasks that resemble dyadic situations that most often take place at home.
"I worked a lot on updating birth records, calling prospective participants and scheduling them, and transcribing and entering data," Young said. "Outside of those few hours, the lab encouraged us to continue our independent studies, in which we would read relevant studies, organize the information and build our presentation. We also had classes like GRE prep, statistics workshops, CV and personal statement workshops, graduate student panels and meetings with professors of different backgrounds within the field. These things will be invaluable when I start applying for graduate schools."
A first-generation college student, Young said the internship solidified his interest in pursuing a career in psychology
"It was really beneficial in giving me insight in what it would be like to be a graduate student in psychology," he said. "I know now without a doubt this is where I belong."
The summer internship also provided another insight for Tanner.
"The whole experience showed me the amazing support I have from my family and friends as well as my professors, classmates and staff here at Ozarks," he said. "I have people around me who believe in me and want nothing but the best in the world for me. The people who encourage me, inspire me and push me, I give so much of the credit to and I will never be able to thank them enough. It was an amazing summer and it has changed me as a student more than I can ever explain."
Topics: About, Academics, Internships, Psychology, Student Stories