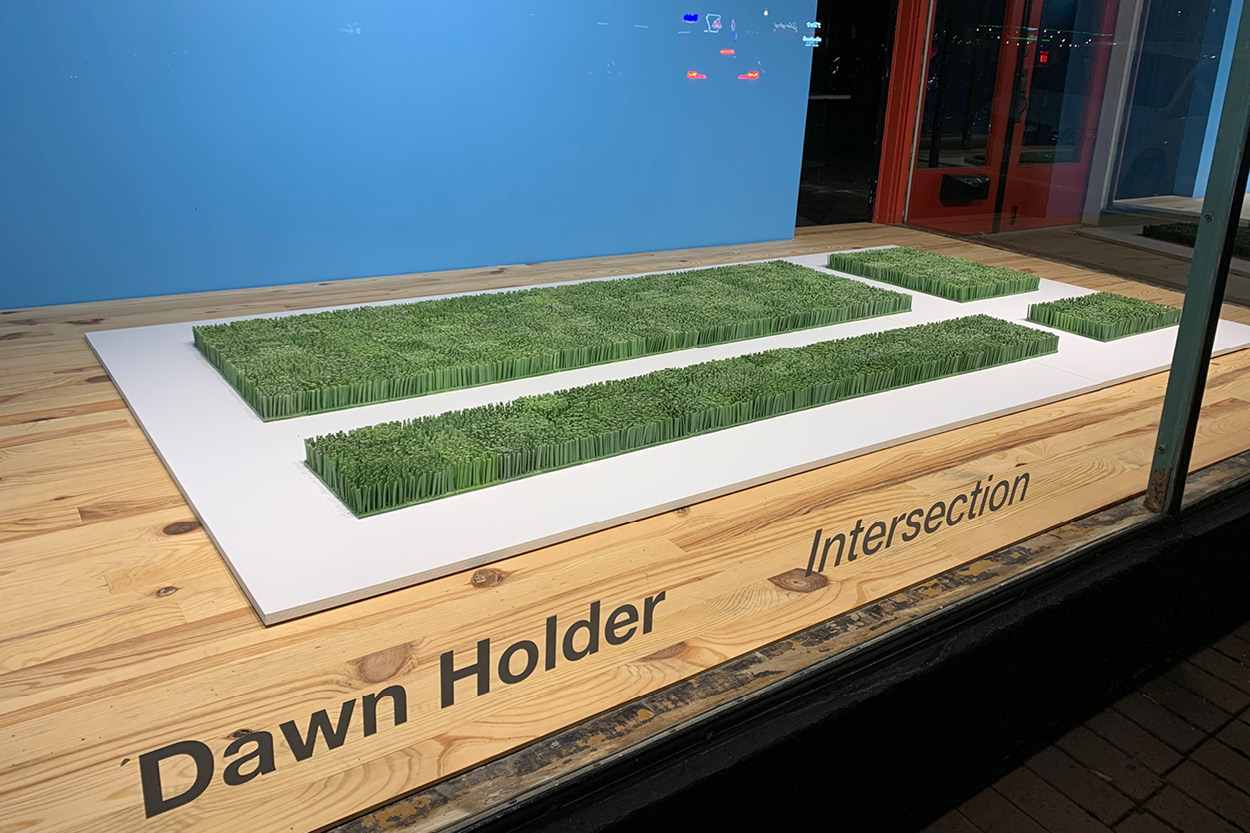 Dawn Holder, associate professor of art at University of the Ozarks, is featured in two current art exhibitions as well as a pair of publications.
Holder is presenting a solo exhibit at the Spiva Gallery at Missouri Southern State University in Joplin, Mo., through March 11 titled, "A Glory That May Never." Her artwork is also on display in an exhibition titled, "Intersection and Medium," at Famous Hardware in Springdale, Ark., through April.
In addition, Holder has an essay titled, "Digging up the Lawnument," in the journal publication Monday, published by the Jacob Lawrence Gallery at the University of Washington. She also has an image featured in the recent postcard book, Monuments to Escape.
Holder said that creative research is a critical component of her work at Ozarks.
"When the world first shut down due to Covid, I was anxious and frustrated that I could not access any of the facilities to create my ceramics and sculptural work," Holder said. "Rather than give up, I refocused my energies to my photography and writing. Over the spring, I began a new series of digital photo collages exploring fallen monuments. One of these images is featured in the postcard book Monuments to Escape, curated and designed by the artist Marisa Williamson. During the summer, I shifted my attention to write a critical-creative essay that weaves together personal reflection, history, excerpts of advertisements, quotations and images of my porcelain lawn installations to examine the violence hidden in the creation of lawn-based monocultures in the suburban United States. This hybrid style of writing allowed me to bring together my research about lawns, the process of creating porcelain installations that explore lawn monocultures and my own relationship to the lawn outside my house."
In recent months, Holder returned to the studio to create new artwork and to prepare for the two exhibitions.
"In one exhibition, I am continuing to expand my porcelain grass work, while the other show imagines ways to deconstruct and disempower traditional monument imagery," Holder said. "Although I miss the communal experience of art openings and in-person artist lectures, I am excited that there are still opportunities to share my work with the public."
In the MSSU exhibit, Holder's work explores landscape as social and cultural construct. Over the past three years, her work has been critical of the many Confederate monuments throughout the South.
Travels and artist residencies in Europe widened the scope of her monument research, finding the genesis of these images of power and control in Roman antiquities. Holder's current sculptures, installations and photographs reference the equestrian and obelisk imagery shared by both Roman and Confederate monuments, their inscribed texts and their visual relationship to the landscape. By excerpting these recognizable forms, her work explores the dramatic possibilities of their ruin. Holder's sculptures and photographs compress time and history, foregrounding the eventual state of entropy, disrepair and loss of memory that comes to all monuments. Although there is a bleakness to this work, she hopes it serves to validate the ongoing fight to re-evaluate the many monuments erected in the spirit of oppression.
In "Intersection and Medium," Holder highlights two porcelain grass installations in the refurbished storefront of Famous Hardware in downtown Springdale. These installations reference the contrasting ways that grass is utilized in urban and suburban landscaping. Median mirrors the impersonal parcels of land used to mediate and control human movement on roadways. According to Holder, in this context, grass is merely a filler: easy to control, something to hold the dirt in place. On the other hand, Intersection references the corner of a suburban lawn, where grass becomes one's own personal outdoor domain, evoking feelings of nostalgia and relaxation.
In its description of "Digging Up the Lawnument," the publication Monday said that Holder's essay "discusses the cultural and environmental violence of bermuda grass lawns. The aesthetic of American landscaping in suburban neighborhoods is examined as embodiments of anthropocentrism and colonialism, revealing the desire for order as a catalyst for domination and exclusion. Holder also shares the labor-intensive and repetitive experience of creating and exhibiting Monoculture, a series of handmade porcelain grass lawns."
Topics: About, Art, Faculty Spotlights