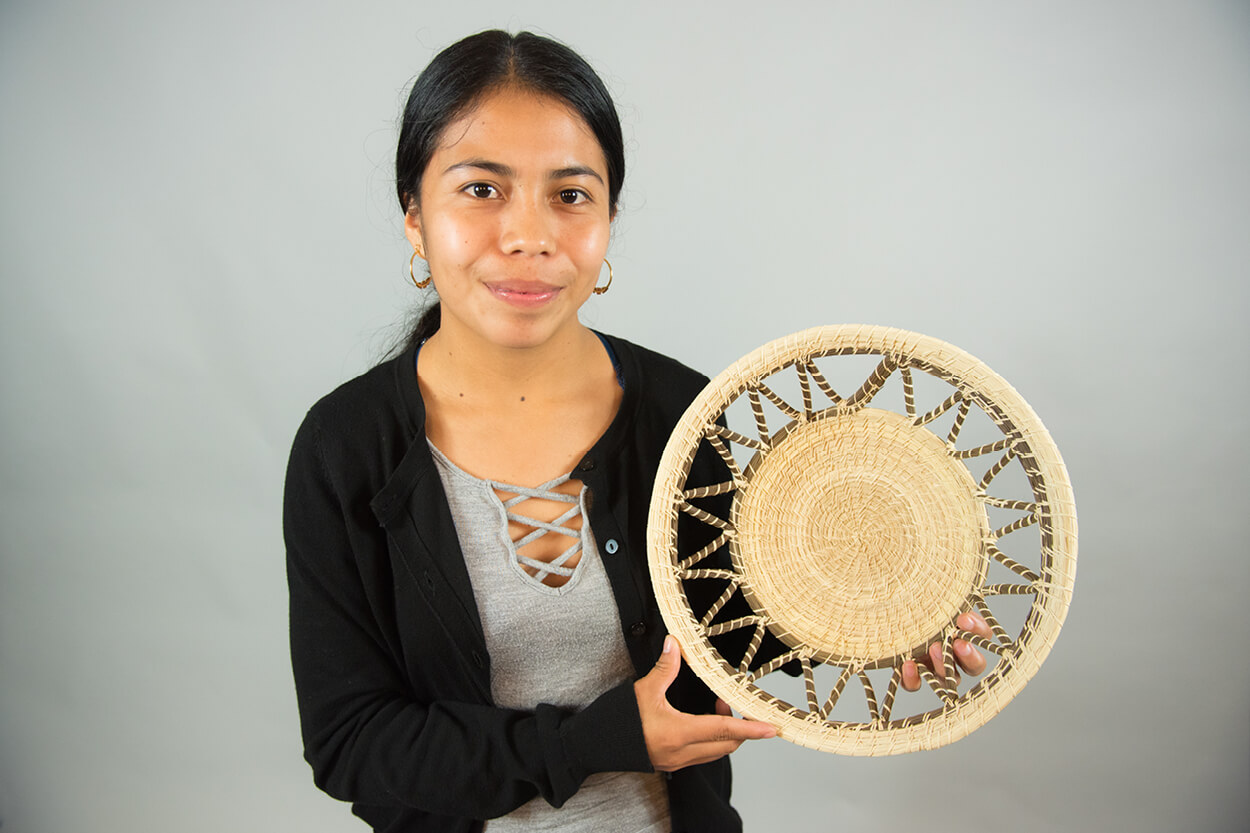 Only about 500,000 people in the world speak the Mayan language called Kekchi and University of the Ozarks junior Marcelina Pop of Belize is proud to be one of those native speakers. This past summer she was able to put those skills to use as an interpreter in an immigration case.
Pop, an English and psychology major, is from the southern Belize community of San Pedro Columbia, a village of about 1,200 people and the country's largest settlement of Kekchi. The community is known for its hand-woven embroidery that dates back to the peak of the Mayan civilization in 900 A.D. Most of the population of San Pedro Columbia came to Belize from the Petén region of Guatemala in the late 19th century.
"I grew up in a small, rural Kekchi village with chickens in the yard, cacao drink in the making and women slapping clothes on slabs of rock by the river banks," Pop said. "The elders emphasize speaking Kekchi more than the younger people in the community. My parents are very traditional in the sense that they always, always speak in Kekchi at home. Almost everyone you meet in my village either speaks Kekchi or, at the very least, understands Kekchi."
Pop was asked to interpret this summer by an attorney in Northwest Arkansas for an immigration case on the Mexican border involving a child separation of a family from Guatemala that only spoke Kekchi. The attorney found Pop through U of O Spanish Professor Dr. William Clary's connection with the court interpretation network in Arkansas.
Pop was able to assist the family through several phone conferences during the summer and was paid for her interpretation services.
"When Dr. Clary asked me if I would be willing to assist on the case, I was surprised," Pop said. "It was wholly unexpected since Kekchi is a native language and very few people speak it outside where I'm from. I knew from the moment Dr. Clary asked that I would do it because it isn't every day that I can use my language to provide assistance. It was a privilege to serve as an interpreter, even though it was a difficult situation for the family. I only wish that the circumstances would have been different."
Pop said that growing up in San Pedro Columbia, she spoke Kekchi at home and learned English in school. She rarely gets to speak Kekchi when she's at the University.
"I only speak Kekchi when I call my parents back home and sometimes when my friends would ask me to say something," Pop said. "I have had a couple friends who wanted to learn some words in Kekchi, but they quickly gave up since, according to them, it was such a throaty language."
Pop said she chose her double major in English and psychology because she "wanted a balance between what I'm passionate about and what would challenge me. English is more of a hobby and psychology is a challenging interest." She plans to pursue a career in educational or social psychology.
Whatever career she chooses, Pop said her Kekchi heritage will always be a big part of her life.
"My culture instills core values of humility and industriousness, which speaks volumes in how we treat people," she said. "If you were ever to visit any Kekchi house, you would surely be offered a hot cup of cacao drink and our famous dish, Caldo with poch. I'm just very grateful for and proud of my Kekchi heritage."
In an informal survey conduct by Clary, he found approximately 30 native languages spoken on the U of O campus by students, faculty and staff. Those languages include Moroccan Arabic (Darija), Indonesian, Malay, French, Karen, Javanese, Swahili, Georgian, Lingala, Kikuyu, Kinyarwanda
Mashi, Jamaican Patois, Azerbaijani, Shona, Kaqchikel Maya, Haitian Creole, Portuguese, Japanese and Uzbek.
"That's quite an amazing aggregation of languages for a school of around 850 students," Clary said.
Topics: About, International, Psychology, Spanish