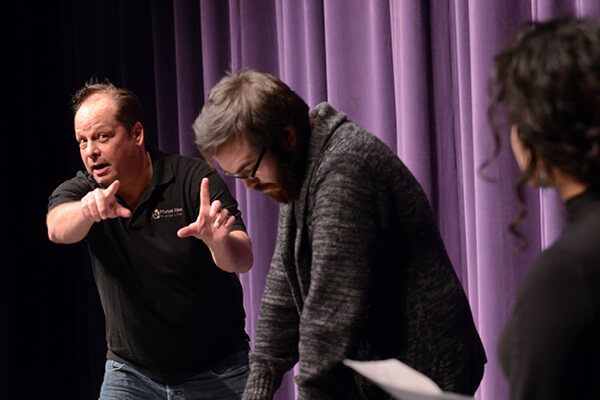 Though it has been nearly three decades since Anthony L. Mariani stood on the stage of the University of the Ozarks' Seay Theatre, he felt right at home.
Mariani, a 1990 Ozarks theatre graduate who has gone on to an accomplished career as a playwright, screenwriter and film and stage director, returned to campus on Feb. 7 to put on a workshop for communication and theatre students on the Seay stage.
It was Mariani's first time on that stage since he served as the student director of the University Theatre's production of "The Adding Machine" during his senior year in 1990.
"It was a little surreal to come back here. It brought back some great memories," Mariani said. "Dr. Pat Farmer let me direct that play and that was the main reason I got into graduate school and it kind of propelled my career, so this place is special to me. Everything looks just as I remembered it. It feels like home."
Mariani, who lives in Little Rock, was invited back to Ozarks by Susan Edens, associate professor of practice of communication and a former classmate of his at U of O. Mariani spent nearly two hours working with approximately 25 students from the media II and theatre production classes providing technical tips on everything from camera angles to set props. He also shared anecdotes of working on film sets as well as advice on how to break into the industry.
"I think it's very important for alumni to come back and help out current students any way we can," Mariani said. "If you get a chance to help someone else move forward, you should do it. When I left here I was the first one to go out to Hollywood, so I think it's important for students to see that you can make it from anywhere. I was fortunate enough to make some connections and networks that have helped other Ozarks students. I also enjoy the teaching aspect. I used to teach high school and I really enjoy sharing knowledge."
After earning an MFA in directing from the California Institute of the Arts, Mariani spent the 1990s working in Hollywood, first as a production assistant on "The Tonight Show with Jay Leno," and then as an assistant director on numerous independent films, commercials and television shows.
He returned to Little Rock in the 2000s, where he has found success as a playwright and screenwriter. One of his most recent plays, "I Got You, Babe," was published in Lawrence Harbison's anthology, "The Best Ten-Minute Plays of 2018," and was the 2018 10×10 Infinity Best Short Play winner. He has also won numerous awards and recognition for many of his other recent works, including the play, "The Rooster Rebellion," and the short film, "Don't You Forget About Me."
"As a playwright, I have tried to tackle social and political topics that face society today," Mariani said. "I try to tell meaningful stories that an audience can reflect on long after they leave the theatre. I strive to write for change, to affect my audience and to inspire us all to be better humans on this earth."
The Ozarks students enjoyed hearing from an alumnus who could share stories about working with and meeting some of Hollywood's top names, including director Steven Spielberg and actor Robert De Niro.
"To be able to hear from someone who has that type of experience and history in the industry is very inspiring," said communication student Ariel McKinney. "Knowing that he came from a small school like Ozarks and had success shows us that we can do the same thing and that we should follow our career dreams."
The timing was especially good for Mariani's visit since many of the students are beginning to work on a multi-class film project. The students are turning a play called "Somoas," written by U of O Associate Professor of Communication Dr. Rhonda Shook, into a screenplay.
"He gave some great tips and advice that will definitely help us in making the film," said sophomore communication major Bradley Thompson. "To be able to get that kind of information from someone with his experience is a wonderful thing."
Mariani hopes he can also be an inspiration for students in the Jones Learning Center. Mariani said he was diagnosed with dyslexia and dysgraphia after high school and that led to him transferring to Ozarks for the learning center.
"Think about how it's like to have dyslexia and dysgraphia and have a play published," he said. "That to me is pretty amazing and I think it can inspire and motivate learning center students that they can do anything they set their minds to."
Mariani said he has found that his dyslexia actually helps him be a better director.
"I had to be such a good listener in class to pick up as much as I could and that has helped me," he said. "As a director you've got to listen to your actors and your performers, pick up on little cues and always be open to advice and input from others. You can't be rigid in this industry and the training and experience I received in listening has helped tremendously."
Mariani said he has numerous projects in the works, including a play called, "The Morning Chair," which is having a reading in Austin, Texas, this spring. He is also writing a comedy play called "Annie Luna," and working on a project that deals with the aftermath of the 2012 Sandy Hook Elementary School shooting.
Topics: About, Academics, Alumni, Media Production, Theatre