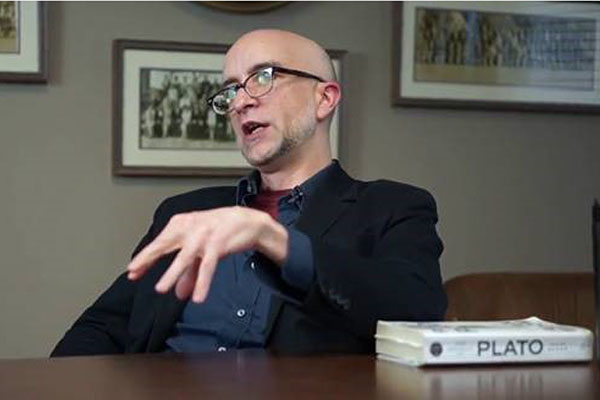 Dr. Nathan "Eric" Dickman, who joined the University of the Ozarks faculty this summer as an assistant professor of philosophy, recently presented a paper at a national conference and had two syllabi discussions published in a national blog.
Dickman previously served as an associate professor of philosophy and religious studies at Young Harris College in Georgia since 2017 and was an assistant professor at the college from 2010 to 2017. He also served as chair of the Religion and Philosophy Department at Young Harris and has taught at Coe College in Iowa, University of Northern Iowa and the University of Iowa.
His paper, "Spatial Absence, Virtual Proximity: Levinasian Dialogue as a Pandemic Pedagogy," was presented at the annual conference of the North American Levinas Society, which was held virtually this year due to the COVID-19 pandemic. The conference theme was, "The Face and the Interface: Levinas, Teaching, and Technology," and focused on how Levinas's philosophy can be relevant to how people have had to adapt to online formats for educational, interpersonal, and political practices.
The conference program discussion states: "The COVID-19 pandemic has engendered a great deal of economic and political turmoil around the world, not the least of which involves necessary campus closures across the globe. As communities and institutions struggle to adapt to the critical exigencies of this moment, the pandemic reveals a number of longstanding inequities and injustices that exacerbate the global crisis."
"Levinas is an influential Jewish philosopher, and mentor to more well-known figures such as Jacques Derrida," Dickman said. "Levinas's philosophy has helped inspire me to live in service to my fellow human beings, and this conference was a great opportunity to reflect specifically on how to serve students in the midst of the pandemic. I focused in particular on how to have great dialogues with students despite being online for classes."
In addition to the conference paper, Dickman recently had a pair of class syllabi and discussions published in the Syllabus Showcase series of the American Philosophical Association's blog. The published syllabi are the basis for a pair of philosophy classes that he will teach at Ozarks: "Hegel to Nietzsche" and "Logic."
"With my passion for teaching, I love being able to share my syllabi with colleagues for their feedback or if it helps other professors in thinking about their own course design and teaching strategies," Dickman said. "These two courses in particular are a couple of my favorites; the Hegel to Nietzsche syllabus because, as I point out, phenomenology is not that well-known, and the Logic syllabus because critical thinking forms the topic of my upcoming book."
Dickman's research interests include hermeneutic phenomenology, philosophy of language and comparative questions in philosophy of religions. He teaches a range of courses, such as Critical Thinking, Jewish Experience, Medieval Philosophical Theology and Phenomenology. His book, "Using Questions to Think," will be published with Bloomsbury later this year.
At Young Harris, Dickman received the Faculty Pacesetter Award in 2019, the Inter-Religious Council Faculty Award in 2018 and the Vulcan Award for Teaching Excellence in 2014. He is a member of the American Academy of Religion and the American Philosophical Association.
A link to Dickman's syllabi and discussion on the American Philosophical Association's blog can be found here:
https://blog.apaonline.org/2020/06/24/syllabus-showcase-phenomenology-and-existentialism-nathan-eric-dickman/
https://blog.apaonline.org/2020/07/22/syllabus-showcase-critical-thinking-nathan-eric-dickman/
Topics: About, Faculty Spotlights, Philosophy