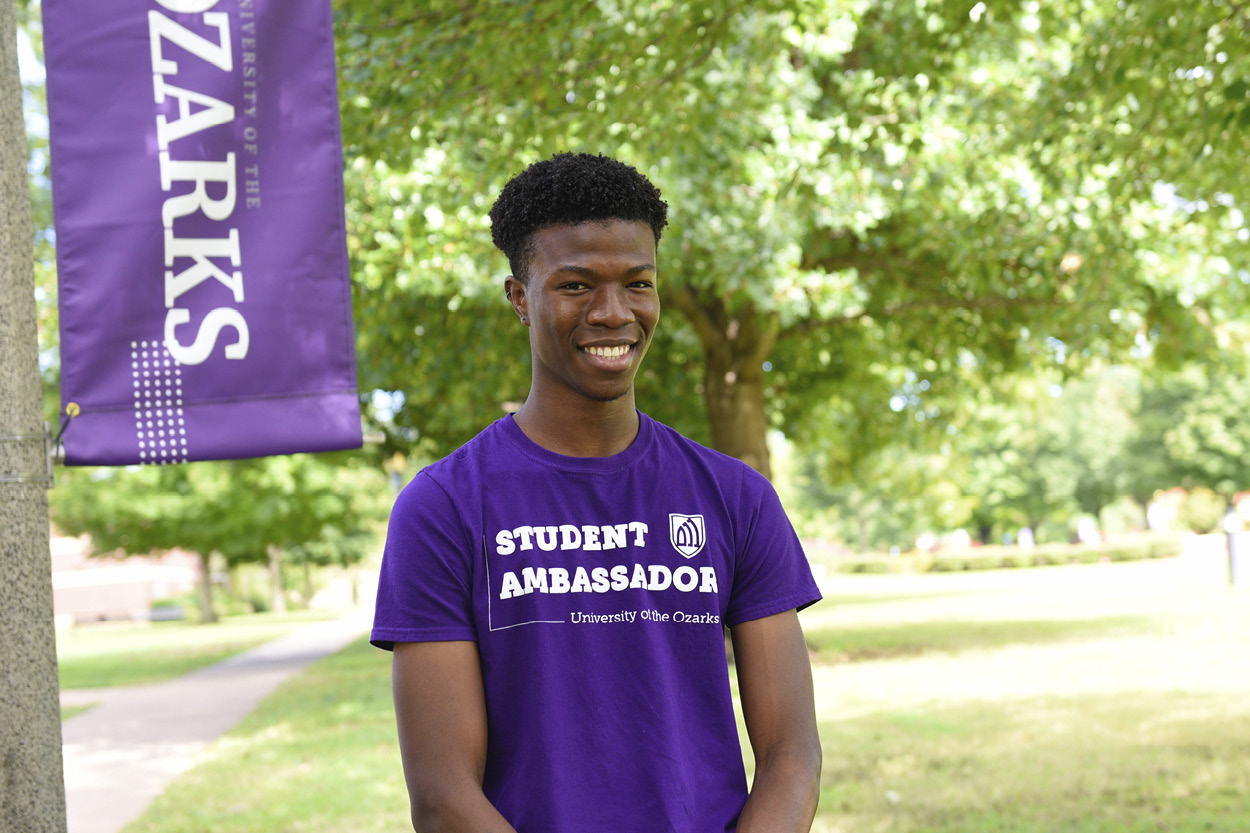 Petron Brown, a theatre and environmental studies major from The Bahamas, was named the recipient of the University of the Ozarks' prestigious 2021 Wiley Lin Hurie Memorial Award during the annual Honors Day ceremony, held Wednesday afternoon via Zoom.
The Hurie Award is voted on by the faculty and is named after former Ozarks President Dr. Wiley Lin Hurie, who served from 1923-49. The highest honor an Ozarks student can receive, the Hurie award is given to a graduating senior who has been an exemplary scholar, a campus leader, and a person of outstanding character.
Brown will be graduating from Ozarks on May 15 with Summa Cum Laude honors (3.85 GPA or above). He has served as the president of the Black Student Association and the Planet Club during his time at Ozarks.
"The Hurie Award recognizes Petron's achievements on the stage and so much more," said University President Richard Dunsworth. "It honors the many ways in which Petron reflects back to us the values we hold. To name just a few of those values, we see Ozarks' value of hospitality in his work as an exemplary Ozarks Ambassador. With a smile as broad as the Arkansas River and a heart as warm as the Caribbean sun, he has welcomed scores, if not hundreds, of Ozarks guests in a way that makes them feel at home. We also see Ozarks' value of growth in his willingness to stretch himself, to take risks, to pursue a course of study that was unimaginable to him before he started college. And we see Ozarks' value of justice in the way that he has advocated for issues ranging from climate change to food insecurity and perhaps most of all, racial justice. Petron is that exemplary Ozarks scholar who thinks not only with his head, but with his heart and hands as well. Petron has truly represented the best of Ozarks, and he leaves Ozarks a better place for his having been here."
In 2019, Brown was selected to take part in the United Nations Millennium Fellowship's Student Initiative on Food Security. He has also served as a student ambassador and a Student Support Services tutor and has been active in the Provisional Student Government Association, the President's Advisory Council and on the University's cross country and track teams.
Brown has performed in numerous University Theatre productions, including The Diary of Anne Frank (2018), Barefoot in the Park (2019), Love's Labor's Lost (2019), The Boy Who Couldn't Speak (2019), For Hurting Hands (2020) and Proof (2021). He has won several theatre awards, including the KCACTF Meritorious Achievement in Directing, the KCACTF Meritorious Achievement for Acting in Multiple Roles and the KCACTF Irene Ryan Acting Nomination.
Brown organized and hosted the Forum on Racial Justice on campus in July of 2020 and served as an intern with the Arkansas for Container Deposit Law Coalition. He  has been accepted into the University of Southern Mississippi's Master's in Fine Arts in Theatre Performance Program with a full tuition waiver and stipend. His parents are Peter and Germaller Brown.