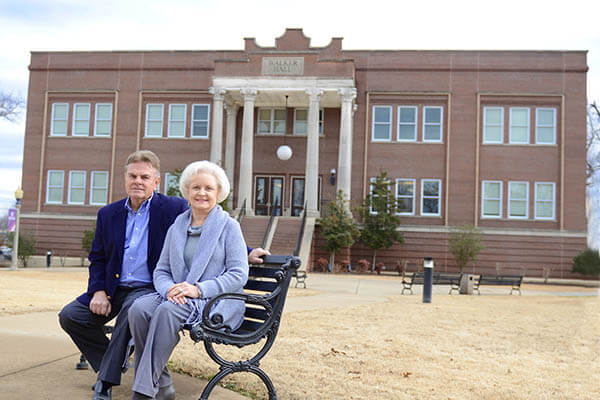 University of the Ozarks alumna Edna Elkins Patterson '67 and her husband, John, have created a new scholarship endowment at Ozarks to assist elementary education students from Johnson County.
The long-time Clarksville residents established The Edna Elkins Patterson and John S. Patterson Education Scholarship recently with a gift commitment of $100,000. The first preference for the scholarship is to assist students from Johnson County who are majoring in elementary education.
"The loyalty of our alumni and their desire to help students is one of the University's strongest qualities and the Pattersons exemplify that commitment," said Lori McBee, vice president for advancement. "We are grateful that the Patterson Scholarship will make it possible for many more students to excel at Ozarks, in their careers and in their communities."
After graduating from Ozarks in 1967 with a degree in elementary education, Edna served more than 35 years as a teacher and media specialist, including 32 years in Clarksville elementary schools. She also taught in Van Buren, Ark.,, and Springdale, Ark.
Edna, whose family moved to Clarksville when she was 5, said that while she was a student at Clarksville High School she served as an aide to school librarian Lois Smith, wife of long-time Ozarks biology professor T.L. "Prof" Smith. Lois Smith encouraged Edna to attend then College of the Ozarks.
"Since there was no library degree available at C of O, I majored in elementary education," she said. "Children's literature, taught by Ruby Villines, was a class I especially enjoyed. She instilled in me a desire to teach. This gift is an expression of appreciation for all the wonderful teachers I had at C of O, now University of the Ozarks."
Edna said attending Ozarks was one of the best decisions she ever made.
"My dad had been diagnosed with cancer so I knew I wanted to go college as close as possible so that I could be there with him," she said. "I lived on campus for three years and had so much fun and met so many wonderful friends. My father died during my senior year, so I always felt blessed that I could be close to him in his final years and also receive a great education."
The Pattersons, who will celebrate their 50th wedding anniversary in June, said the scholarship endowment stands as testimony to the faith journey they have had through their worship and service at First Presbyterian Church of Clarksville. The Patterson have two children, Page Patterson Hardin and Penny Patterson Coffman, and three grandchildren, Abigail, Regan and Graham.
John, a fourth generation Clarksville resident who retired in 2007 after serving as a circuit court judge in Franklin, Johnson and Pope counties, said he and his wife feel blessed to be able to help Ozarks students.
"Being able to establish a scholarship at this stage of our lives rather than through a will or estate gift makes this very special," he said. "We will be able to see the scholarship benefit students in our lifetime and perhaps even be able to sit down and have coffee with some of the recipients in the future. That's a true blessing."
Topics: Alumni, Education, Financial Aid, Giving, Scholarship