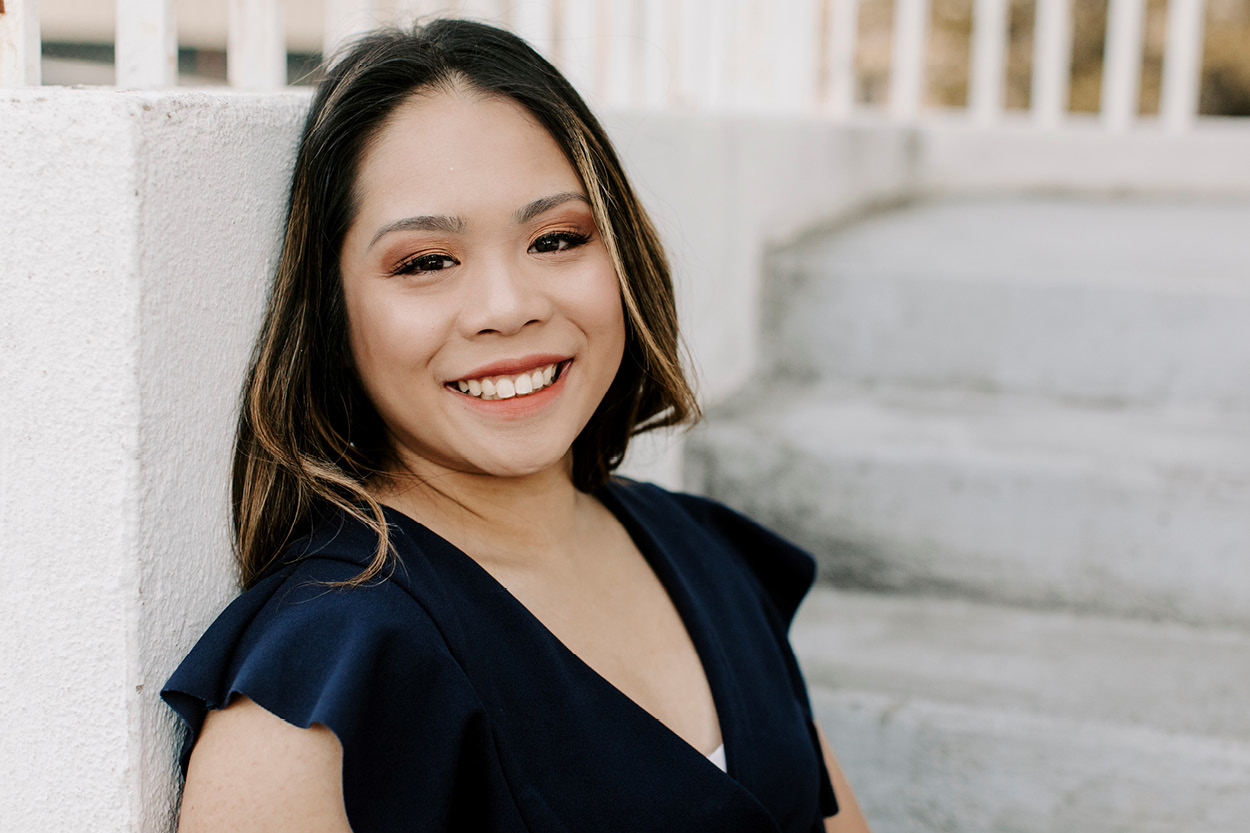 University of the Ozarks graduating senior Crystal Oudomvilay doesn't hesitate when asked how she has grown in her four years at Ozarks.
"I used to be a person who was very timid, quiet, anxious, and stayed very close to a group of people. I was afraid to meet new people and talk," she said. "Before Ozarks, I would be uncomfortable to put myself into a conversation or start one. Since I've been at Ozarks, I've grown to make what was uncomfortable, comfortable. Now I find myself going down the sidewalk and having a conversation with anyone. The community at Ozarks has allowed me to build the confidence in who I am and with that, I've become socially more active and outgoing."
Originally from Elgin, Ill., Oudomvilay grew up in Paris, Ark. She will graduate with honors from Ozarks in May with a biology major and minors in business administration, chemistry, English and health science. Her next stop following graduation is the University of West Virginia, where she will pursue a Ph.D. in biomedical sciences with an emphasis in exercise physiology.
Calling herself a driven person, Oudomvilay said she is inspired daily by her father, whose family escaped communism in Laos when he was six years old and whose family arrived in the U.S. with only five dollars.
"His childhood consisted of living in a one-bedroom apartment in New York, sleeping on cardboard and sharing it with his single mother and two of his siblings, who he took care of while she worked three jobs," Oudomvilay said. "The opportunities that my father had growing up weren't there for him. A rough childhood and life is an understatement to describe my father's upbringing. However, my father persevered and worked hard to continue to provide for our family. The purpose of my studies all leads back to my family's upbringing in America.  I've always been driven to do everything I could to make my family proud and to take care of them."
Oudomvilay, who was accepted into all three graduate schools she applied to, said a number of classes and experiences at Ozarks put her on track to continuing her education.
"I was conflicted in pursuing grad school, but Dr. Frank Knight, my advisor, introduced me to research during my first and second year here at Ozarks with his armadillos," she said. "Then in 2019, I was able to take the lead in a project that Dr. Knight advised … I remained on the pre-medical track because I knew I wanted to pursue a graduate program within the biomedical field. However, I did not know what would fit my interests. I started a job with Coach Suzanna Gardner as an assistant in the Strength and Conditioning program. I found myself fascinated by how we can structure exercise to improve physical performance in athletes. Coach Gardner allowed me to see first-hand and taught me full engagement of form and the motion of physical activities. Personally, exercise has positively impacted me, and I was sure I wanted to tie both research and exercise together. It wasn't until I took Dr. Chris Skinner's drug education class last semester that I expressed my concerns in picking a program that would fit me. Dr. Skinner, who completed his master's in exercise physiology, gave me information about the program, and it guided me in that direction.
I'm hoping to pursue a career in both academia and research. By educating others and remaining active within the research field, I hope to influence, guide and help students develop their future paths in scientific knowledge like the professors and instructors did here at University of the Ozarks."
Interestingly, it wasn't a STEM class that made the biggest impact on Oudomvilay; it was a contemporary short fiction class taught by Dr. Edward Ardeneaux.
"The class itself was heavily dependent on discussions that were led by the students," she said. "Dr. Ardeneaux's teaching style was much different than the other professors I've had. He allowed us to teach one another by giving our thoughts on the assigned reading where we would work together as a class to fully understand the many perspectives that we had about one piece of text. His approach allowed me to become more communicative and collaborative in discussions. By discussing the stories with my peers, and learning from their perspectives, this class allowed me to merge important skills such as critical thinking to understand a piece of literature or work. Critical thinking in this class influenced originality within my discussion. I wasn't limited to what I could say about what I was reading. The course was never stagnant. The perspectives of the stories we discussed with one another made me realize that perspectives in literature are just as evolutionary and ever-changing as the very science I'm passionate about. His class allowed me to critically think about humanity and the connection to the social environment. It was the class that gave me the holistic understanding and value of the LENS program at Ozarks."
Oudomvilay said she and her roommate of almost two years at Ozarks, Vivien Wambugu, inspired and encouraged each other during their time at Ozarks.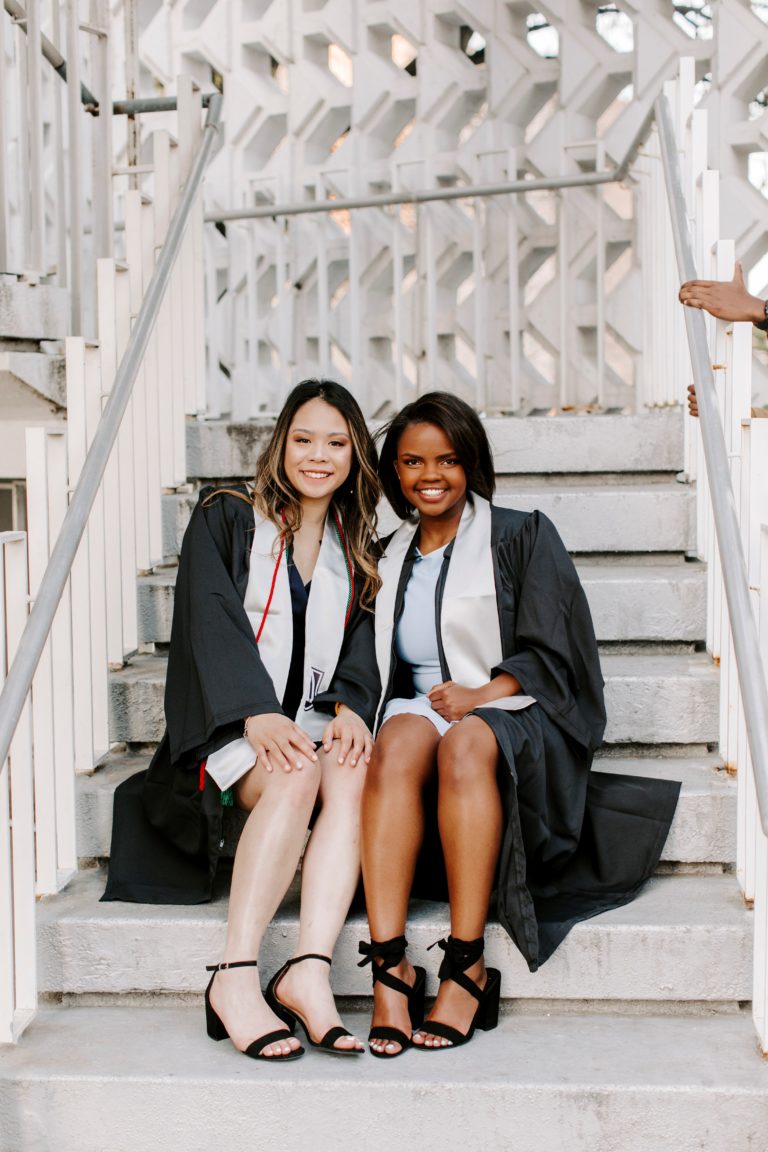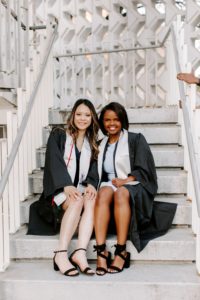 "Vivien and I are polar-opposites, but we connected with the way we approach our studies and how we value our family," Oudomvilay said. "Both of us have immigrant parents, so the value of education and opportunity has been instilled into us at an early age. Vivien and I have always talked about what we would want to do to make our families proud and impact those around us in the best way possible. We stay up countless nights doing homework, studying and preparing for our classes. Whenever one of us was struggling with anything, the other would pick the other up."
They also helped each other in the all-important application process for graduate school admission.
"We spent a course of two weeks of late nights perfecting our applications and reading each other's statements, resumes and practicing interview questions," she said. "I think Vivien and I stayed up for two days writing and going back and forth from one another's bedrooms critiquing each other's applications. We kept each other up and motivated.. I don't think I could have gone through with my application without her. I trusted her because she knew how I felt. There was a sense of comfort knowing that I had someone going through the same thing.  Vivien and I were always together when we found out about our interviews and acceptances. She and I were the first to know about each other's acceptances. The hard work and the encouragement we gave one another paid off. I know that without Vivien's encouragement, I wouldn't have made it this far. Because she was there going through the same thing, I knew I couldn't let her down."
As a first-generation college student, Oudomvilay said she knew Ozarks was the place for her on her first visit to campus.
"As soon as I stepped on campus, I found myself completely shocked because it wasn't what I expected," she said. "The student ambassadors that led my tour were welcoming and took the time to get to know me. My first impression of Ozarks was a personable experience where I felt like I belonged. I stayed and committed my four years here because of the community. The students, staff and faculty could not match what I would get at a different university. The community at Ozarks has allowed me to find the confidence in who I am and I owe it to this community to get me to where I am at. I am forever grateful for my time at Ozarks."
Topics: About, Academics, Biology, Business Administration, Chemistry, English, Health Science