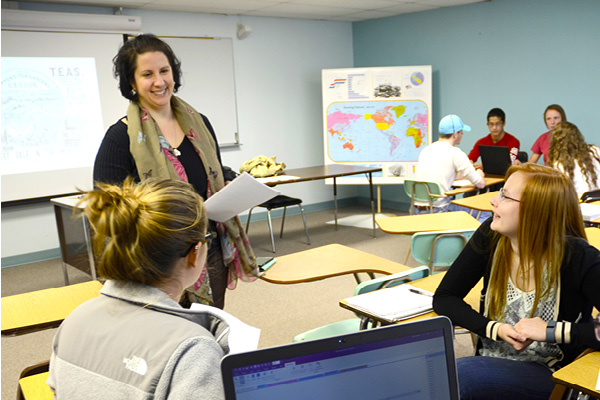 A Renaissance conference in Ireland, a sports photography workshop in Colorado, a convention on popular music in Detroit and an international studies conference in Nashville are a few of the professional development experiences that University of the Ozarks faculty members are embarking on in 2022, thanks to the Dr. Helen McElree Enrichment Endowment.
The McElree Endowment was established in 2015 by the Ozarks alumna and long-time professor of biology at Emporia (Kan.) State. Dr. McElree created the fund to support faculty scholarly and creative activities at Ozarks.
Dr. Karen Frank (pictured, above), associate professor of history, is using the McElree funding to travel to Dublin, Ireland, later this month to take part in the Renaissance Society of America (RSA) International Conference. The RSA is the largest international organization devoted to the critical study of the world from 1300–1700 and its importance today.
"This conference gives me access to the work of international scholars in both my research field and teaching fields," Frank said in her proposal. "Most of these scholars rarely, if at all, attend U.S.-based conferences. This is an exciting professional opportunity that I would not otherwise have without the support of Dr. McElree's generosity."
Susan Edens, professor of practice of communication, is taking part in a week-long Summit Series Photography Workshop in Denver, Col., this summer to study sports photography.
"Their premiere workshops combine the best instruction in photography and latest technologies with top-level creativity and the best career networking available anywhere," Edens said. "Immersion courses like this provide the opportunity to grow as an artist and technician and most importantly as a teacher. My goal will be to embed lessons learned from this experience into my existing courses. I would love to develop a winter or summer course for anyone wanting to break into sports photography. I think this class could also help me help my colleagues in the athletic department with their photo shoots."
Dr. Matthew Bumbach, assistant professor of music, will attend the Association of Popular Music Education (APME) International Conference in Detroit in June.
"APME's mission is to promote and advance popular music at all levels of education both in the classroom and beyond," Bumbach said. "This organization offers resources and support that are invaluable as I work to grow enrollment in the music program and align the bachelor of arts in music degree with the modern musical landscape."
Dr. Danielle Young, assistant professor of political science, will attend and present a paper at the International Studies Association Annual Conference later this month in Nashville. Young's paper is on comparisons between the nuclear governance regime and emerging solar geoengineering technology. 
Other McElree funding recipients include:
Dr. Steven Machek, assistant professor of health science, who earlier this month attended and presented at the American College of Sports Medicine's Central States regional chapter (CSACSM) annual conference in Fayetteville, Ark.
Dr. Radwan Al Faouri, assistant professor of physics, who will attend the Biophysics Society Conference in Tahoe, Calif., in June.
The U of O Alumni Association in 2006 awarded Dr. McElree the Alumni Legacy Award for a "lifetime of unselfishly giving of her resources to support Ozarks." In 1992, she was presented the Alumni Association's Achievement Award for her professional accomplishments.
Topics: About, Faculty Spotlights