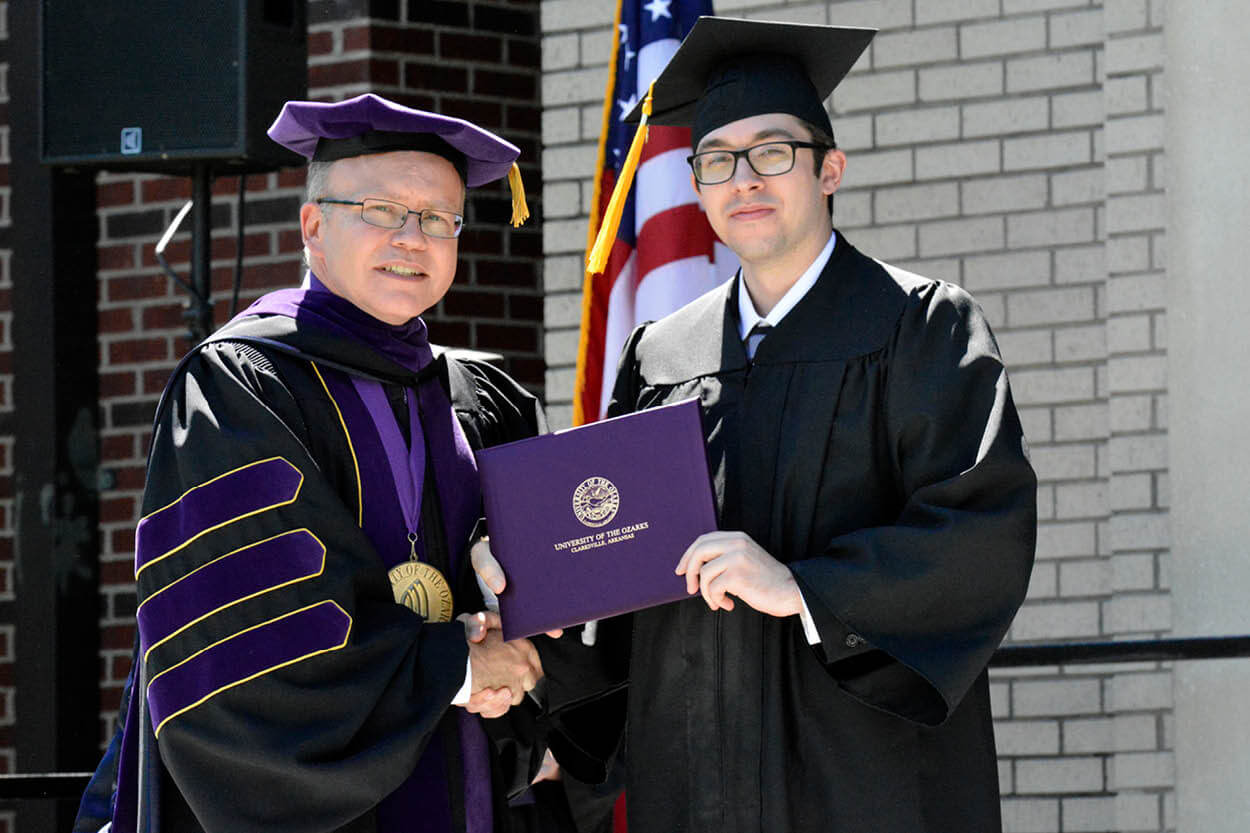 University of the Ozarks alumnus Trevor Lister is on his way to Brazil with the prestigious title of Fulbright Scholar.
Lister, a 2017 U of O graduate originally from Waldron, Ark., found out earlier this fall that he had been awarded a renowned Fulbright Scholarship to teach English next year at the Federal University of Pará in Belém, a city of 2.5 million people that serves as the gateway to the Amazon River in the northeast part of Brazil.
Lister is currently completing a master's degree in Spanish literature at the University of Missouri in Columbia. He will teach in Brazil from February through November.
The Fulbright U.S. Student Program offers research, study and teaching opportunities in more than 150 countries to recent graduates and graduate students. Generally, the acceptance rate for Fulbright Scholarships is around 20%, making it one of the most competitive academic programs in the country.
Lister, who earned degrees in Spanish and health science at Ozarks and who also competed on the wrestling and cross country teams, said he applied for the Fulbright Scholarship almost on a whim.
"I found out about the program from a good friend of mine who was a Fulbright Scholarship recipient that came to the United States four years ago," Lister said. "He believed that I would be a good candidate and encouraged me to apply. I'm so glad that I did. This will be a fantastic opportunity to become a better instructor of language and to hone my own language skills."
Lister credited his Ozarks education for helping him secure the prestigious scholarship, which is awarded to approximately 1,600 U.S. graduate students and recent graduates each year.
"The relationships that I formed with student and faculty alike at Ozarks served as an inspiration and gave me the tools to accomplish all of my goals so far," Lister said. "I believe that the unique exposure to the Walton Scholars was pivotal to prepare me for this experience. I am very comfortable with my Spanish, I enjoy meeting people from Latin America and overall my experience taught me to be more confident in new situations. Several professors and faculty members encouraged me throughout my experience, including Dr. William Clary, LeRoy Gardner, Jeremy Provence, Ruth Walton and Dr. Pete LeRoy, to name just a few."
Lister said a semester-long study abroad experience in Chile during his time at Ozarks was the catalyst for his career path.
"University of the Ozarks gave me several opportunities to grow and to learn more about myself," Lister said. "It was due to my study abroad in Chile during my senior year that I realized that I wanted to study languages. There, I made lifelong friends and I got to see how I would fair living in a country speaking another language. I adored the experience and yearned for a life where I could continue to learn about other cultures. All of this has brought me to where I am and I am grateful for the Ozarks community for helping me more than I ever could have asked."
After completing his Fulbright program in Brazil, Lister said he plans to return to the U.S. and begin applying to Ph.D. programs that include both Spanish and Portuguese.
Topics: About, Giving, Scholarship